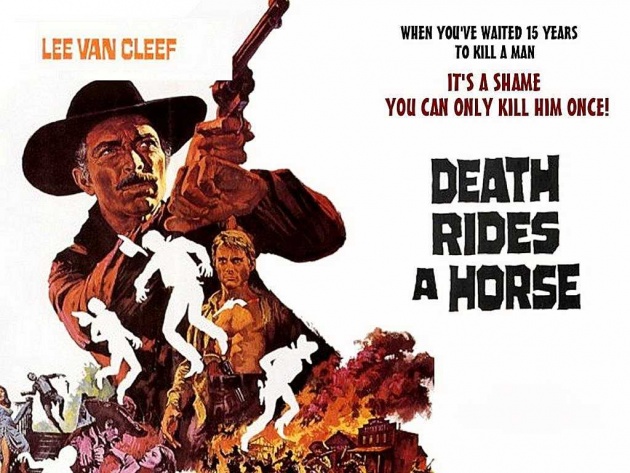 It was during a snowy day during the winter recess of 1989, at the age of 13, when I discovered my first spaghetti western. I knew it would be cold and snowy for awhile and there was a 3 hour western, "Once Upon -A Time In The West," about to start, so why not? I had never seen one, or any western movie for that matter, and the title seemed t cool to pass on. I didn't know I'd be starting with the best and working backwards but that's how that cookie crumbled. An appreciation for the western genre and it's more violent, less clear cut morally sub-genre, the spaghetti western, would be born that day.
Giulio Petroni's 1967 "Death Rides A Horse" is a solid Italian western anchored by Lee Van Cleef as one half of the revenge seeking duo whom the film centers around. It's a solid film due to the cast and crew assembled who can only be described as professional veteran workhorse filmmakers. Aside from John Phillip Law (Sinbad!! in "The Golden Voyage of Sinbad"), all of the other major actors are spaghetti veterans. Rounding out the filmmaking crew are the iconic Ennio Morricone with original music and the editor, Eraldo Da- Roma, who worked with Rossellini, Antonioni, and De Sica among others. All those ingredients produced this above average, solid film. Roger Ebert referred to it as the right kind of bad movie in his 1969 review. I wouldn't say it's bad or even a guilty pleasure kind of film, it's slightly more than that.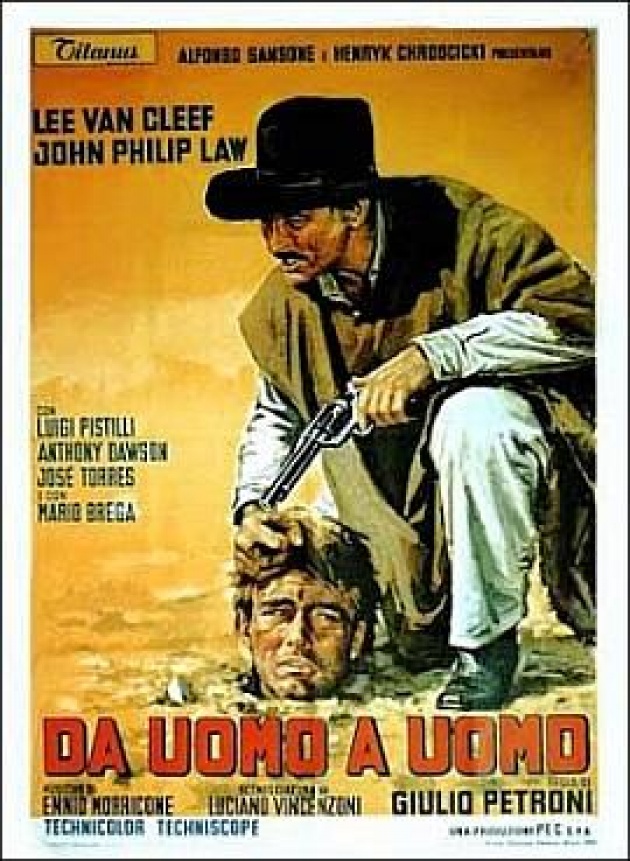 "Death Rides A Horse" is an awesome display of pacing. The nine minute opening sequence gives us the motive for revenge for Bill (Law) and is done with immediate action, non stop music that may provide more atmosphere than the nighttime driving rain, and a range of camera angles. The next several minutes give us Ryan's (Van Cleef) motive for revenge, as well as a sign o the times when Ryan is handed back his $87, pistol and 27 bullets upon release from prison. I bet not that many felons have their weapon returned upon exiting prison. The inevitable tie that binds Bill and Ryan is revealed at the end in perfect timing, as by then, the viewer has seen enough from each character as to determine their moral character either by their own distinction or the film's. The revenge motif, an essential ingredient in any western, is morally dubious at best, but you almost have to take that as a given tenet and exclude it from the ethos of the character. Ryan is harder to figure out not only due to his character but Lee Van Cleef could just be a grumpy old sweet grandpa kind of guy or a sketchy ass bastard so you have to wait and see with that guy.
For spaghetti western fans, "Death Rides A Horse" is a must-see. There's plenty of shoot 'em up without the gore of other such films. It moves quicker than most, has many recognizable faces, classic music, and beautiful scenery from Spain. For the first time viewer, it is a great place to start with this sub-genre. Sergio Leone's westerns are all better, but it's good to start mid-level and feed that spaghetti western appreciation with better films as well as the occasional poorer fare to point out the good points of those you enjoy.
AND watch more on http://www.filmannex.com/webtv/Baxter_Martin