Competition News
Results of the Quebec Open - NYAC Judokas take Gold at the Quebec Open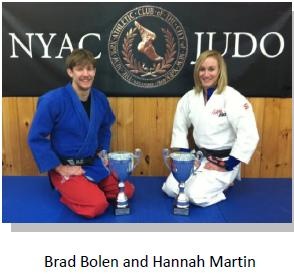 Montreal, QC - Four NYAC athletes had an excellent performance Nov. 3-4 all taking the Gold Medal in their respective weight divisions at the Quebec Open in Montreal which is held right next to the 1976 Olympic Stadium in the Pierre Charbonneau Center. Brad Bolen (24) cruised to 66kg victory claiming his second Quebec Open title posting a 5-0 record. Bolen won all his matches by ippon (full point) with four of them coming via his signature choke, the "Bolen Arrow." Hana Carmichael (24) captured the Gold Medal in the -57kg division defeating Canada's top player Stefanie Tremblay with a spectacular uchi mata in the Final. Aaron Kunihiro (24) went 4-0 claiming Gold in the -60kg defeating Darren Elcock in the first minute for ippon. Hannah Martin (25) continued to pile up the hardware this year winning her third Quebec Open Gold, but first at 63kg and her 6th overall medal.
Photo and text courtesy of Jason Morris.
Results of Samoa World Judo Cup - Bolen & Kossor Claim Gold
Apia, Samoa - Brad Bolen (24) and Nick Kossor (27) from the NYAC captured Gold medals at the Samoa World Cup November 14, 2013.
Bolen posted a 3-0 record in 66kg on the day to win the first World Cup title in his career and 6th overall. Bolen beat Noam Tidhar (AUS) in his first bout by getting juji (arm bar) then got his signature choke, dubbed the "Bolen Arrow" on Nate Katz (AUS) in the semis. In the final, Bolen fell behind Alister Leat (New Zealand) early by waza-ari then came storming back throwing Leat with a spectacular tani otoshi (switch) for ippon (full point). This result bumped Bolen's ranking in the world from #31 to #27.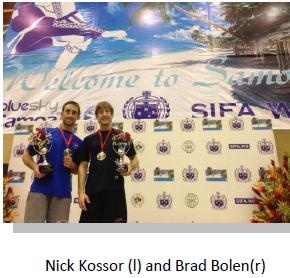 Kossor made an even bigger jump in the world rankings going from #35 to a career high #24 winning his first World Cup gold and 3rd overall putting up a 3-0 record at 60kg. Kossor opened his day defeating Kevin De Silva (AUS) by 4 shidos (penalties) then knocked off Shang Lin Chua (AUS) by a counter throw for yuko then pinning him for ippon (full point). Kossor dominated in the final knocking Kin Ting Yu (Hong Kong) to mat with uchimata (inner leg throw) than catching juji at the three minute mark of the five minute bout for the title.
"2013 has been a year of learning and growth. I've learned more about competing and myself in this year alone than i have my whole career. I'm so thrilled that brad and I got the job done today winning all of our matches by ippon. Things are only going to get better" Kossor said following his win. – Jason Morris
Results of the Grand Prix Abu Dhabi - Hannah Martin - Bronze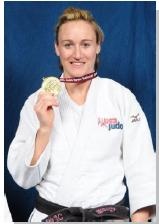 Hannah Martin Scores a Bronze At Prestigious Grand Prix Abu Dhabi
By Ernest Pund | Nov. 22, 2013, 9 p.m. (ET)
Team USA's Hannah Martin went 3-1 at the elite Abu Dhabi Grand Prix Friday to take a bronze medal, the latest in a string of victories that have put Martin on the podium at major elite tournaments.
Martin, 63 kg. (Jason Morris Judo/NYAC, Glenville, NY), threw Kyrgyzstan's Meerim Momunova for ippon in her first round. She then edged China's Wen Zhang to advance to the semi-finals. Martin lost her next match but then regrouped for repechage, defeating Mongolia's Mungunchimeg Baldorj, ranked 13 in the world, to claim the bronze medal with a wazaari and a yuko.
"This was a terrific way to finish up her season," said Jason Morris, her stateside coach and an Olympic silver medalist. "She has had a remarkable two-year run, rising from 110 all the way to number 8, showing that persistence in her training regimen has paid off."
Results of the Veterans World Championships Abu Dhabi


While neither Arthur nor Frank medaled, they worked hard and competed well. Kudos to both.
Results of the President's Cup in Irvine, CA
Paul Jacobs – 2nd
Miles Porter – 3rd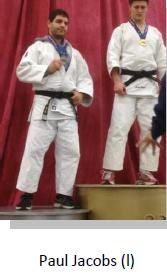 Results of the Dallas Invitational
Patryk Obiedzinski – 3rd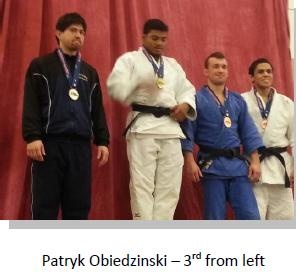 Images from the All Sports Dinner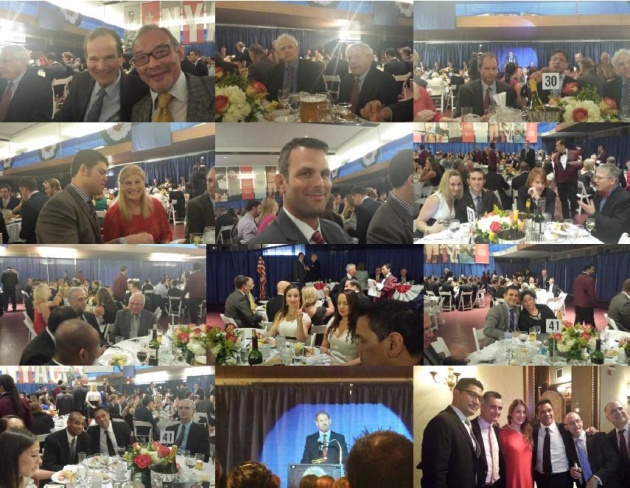 Images from Ilias Iliadis at the AC
Ilias Iliadis, Olympic and 2 time World Champion at 90 km gave a terrific clinic at the NYAC last night. Ilias is a fierce competitor with powerful judo and a good instructor. He's also young so the younger guys took him out for a night on the town. It was his last night in his USA tour. We welcomed him back anytime.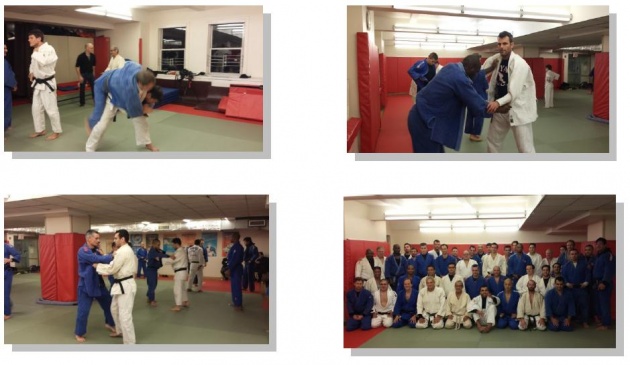 Upcoming Tournaments and Special Events
15th Annual Northeaster Judo Championship
Date: Sunday-December 8, 2013
Location: J.F. Kennedy High School
61-127 Preakness Avenue
Paterson, NJ
Tournament Director: Anthony Camal
Head Referee: Billy Martin
(973)432-9638 or (973)812-6322
East Coast Judo Championships
Date: Saturday, 14 December 2013
Location: New Jersey Convention & Exposition Center
97 Sun Field Ave, Edison
yonejkc@comcast.net