Dogecoin investors will remember September 2014 fondly because the month brought a 300% increase to the Dogecoin price. However, September has ended and unfortunately so has Dogecoin's consistent price upswing. In the past week, the Dogecoin price fell more than 25%. CCN analyzes thisaltcoin price movement as well as Dogecoin's overall coin health to help investors make informed trading decisions.
Also read: Massive Dogecoin Price Increase Carries Shibes to 5th-Place Market Cap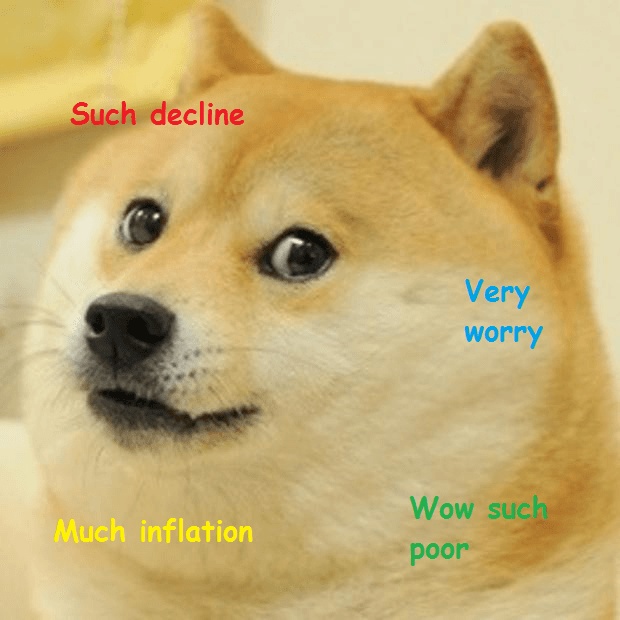 Dogecoin Price Cools Off
Throughout September, the Dogecoin price rose dramatically as investors poured capital into the fledgling DOGE markets. Much of that positive price movement followed PayPal's announcement that it was partnering with GoCoin, a Dogecoin payment processor. On September 26, the Dogecoin price peaked at 111 satoshis–an almost 300% monthly increase that caused many Shibes to become hoarse from shouting "Moon!"
However, Shibes should hold off booking their space-flights because the Dogecoin price has begun cooling off after this impressive run. Within 24 hours, the Dogecoin price fell from 111 satoshis to 95. The next day, it rose back to 104 satoshis and fluctuated little for the next two days. Beginning September 30, the Dogecoin price continued its decline, falling to 96 satoshis on October 1 and 89 on October 2. At press time, the Dogecoin price remained 89 satoshis.
The price decrease has dropped Dogecoin's market cap to just below $31 million. Dogecoin remains fifth in cryptocurrency market cap, but its edge on sixth-place Nxt (whose price has dropped 14% this week) has thinned to $3 million.
Dogecoin Analysis
Dogecoin may not be the most innovative altcoin, but it is one of the most resilient. Despite enduring some difficult times, the Dogecoin community–which trails only Bitcoin in size and activity–has proven that a meme can have staying power.
Dogecoin exhibits excellent overall coin health. Using their unique metric analysis ranking algorithm, CoinGecko ranks Dogecoin second in overall strength–behind only Bitcoin–with a comprehensive score of 82%. Specifically, Dogecoin has stellar developer and community scores (90% and 84%, respectively) and an adequate liquidity score (73%).
Other than Litecoin, Dogecoin is the only altcoin CoinGecko grades higher than 70%. Ripple, who justpassed Litecoin for second place in coin market cap, ranks fourth with a 61% score. The Chris Larsen-led project possesses the second-highest developer score but has low community and liquidity scores. BitSharesX rounds out the top five with a 55% comprehensive score.
All altcoin investments are high-risk by nature, but investors should view Dogecoin as a comparatively safe long-term hold. As the only altcoin with solid CoinGecko ratings across the board, Dogecoin is a great buy for novice investors looking to get their feet wet in altcoin investing without taking the risk that their investment could vanish overnight.
Disclosure: The author does not have any investments in or affiliations with the coins listed above. Any advice contained in this article is solely the opinion of the author and does not reflect the views of CCN. Neither the author nor CCN is liable for your investing decisions, so do your homework and never invest more than you are willing to lose.