Early Dinner at Kuya J Restaurant, Robinson's Place
Going There
Last saturday we were able to see Journeys on a Galleon at Cultural Center of the Philippines. We didn't expect the play to last only an hour, so we decided to hit the mall and burn precious time outside while we were "semi-formally" dressed.
It was a gamble picking Kuja J as our early dinner place because we didn't know if Robinson's Place had one or near the said mall. Luckily, after asking the customer service desk, we were given directions to the restaurant. Actually, it was viewable from the desk.
About Kuya J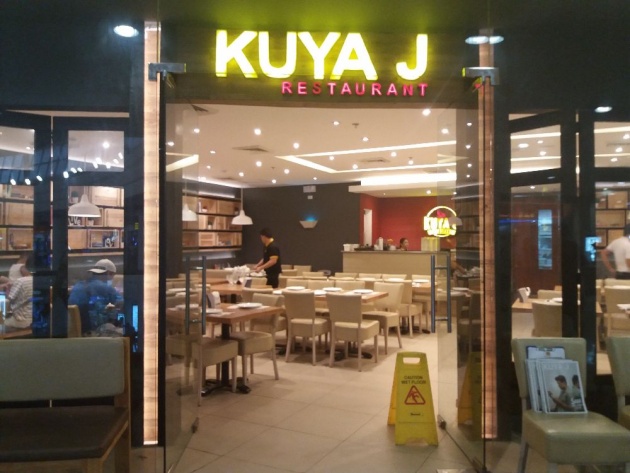 Photo credit: lapiz-lazuli
The joint started in Cebu and they changed its name to appeal to Filipinos nationwide. Kuya means "brother" in Filipino. They serve Filipino dishes. You can read more about this restaurant below:
Kuya J Restaurant, formerly known as "Ang Kan-anan ni Kuya J," started as a humble eatery along the streets of Cebu. But with Kuya J's undeniably delicious dishes, mouthwatering words of recommendation quickly spread into every Cebuanos' palate. With that, Kuya J instantly became one of the well-loved restaurants in Cebu.

Today, Kuya J continues to satisfy every Filipino's appetite nationwide. Using only the freshest ingredients available, Kuya J cooks up a storm of delicious Pinoy food in every corner of the Philippines.

- from kuyaj.ph/about-us
The Place
Video credit: lapiz-lazuli
The joint was almost empty when we arrived. There were bystanders sitting outside those waiting chairs just to pass the time (I guess) but they weren't planning on going inside at least. It was good because not one staff shooed them away.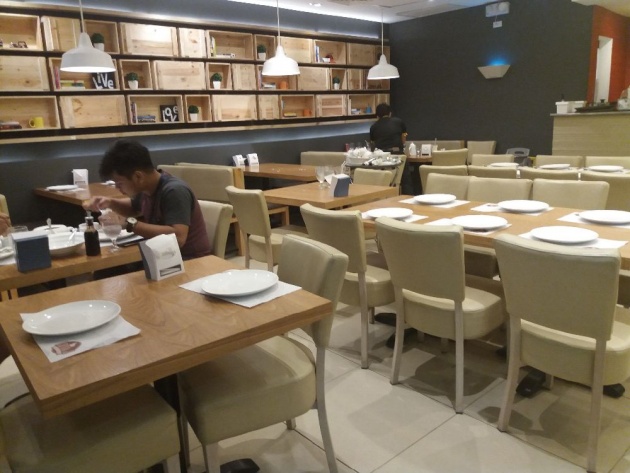 Photo credit: lapiz-lazuli
I think tables and chairs were adequate but it was definitely not huge as Gloria Maris, Greenhills. The chairs were foamed and had foamed back rests so it was a bit comfortable sitting. The tables were small but not that much because we were able to squeeze in our few food orders.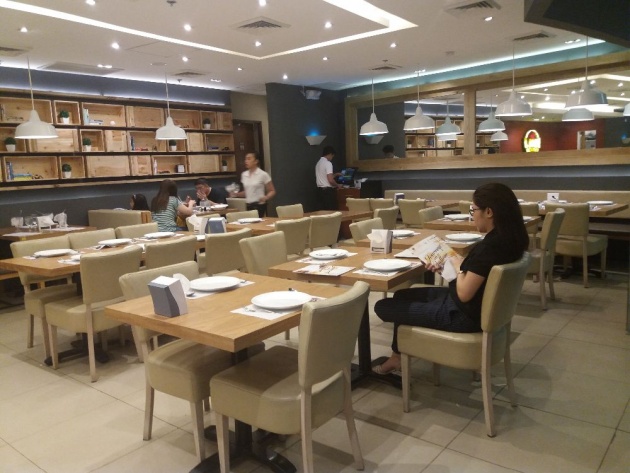 Washroom on the farthest corner. Photo credit: lapiz-lazuli
There's one common bathroom on the farthest right side. It was just like one of Jollibee's. Still, it's pretty convenient. The wash area was very small, but it had liquid hand soap and a hand dryer.
Food
Ok, onto the tastiest part of this review, the food...
But first, here's the menu (of which I hope you can read fully by pausing per slide):
Video credit:
lapiz-lazuli

Ok, here are the real deals:
Calamares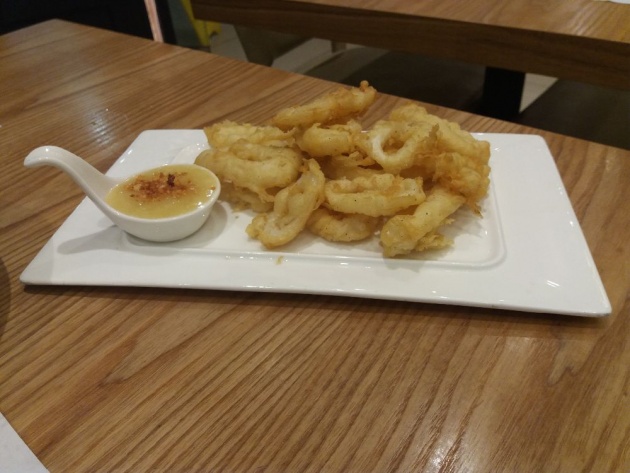 Calamares. Photo credit: lapiz-lazuli
Initially this wasn't on our plan because my sister wanted Ensalada. Unfortunately the Special Ensalada wasn't available so we opted for Calamares instead.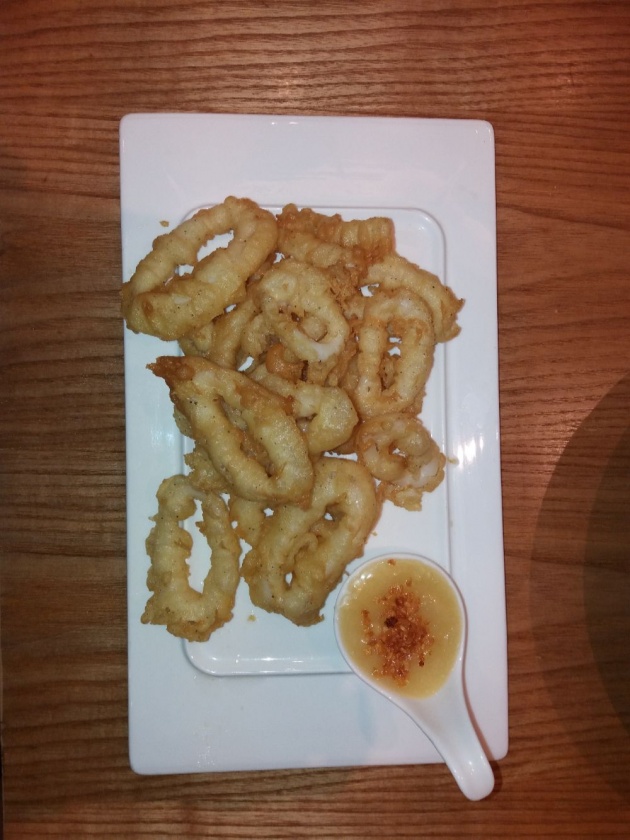 Photo credit: lapiz-lazuli
I really said unfortunate because I never really enjoyed their Calamares. Yes, it's filling, a good starter to our salivating palates, bit it was too diffficult to chew for me. I kept on drinking water bite after bite just to wash down these circles of gloom.
The taste wasn't bad though. The dip was really delicious, it was the driving force for me to munch one ring after another. But I hope they do something about its chewiness. Fresh squid rightly cooked doesn't feel rubbery like their Calamares.
Binagoongan Rice
Bagoong means shrimp paste in Filipino. So B-in-agoong-an Rice means "rice with added shrimp paste." This was my first time trying this kind of dish--with many provinces in the Philippines having different food, one may think I ate them all as a Filipino. Seriously though, I haven't, even if we reside here (so I look forward to the future good times).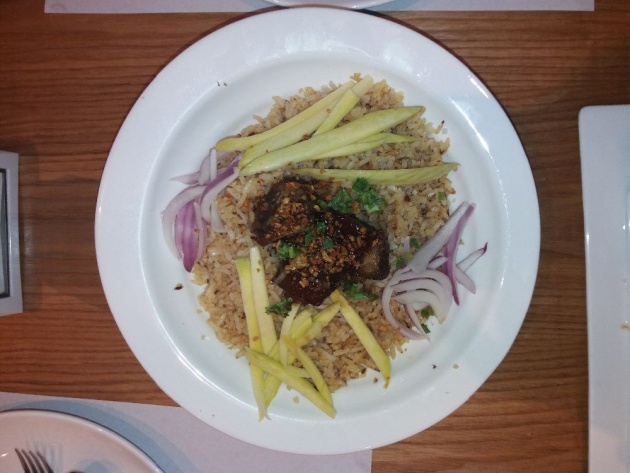 Binagoongan Rice. Photo credit: lapiz-lazuli
Ah, their Binagoongan Rice was a gem in the bunch. You would think a subtlely tasting carbohydrate has nothing in it for you to crave for more... but think again. They really did a great job with this one!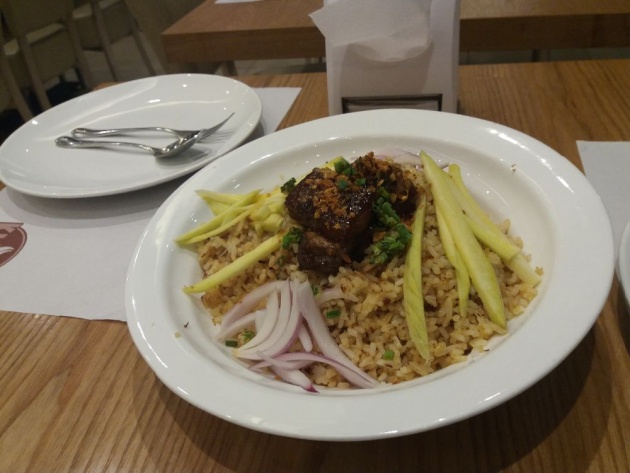 Photo credit: lapiz-lazuli
Their Binagoongan Rice had thinly sliced green mangoes on top and some pork. It never occured to me that rice goes very well with sour mangoes, but it surely did, so I was very happy with the experience! The tangy taste of mango plus the little pork--I think it was cooked adobo style, on top (so few, I ate it bit by bit with every spoonful of rice) complemented each other.
Grilled Tuna Belly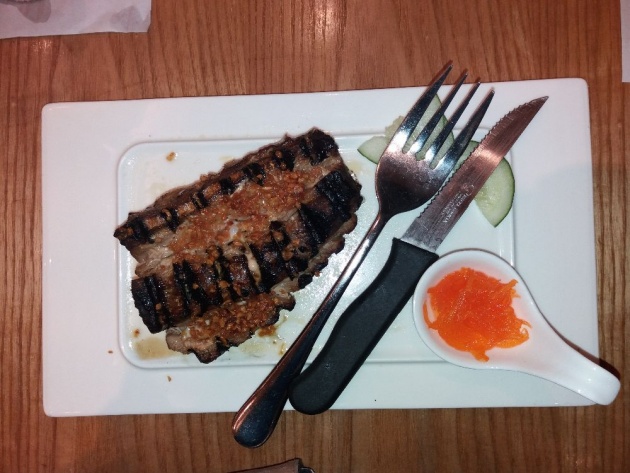 Grilled Tuna Belly. Photo credit: lapiz-lazuli
Their serving of Grilled Tuna Belly was very big for us, so we two only managed to eat half of it. I think it was charcoal-grilled because it had a bitter aftertaste. I'm not really sure, but I still enjoyed it with atchara. If I ate the Grilled Tuna Belly alone I think I would hate it. Thank God for their sweet-tasting atchara.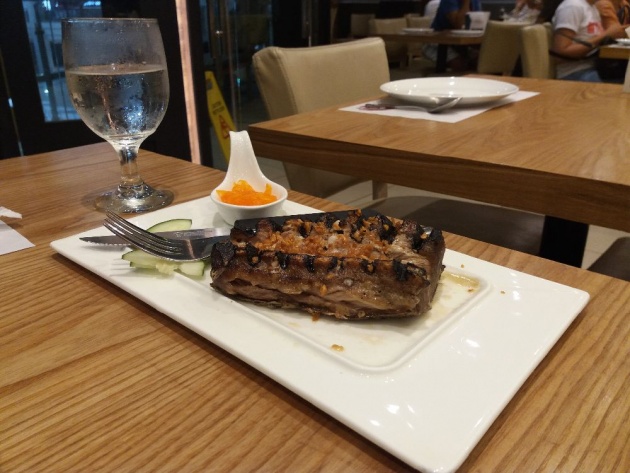 Photo credit: lapiz-lazuli
There's nothing wrong with the texture of their Grilled Tuna Belly. In fact, it wasn't crumbly yet it was a bit soft, one won't have problems eating it. Well, except for the bitter aftertaste, but hey, others prefer that kind of flavor with grilled food...
Saba Halo-Halo
Last time we ate at Kuya J, we tried their Ube Halo-halo ("ube," pronounced: ooh-beh, which meaans taro). What I think about it is for another review, but I mentioned it because it was vital on our decision to try out there Saba Halo-halo. Because we tasted the Ube one, around this time, we ordered the Saba variety instead.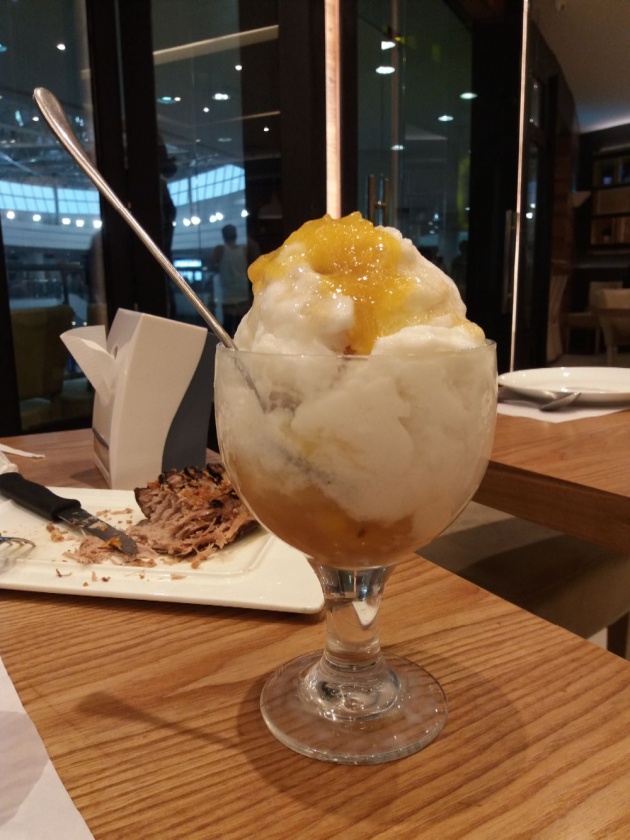 Photo credit: lapiz-lazuli
Theirs are akin to Razon's, with their Halo-halo versions comprising of few ingredients. Kuya J's Halo-halo had also a bowlful of finely crushed ice cream, in fact, it is ice cream with other ingredients in actuality! There was something special about their ice cream: its texture and consistency is like a Bingsu ice cream.
Both were really good, but I prefer the taro kind over the saba. They have a huge serving, so we only ordered one and requested for an empty cup and another spoon for sharing.
By the way, Saba is a kind of banana here in the Philippines.
Staff
The staff were accommodating; they respond to our requests as soon as they can. They also accomplish their tasks at first try. They were generally polite, well, except for one who loudly said "crazy" in Filipino (probably to another staff? Hmm, but it's as if...well, nevermind!).
Conclusion
Kuya J has generally delicious food. There were more hits than misses, so I think we'll go back if we''re craving for their Halo-halo (again, because it's only 99PHP or 2USD). But they don't serve solo meals, so you might want to grab your family and/or friends if you want to try out their dishes! Or simply just take away the leftovers, like we did.
Now, we had another experience eating at the said restaurant (of which I have pictures), so I think I would be blogging about another Kuya J review. Also, it's because we ate different stuff at two different branches. I hope you would be encouraged to try out this restaurant and also try other foods we haven't. That would be nice.
Disclaimer: pictures, videos and write up are originally shot/written by lapiz-lazuli, unless otherwise stated. Views and opinions on this blog post are truthful, but subjective, and are not influenced by sponsorship of any sort.