Competition News
Results of the African Open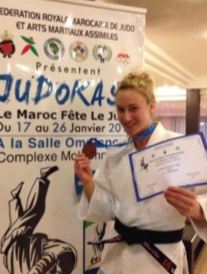 Hannah Martin, 63kg –Bronze
Martin Wins Bronze
Casablanca, Morocco - NYAC standout, Hannah Martin (25) started the year right by claiming a 63kg bronze medal at the African World Cup, her first event in 2014. Martin, who is based out of the Jason Morris Judo Center (JMJC) in Glenville, NY owned and operated by NYAC Judo legend, Jason Morris started her day beating Ada Oualla Ali (Morocco) in the quarterfinal then lost a tight battle to eventual champion, Valentina Giorgis (Itlay) in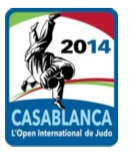 the semis. Martin, who is currently ranked #11 in the world then defeated fellow American Leilani Akiyama by scoring with harai then finishing with a pin to pick up the bronze. This result gives Martin 9 total World Cup medals in her career. Next up for Martin will be the French Open, Feb. 8-9 in Paris. – Jason Morris
Judo Club member Len Auerbach (bottom right photo, top row, fourth from the left) sent me this email and photographs from his dojo in San Francesco and asked that I share them with you:
Lynn, NYAC Judo
On December 20th the SFJI held their final practice at the dojo we have had for 47 years. The building has been sold and we are currently looking for a new permanent home. In the meantime we have made arrangements with the Suginami Aikikai dojo to share their premises. Our first practice will be held there on January 31st.
Our last practice was an open matt night for dojos and all judoka in the San Francisco bay area. We had approximately 120 attendees with 98 judoka on the tatami at once doing ne-waza. Tachi-waza needed to be done in two groups for lack of space. It was a spectacular event with old Senseis and judoka partners returning for this celebration. Some who traveled from Southern California, Oregon and Nevada. We ended the evening with good food and drink plus lots of stories. The honored guest was Eddy Yamayoshi who was Sensei Kimura's partner in the dojo since its inception. Damon Keeve was the Master of ceremonies. I attached couple of photos of the event.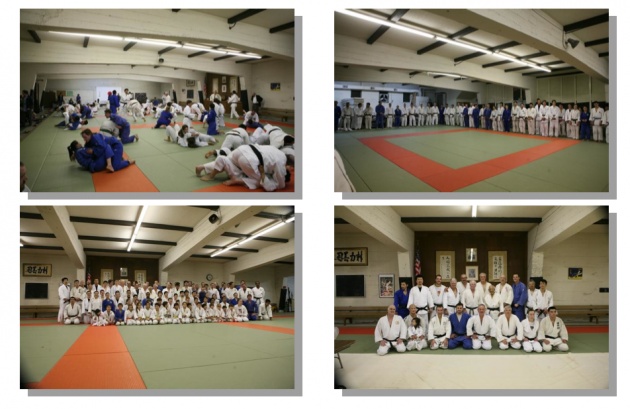 Upcoming Tournaments and Special Events
Tech Judo Open Invitational Judo Tournament
Date: Sunday, February 16, 2014
Location:
HCST Recreation Center

2100 85th Street
North Bergen, NJ (10 Minutes from the GW Bridge or Lincoln Tunnel) (201)328-4055 (cell Clyde Worthen)

Email: clydeapajudo@aol.com
Tournament Director: Clyde Worthen
New York Open Team Tournament
Date: March 2, 2014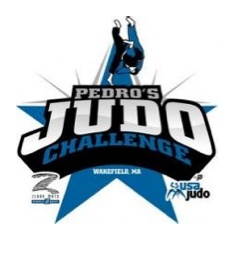 Jimmy Pedro's Judo Challenge
Date: March 8th, 2014

Location: Wakefield Memorial High School, 60 Farm Street, Wakefield, MA 01880

Register Online at: www.JimmyPedro.com

Contact: Riley McIlwain
 781-245-0644 - Pedro's Judo Center
rileymcilwain@gmail.com