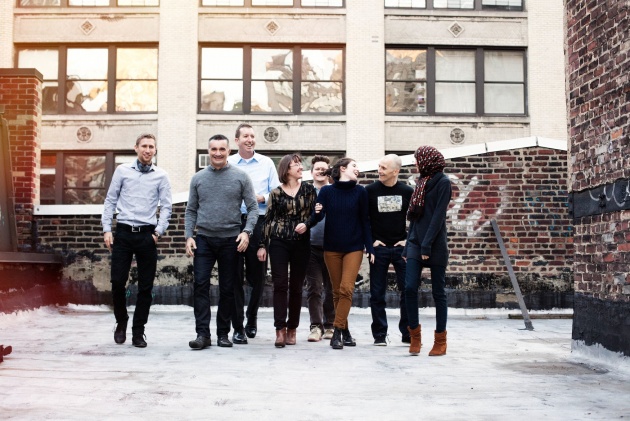 The Film Annex Team in New York
Every online film network brags about what sets them apart from others. When it comes to Film Annex, I can easily say that our original content is our biggest strength. The best part of browsing Film Annex is coming across new filmmakers with unique styles. Recently, I got hooked on a female director's work. Her name is Raquel Yunta, and she makes simple, almost childish, 2D animated films. She describes her own style as simple, clean, and comic. Another aspect about Film Annex that makes it special is the fact that it brings film distribution and advertising together for the benefit of the filmmakers. When I see Raquel's films, The Bench, Fix the Dancer, and The Painter, my initial instinct is find out more about her and her work. I'm curious to see if she's been using her blog and photo galleries to share her process. I want to know if she is revealing any secrets about her future projects. So, I immediately check her profile.
To my surprise, I don't see any blogs or photos on Raquel's channel. However, I know that her three animated films already make her a strong candidate to be part of Eren's Picks. I contact her to tell her how much I enjoy her films and encourage her to work on her channel in order to promote her work in the most effective way possible. Currently, Raquel's BuzzScore is 28, and her revenues add up to only $3.36. I know that Raquel can earn hundreds of dollars, if not thousands, with her movies, if she becomes a featured filmmaker on our homepage and joins Eren's Picks. So I guide her through the process. And this is another aspect that makes Film Annex special. We work with the filmmakers on an individual basis. I haven't heard any filmmaker telling me that they were contacted by Vimeo or YouTube to work on their channels, because they have the potential to earn so much more with their films.
There is a reason why Film Annex is an ad-supported platform; half of the generated revenues on a channel goes to the filmmaker. I find it ironic when a filmmaker complains to me about the pre-roll ads before his videos and then goes and shoots a commercial for a big brand or a corporation. At Film Annex, we're using advertising as a way to democratize online film distribution for filmmakers. To learn more about how to join Eren's Picks and increase your revenues, visit this page. We always look forward to working with new filmmakers and supporting them throughout their journey.
-- EREN