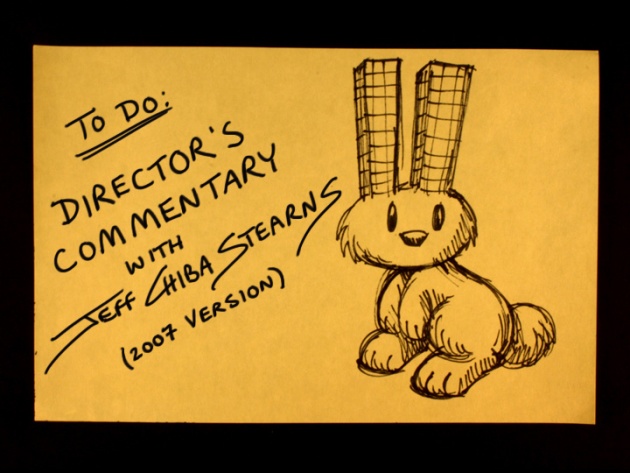 The other day while trying to clean up my hard drive on my computer, I came across an old Yellow Sticky Notes folder. Inside the folder, I found some cool gems. One of those gems was a Quicktime file of my 2007 animated short film, Yellow Sticky Notes complete with director's commentary that I did for the DVD release. I remember I recorded the commentary track using an old USB microphone which surprises me that the quality of the voice over is actually that audible. Up until now, the only way you could see this director's commentary version of the film was to own the Yellow Sticky Notes DVD...which only 1000 were ever made.
Therefore, I thought it would be fun to include this version to Film Annex for people to see my thought process behind making the film. I have to admit, the first time watching it again after all these years was kind of weird. It was weird because I was hearing a version of me 7 years ago talking about my filmmaking process. I think for anybody, it's always strange to hear your own voice many years later especially speaking about a film as intimate as Yellow Sticky Notes.
You can watch the Yellow Sticky Notes with Director's Commentary video below...as well as the original Yellow Sticky Notes. I will be posting the Yellow Sticky Notes with Composer's Commentary done by Genevieve Vincent in the next few days. Genevieve was still in school studying film scoring at the time she wrote the music for Yellow Sticky Notes and since then, she's scored almost every single one of my films. So considering she was the only other person who worked on the film with me, I thought that would be fun to post too and hear her creative process!
Please subscribe and Buzz my films and blogs! Thanks!
Yellow Sticky Notes with Director's Commentary
Original version of Yellow Sticky Notes