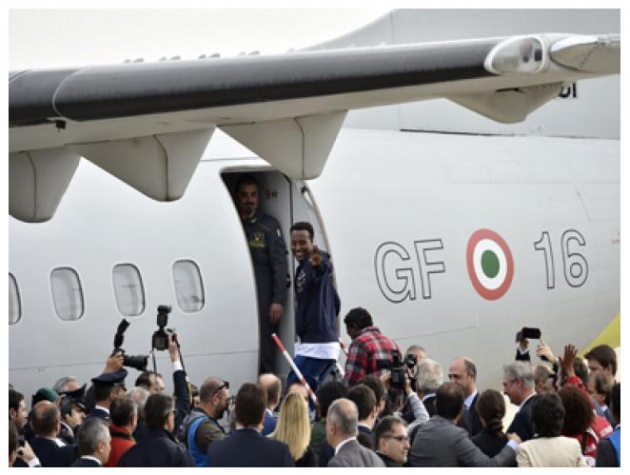 A small group of Eritreans left Italy for Sweden on Friday, the first contingent of asylum-seekers to be relocated under a European Union scheme to ease the burden of the migration crisis on frontline countries.
Grinning shyly before the media, 19 young Eritreans -- 14 men and five women—waved and blew kisses as they boarded a financial police plane at Rome's Ciampino airport as the Red Cross and UN Refugee agency looked on.
"Today is an important day for the European Union, it is a day of victory... for those who believe in Europe, for those who believed in saving human lives," Italian Interior Minister Angelino Alfano told journalists after the departure.
"It is a defeat for those who claim it is better for the Mediterranean to become a lake of death... and believe that scaring the European people is the way forward," he added.
EU migration commissioner Dimitris Avramopoulos and Luxembourg minister Jean Asselborn—whose country holds the EU presidency—were also there to wave the Eritreans off.
A source at the airport said the flight to Sweden was expected to take around six hours.
The scheme, which aims to relocate 160,000 people from Italy and Greece to other member states in the 28-nation bloc over the next two years, is part of a plan to ease the bloc's worst migration crisis since World War II.
It was only given the green light after Brussels flatly overruled stiff opposition from Eastern European nations.
Alfano said Italy was ready to relocate 100 more asylum-seekers who would go to Germany and the Netherlands.
"This is a significant day, a positive and important one because it's the start of Europe's relocation plan," the UN refugee agency's southern Europe spokeswoman, Carlotta Sami, told AFP at the airport.
"We hope it will continue but we know more must be done. There is a great need for measures to be put in place to allow (asylum-seekers) to arrive in Europe safely," she said, referring to perilous boat crossings in the Mediterranean.