Get Close To Nature In the Philippines this Summer
Image Credit: @Artbytes Via Bitlanders
Summer is just around the corner. Philippine Atmospheric Geophysical and Astronomical Services Administration (PAGASA) reports that it will be officially summer in the Philippines by the end of March. During this time, people are thinking of where to go to spend the summer. Perhaps not all days of summer but a few days of relaxing will do. Personally, I want to go to a place to get close to nature in the Philippines this summer.
The Philippines a lot of natural and man-made attractions that could be a perfect summer getaway. Here's a video showing the best summer destinations in the Philippines.
Video Credit: Top 10 World via YouTube
Sadly though, Boracay Island is currently under the scrutiny of the government due to the illegal structures that were put up over the years and the waste that's slowly polluting the once pristine waters of the island,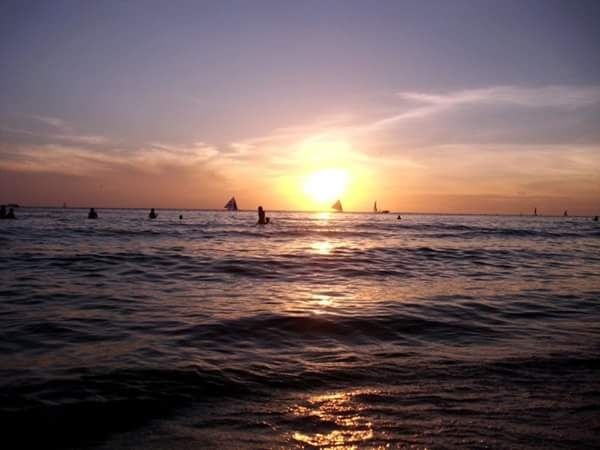 Sunset view from the Boracay long beach taken in summer of 2011.
Photo Credits: John Loberiza via Facebook

Other Summer Destinations In the Philippines
However, Boracay is not the only summer destination in the Philippines. In this list, are the places that I would love to have a family vacation this summer. What I have in mind when I made this list is to get close to nature. Not only me of course but somewhere I could bring my family for a summer vacation.
1) Bohol
Bohol maybe a small island but it has a lot of places to offer to tourists.
There's the Panglao Beach Resort;
The river tour in Loboc town;
The Glowing Garden at Jardin Necitas as posted by @Jean-Beltran;
And of course the most famous landmark, the Chocolate Hills;
Also, you could take a glimpse of the smallest primate, the Philippine Tarsier.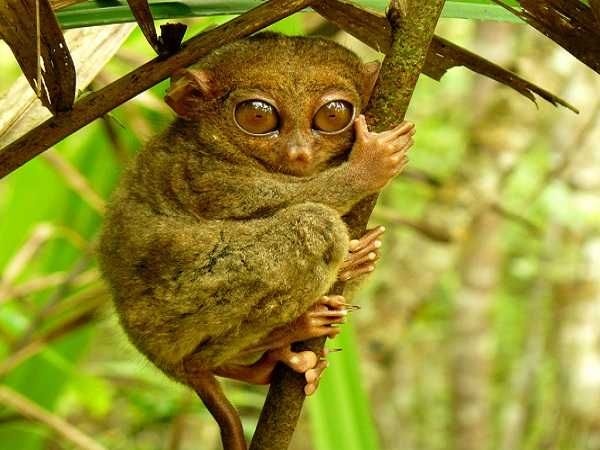 The Bohol Tarsier:
Image source: www.bohol-philippines.com/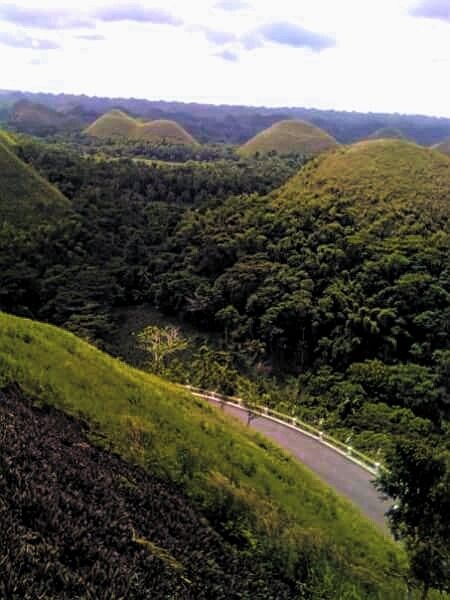 Chocolate Hills, Bohol
Image Credit: John Loberiza via Facebook
2) Camiguin Island
I have heard a lot about this island. One thing it is most famous for is the Lanzones. The variety from this island has a distinct sweetness. Aside from the lanzones, Camiguin is also known for a number of natural and man-made attractions such as:
Mt. Hibok-hibok and Mt. volcano and other mountains
White Island
A number of hot-springs and cold-spring.
the Sunken Cemetery
A number of centuries-old churches.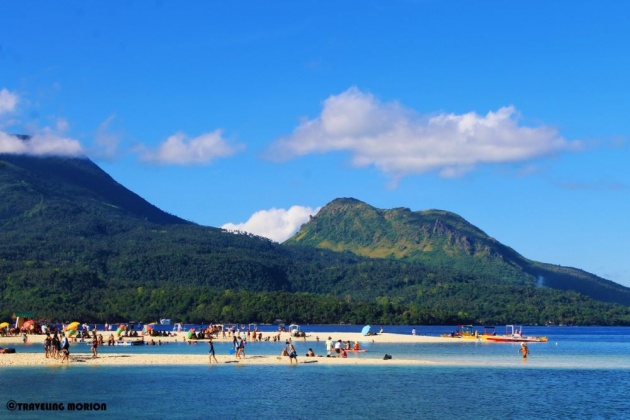 Camiguin Island
Credits: http://www.travelingmorion.com/
3) Palawan
The first time I set foot famous paradise island was way back 1998. However, since it was a conference, I have not gone to some of its most attractive destinations.
Puerto Princessa Beach and the Underground River
Coron
The first thing that I noticed when I first went to Palawan was the cleanliness of the whole place. I believe it was because of the discipline of the residents of Palawan when it comes to cleanliness. While on our bus, I saw a man walked intentionally towards a trash bin to throw away what it looked like a cigarette butt.
At the time were in a conference held in Iwahig Penal Colony (or somewhere near it. On the opening night, Hon. Mayor Hagedorn was giving us a welcoming remark on an open stage built under a gigantic tree. A snake fell off from the tree to the stage. Some of those near the stage shouted in surprise. The Mayor, however, calmly stood still on the stage and told us to stay calm. If I remember his words right,
"Leave it be. It is just passing by. In fact, this is its territory! We are the visitors in this place!"
The snake left the stage without any incident.
The local government protects the wildlife in the whole island. It is illegal to inflict harm on any animals, including snakes. Perhaps, unless the animal attacked first.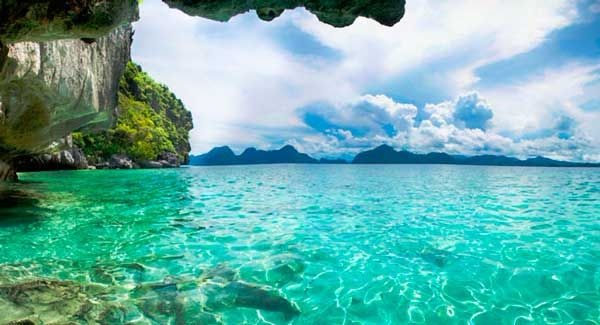 Image credit: https://www.palawanisland.org
Here's a post from TripAdvisor why Palawan is a fantastic place to go to not only for this summer: https://www.tripadvisor.com.ph/
Unfortunately, progress and commercialism have taken its toll on one of the attractions of Palawan. Namely, El Nido beach. A recent investigation by ABS-CBN shows that commercial structures were illegally constructed right before the shoreline. On one of the restaurants, the tide even reaches the feet of the tables and chairs.
Worse, a drainage pipe from at least one of the resorts goes directly to the waters with all the polluted water and wastes coming from the establishment(s).
4) Negros Occidental
Lately, Negros Occidental boasts their latest tourist attraction Campuestuhan. Campuestuhan offers a variety of activities and adventures. Including zip line and the skybike.
Recently @Jean-Beltran posted about here adventures in Negros which includes Campuestohan Highland Resort.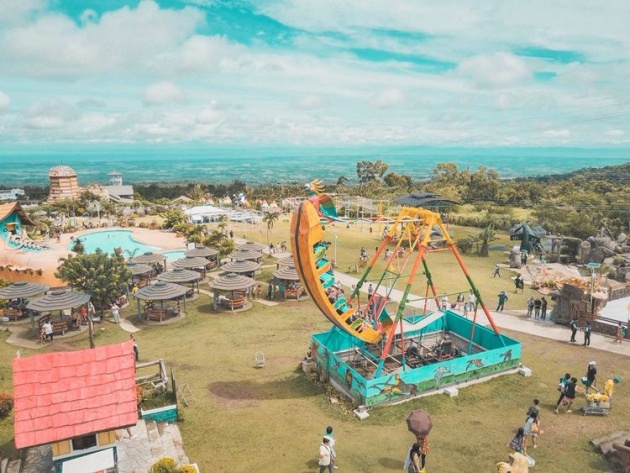 Campuestohan, Negros Occidental
Image Credit: https://www.tripvisor.ph/
Another great place to relax and get close to nature in Negros Occidental is the Mambukal Mountain Resort. Where you can relax in a hot spring or enjoy the cool waters in their swimming pool or even take a hike up to the peak of the mountain where the source of the waterfalls is located.
5) Siquijor Island
While I was studying in Cebu, Siquijor Island is quite known not as a tourist destination but rather by something negative. Just as my home province of Capiz was known for the myth 'Aswang', Siquijor was known for another negative superstitious belief that I would rather not mention.
These days though, Siquijor is now a famous tourist destination in the Visayas Region. Some of the attractions are:
Guiwahon Spring Park
Coco Grove Beach Resort
Lugnason Falls
Salagdoong Beach
Cambuhayag Falls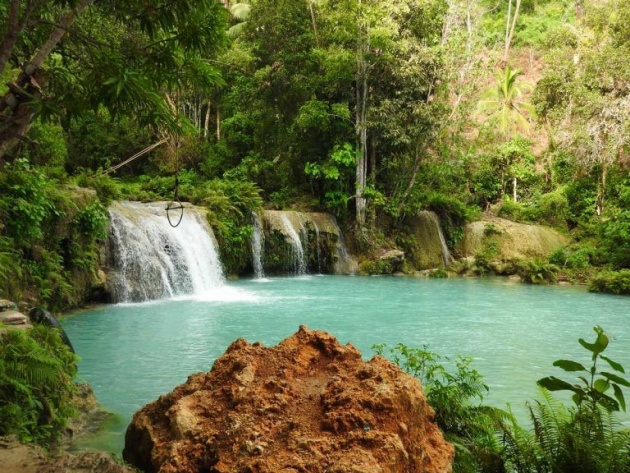 Cambuhayag Falls, Siquijor
Image Credit: https://www.geekyexplorer.com/
If you want to know more about Siquijor Island here's a post by the geeky explorer:
6) Guimaras Island
Guimaras is actually close to home. From our city - Roxas City, Capiz - all we need is to travel for about three hours to Iloilo and take another half hour boat ride to the island.
Guimaras Island is known for its sweet Mango. Scientifically declared as the sweetest mango and the only variety served in the White House and the Buckingham Palace.
To protect the purity and quality of this variety, it is illegal to bring any variety of mango to the island.
Recently, the Province of Guimaras boasts a Wind Farm that generates 54 Mega Watt of electricity.
Aside from its famous mango and wind farm, Guimaras also offers a number of natural and man-made tourist attractions:
The Trappist Monastery
Guisi Lighthouse and Beach
The Smallest Plaza
Turtle Island
Ave Maria Island
Natago Beach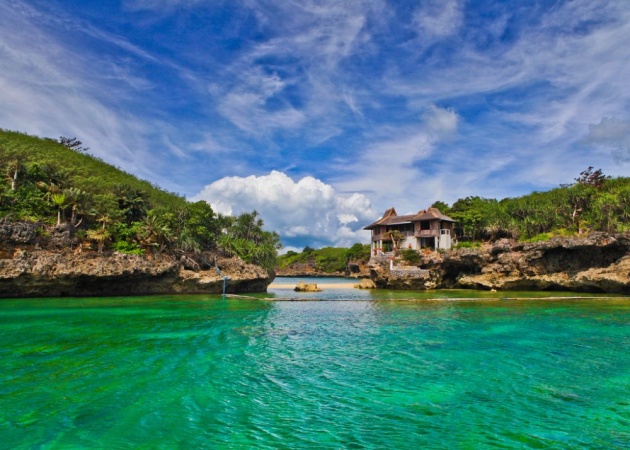 Natago Beach, Guimaras Island
Image Credit: https://roxilim.wordpress.com
Aside from these places to go, Guimaras holds a number of religious fiestas in the month of May. To learn more about Guimaras, here are a couple of blog posts;
7) Baguio City
Last but absolutely not the least, if you want to get off the heat, then what's better than going to the coldest place in the Philippines. Baguio City is known as the Summer Capital of the Philippines. Rightly so. In the news yesterday, the coldest temperature in another city in the Philippines was 26 degrees Celcius. The warmest temperature in Baguio City, on the other hand, was 22 degrees Celcius!
Aside from the cold temperature, Baguio is a city close to nature. Despite its development, age-old pine trees are everywhere. Since it has a naturally cold temperature, air-conditioning units are rarely used even in hotels. Who needs an air-conditioner when the ambient temperature drops to almost zero degree Celsius.
While enjoying the cold temperature and the fabulous view in Baguio, you can spend some time in these places too:
Burnham Park
Philippine Military Academy
Camp John Hay
Strawberry Farm (in the neighboring town)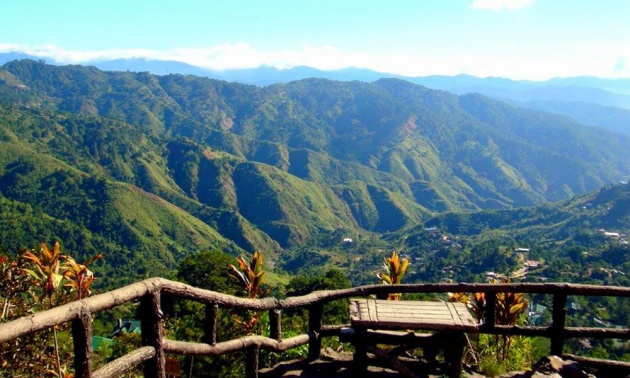 One of the spectacular view from Baguio City.
Image Credit: http://pageone.ph/
Special Mentions
Before I close this blog, I believe these places are worth mentioning as well, but I did not include in my options for this summer.
Dakak beach resort in Dapitan City
Surigao City.
Iligan City
Cebu
I have heard beautiful things about these places in the past, but I have no updated information as of now. I personally went on a business trip in Surigao City and the sunrise view on their seaport astounded me, that I want to go back there someday.
Iligan City also has a number of beautiful waterfalls and springs.
Cebu Province also has a number of beautiful places to offer like the Kawasan Falls, some beaches in other towns like Carcar, Oslob, etc..
The Philippines has a lot more place to offer if you want to get close to nature. Also, there are a number of man-made adventure parks that could be worth visiting. One of those that I really wanted to go to is the Manila Ocean Park
Manila Ocean Park
Video Credit: Hour Philippines TV Via YouTube
Then again, this summer, I want to get away from the noise and pollution of the city and get close to nature!
Thanks for Reading.
~oO0Oo~
John Reynold Loberiza (a.k.a @artbytes) is a freelance graphic artist, web developer, and blogger. He is also a licensed Financial Adviser under Insular Life.
The content of this blog post is the author's original work. Proper credit is always given to the respective sources of information and images. Please feel free to check out my other blog posts: http://www.bitlanders.com/Artbytes/blog_post
If you have any reactions or inquiries regarding the subject of this post, please write it in the comment or send the author a private message.
For more information or questions you can also:
visit my personal blog: https://jrlcentral.xyz
follow me on twitter: @jrlcentral
or email me at: rlcreativeideas@gmail.com
~oO0Oo~
Join Bitlanders
If are not a member of Bitlanders yet and you are a content creator- a writer, blogger, photographer, an artist or a hobbyist, you can earn from your creations (blog posts, photos, artworks, or videos) by uploading them in Bitlanders.
You can join Bitlanders by clicking THIS LINK.