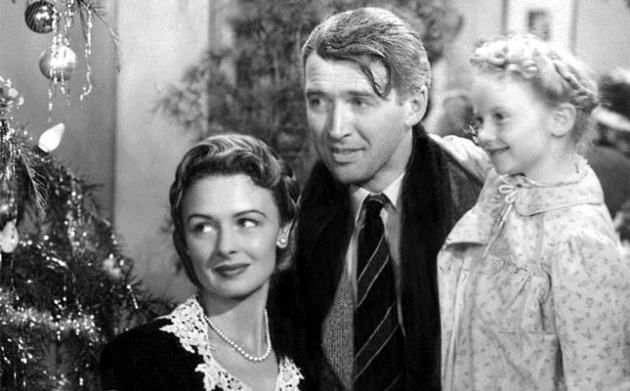 Because we really really want to know what happened to the Bailey's, Star Partners and Hummingbird Prods. are collaborating on a sequel to Frank Capra's beloved 1946 movie "It's a Wonderful Life" according to Variety.
The sequel will be called "It's a Wonderful Life: The Rest of the Story" and will focus on George Bailey's (Jimmy Stewart) grandson. Karolyn Grimes, who played Bailey's daughter Zuzu in the original, will star as an angel. So part 2 will be just like part 1 with different characters and without Stewart and Donna Reed, and of course, Capra. But I hope not!
Grimes, by the way, was the little girl who said the memorable line, "Every time a bell rings, an angel gets his wings!'
Hummingbird's Bob Farnsworth and Martha Bolton have written the screenplay. Farnsworth told Variety that the "storyline of the new film retains the spirit of the original – every life is important as long as you have friends."
Variety also revealed that the producers will be actively looking for the actor to play Bailey's grandson and that they have begun discussions with original cast members, Jimmy Hawkins (Tommy Bailey) and Carol Coombs (Janie Bailey) to reprise their roles.
Majority of the sequel will be shot in Louisiana with a budget between $25 million to $35 million. Producers are also actively looking for the director of the sequel.