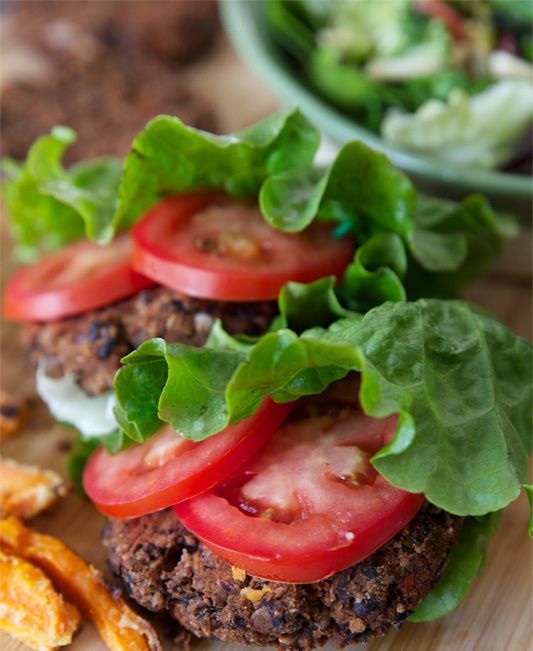 So burger week has been all fun and games for the meat lovers. The week started off with the Queso Blanco Cinco de Mayo Burger, then the Mouth Watering Tasty Reuben Burger, followed by the wildly popular Guacamole Bacon Burger, and delicious Sautéed Mushroom & Swiss Burger with Caramelized Onions! Additionally, Jesseca from One Sweet Appetite has also been sharing great burgers. So what about those of you that either a) don't care to eat meat or b) are vegetarian and just plain don't eat meat?
I had a special request from a friend to share a veggie burger. Before she mentioned it the thought didn't really cross my mind. I'm SO glad I took the challenge. First of all, these smelled absolutely divine before they even hit the grill. Then, wrapped in lettuce, topped with a tomato and served with a side of the most delicious sweet potato fries you've ever tasted and a garden salad: you've got an out of this world meal. In fact, my husband said this was possibly the best meal I've ever cooked for him! Whoa. Um. Wow.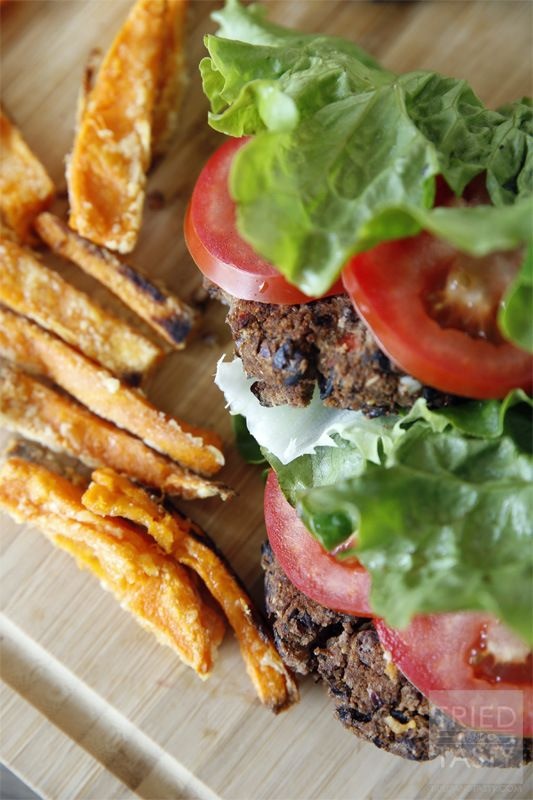 These are so tasty you won't even miss the fact that you aren't having any meat. They are filling, ultra healthy, and perfectly seasoned. I'm excited to add these to the regular rotation this grilling season. If you like these, you'll have to check out a few of my other vegetarian favs including my Sweet Potato & Black Bean Enchiladas, Vegan Taco Salad, and Veggie Lovers Stuffed Zucchini!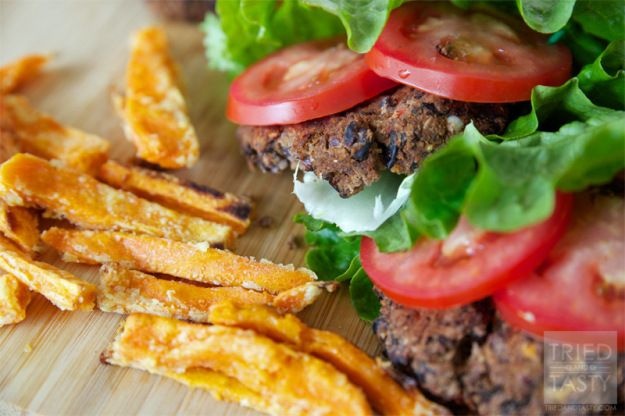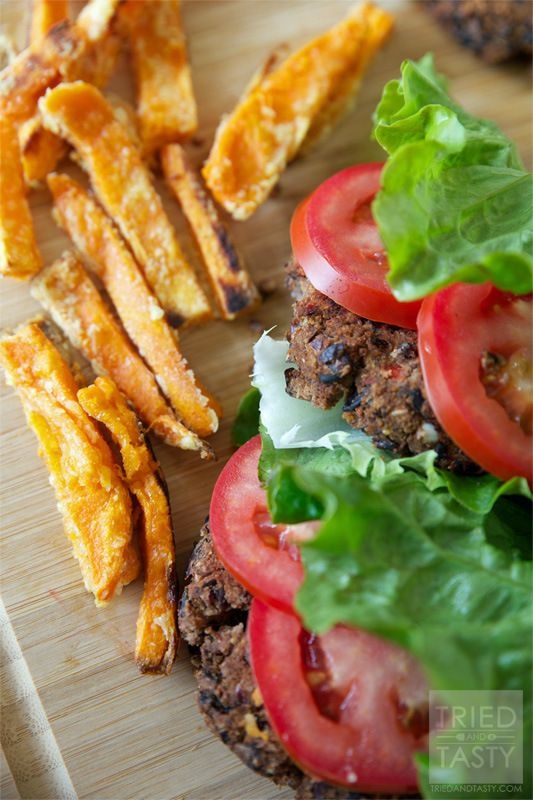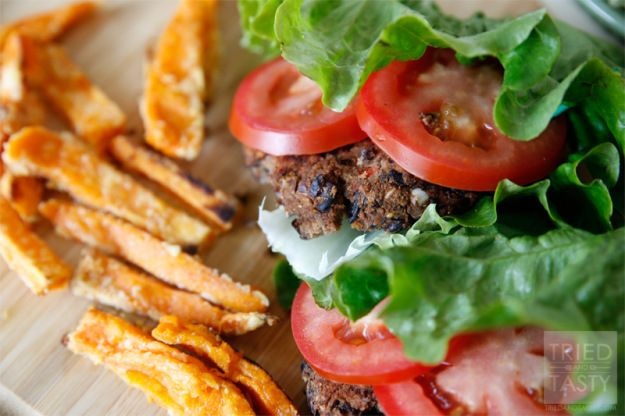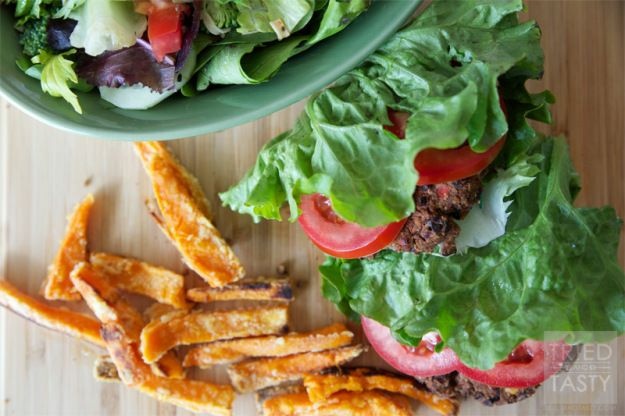 Homemade Black Bean Veggie Burger
Serves 7
If you're looking for an alternative to the traditional grilled hamburger, why not give this Black Bean Veggie Burger a try? It's delicious, it's healthy, and it's easy to pull together. Make room on your grilling menu this season for this fantastic burger!
Ingredients
2 (15 oz cans) black beans, rinsed & drained
1/2 bell pepper (any color), quartered
1/4 white onion, cut into wedges
1/4 red onion, cut into wedges
3 cloves garlic, peeled
1 egg
1 tbsp. chili powder
1 tsp. cumin
1/2 tsp. salt
1/4 tsp. cayenne (optional)
1 c. fresh bread crumbs
Instructions
Preheat grill to high heat, and lightly oil a sheet of aluminum foil. In a medium bowl, mash black beans with a fork until thick and pasty. In a food processor, finely mince bell pepper, onion, and garlic; drain excess liquid. Add to mashed beans. Stir in egg, chili powder, cumin, salt, & cayenne. Mix in bread crumbs until the mixture is sticky and holds together. Using 1/2 c. measuring cup, divide mixture into seven patties. Place patties on foil, and grill about 8 minutes on each side.
Notes
If you would rather bake the veggie burgers rather than grill them, preheat oven to 375, and lightly oil a baking sheet. Place patties on baking sheet, and bake about 10 minutes on each side.
Did you know you can make your own bread crumbs instead of buying pre-made? I love this method and use it any time I need breadcrumbs. At the beginning of the year I went to buy some from the store and the ingredient list was a mile long filled with junk that doesn't belong in breadcrumbs. We buy Dave's Killer Bread, so I know using that I've got some pretty power-packed breadcrumbs. All you have to do is broil your bread (for 1 cup of breadcrumbs I used 4 slices of bread) on high until dark golden brown. Then flip and broil the other side. Once the bread is thoroughly toasted let cool for several minutes and then pulverize in a food processor. Works like a charm!