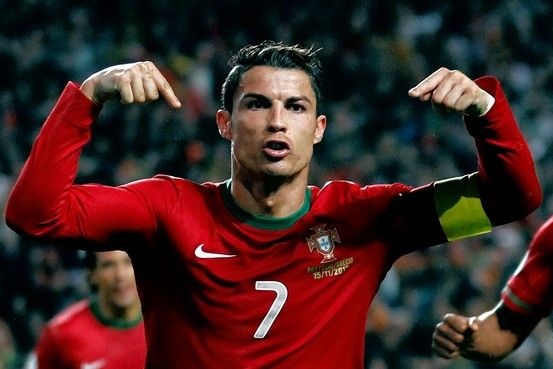 Since the U.S. men's national soccer team began its string of participating in seven straight World Cup tournaments in 1990, it has faced world champions and all-time greats.
They have never, however, had to figure out how to stop the likes of Portugal's Cristiano Ronaldo.
A dozen years into his storied career, any superlative that can describe the reigning FIFA World Player of the Year has been used. Ronaldo is ridiculously fast, sometimes appearing faster with the ball than without it. He has unmatched foot skills, and he is as driven a competitor as the human race can produce.
World-wide, he has one peer. "Messi is an artist turned footballer," said Arsenal coach Arsène Wenger, referring to Argentina's Lionel Messi. "But Ronaldo is an athlete."
He doesn't like to just beat opponents as much as obliterate them, even if it means running up the score, ripping off his shirt and flexing for the cameras, as he did in last month's UEFA Champions League final. Still just 29, he has scored more than 300 goals for club and country, including an outrageous 51 this season as he led Real Madrid to the European club title. (See profiles of Ronaldo and other key players to watch.)
"If he has a good day, he can do anything," said Jermaine Jones, a physical midfielder for the U.S. who figures to shoulder part of the burden of slowing down Ronaldo. "He is a perfect player. But you wake up in the morning, he feels good, you feel good, and then you go have a battle."
As the U.S. prepares to face Ronaldo and Portugal on Sunday in Manaus—the second match for each team in the World Cup's group stage—everything is falling into place for the Americans, who won their crucial opener against Ghana on Monday. Portugal, beaten 4-0 by Germany in its first game, has lost three of its top players to suspension or injury. A win would clinch a spot in the knockout round for the U.S. (Meet team USA)
Also, Ronaldo may be slightly hobbled. He has been suffering from chronic tendinitis in his knee the past month. He cut short his training on Wednesday to treat the injury with ice, a common occurrence of late.
But then, even Ronaldo on one leg is as frightening a prospect as any U.S. team has ever faced.
The U.S. has lined up against top players before in the World Cup. The results have been respectable—surprising, even. The 1994 team played Brazil's Romario at the height of his career; it lost 1-0. In 2002, the last time the U.S. faced Portugal in the World Cup, the Portuguese featured Luis Figo, who had been named the world's top player in the previous year. The U.S. won, 3-2. In 2010 England brought Wayne Rooney; the Americans managed a 1-1 draw.
But those stars weren't at the level of Ronaldo, who beats opponents every which way. He scored eight goals for Portugal in qualifying—three with his head, three with his right foot and two with his left. More troublesome, he scored about one-third of his 51 goals for Real Madrid this year by sprinting into open space on one of his deadly diagonal runs, picking up a pass and bearing down on a hopeless goalkeeper.
Unfortunately for the U.S., there is no corollary in soccer to the rules in American football allowing contact with receivers at the line of scrimmage. It is almost impossible legally to slow an opponent before he gets the ball.
"The whole back line has to be very aware of where he is at every moment," said U.S. defender Omar Gonzalez. "Once he starts to pick up speed, you can't slow him down. So if you are one-on-one with him you have to try to hold him up until you can get some help."
Ronaldo also roams the field like a predator, lining up on the left, right or in the center at any given moment. Homework in the video room can only do some much. "You can know exactly what Cristiano Ronaldo will do but that doesn't mean you can stop him," U.S. coach Jurgen Klinsmann said recently.
What to do, then?
"Well, you can foul him," said the U.S.'s DaMarcus Beasley, who had a shaky game at left back against Ghana, struggling to keep up with the speed and power of Ghana's wingers. Beasley figures to bear much of the Ronaldo brunt on Sunday. "Everyone knows Cristiano Ronaldo is the best player in the world. Even one or two extra guys can't completely stop him."
Jones said Thursday the team was taking inspiration from the NBA Finals in which the San Antonio Spurs beat LeBron James and the Miami Heat.
"I always say that a team is important, not just two or three players," Jones said. "The Spurs were the better team and that is why they won the championship."
In other words, stopping Ronaldo will take a combination of intense pressure on Portugal's midfield—to make it difficult to feed him balls in dangerous positions—and at least two players to converge on him once he gets the ball. The more offensive-minded midfielders Michael Bradley and Alejandro Bedoya must chase back to fill in open spaces and help on defense. Fabian Johnson, the right back for the U.S. who has been wreaking havoc with his runs up the wings the past month, will likely have to temper those efforts.
Johnson, who plays in Germany's Bundesliga, said Arjen Robben and Franck Ribery of Bayern Munich, are the only players he has faced that he could compare with Ronaldo.
"Nobody stops these players," Johnson said. "They will create chances every game."