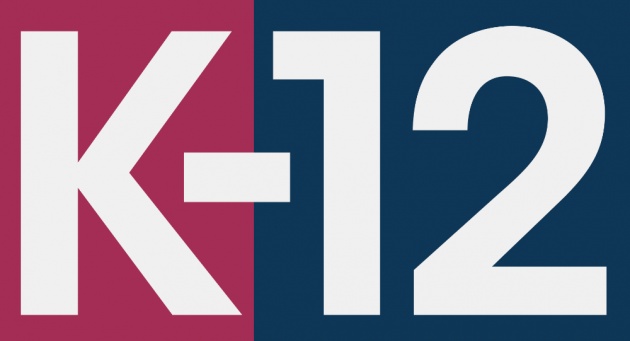 Image Source: via k12philippines.com
Video Source: via CIIT Philippines College of Arts and Technology
First of all, I'm dedicating this blog for my dearest classmates for their hard work and perseverance in achieving the Second semester of this year. Last shot guys! And finally we're going to college! So now, many people asking me this question. How it feels like to be the first Senior High Student In our country? I would like to answer it with pride and understanding, but first I'm going to give you the positive and negative impact of being 'The First Batch of Senior High School Student here in the Philippines'

Image Source: via kchonline.ph
As for all of you to know, The Philippines is the last country in Asia who implement K to 12 program. It was under the Administration of Former President Benigno Simeon Cojuangco Aquino III.
The Junior High school Graduate of Batch 2015 – 2016 was forced to take Senior High School due to the implementation under the law that requires a Junior High school to take Senior High before proceeding to college.
REPUBLIC ACT No. 10533

AN ACT ENHANCING THE PHILIPPINE BASIC EDUCATION SYSTEM BY STRENGTHENING ITS CURRICULUM AND INCREASING THE NUMBER OF YEARS FOR BASIC EDUCATION, APPROPRIATING FUNDS THEREFOR AND FOR OTHER PURPOSES

- source: via lawphil.net
This affects the phase of Education, after graduating Elementary which is Grade 6, a student needs to enter the Junior High School which they called Grade 7, Grade 8, Grade 9, Grade 10 instead of 1st year, 2nd year, 3rd year, and 4th year, and after Grade 10, The Grade 11 and Grade 12 which is a Senior High enters the scene.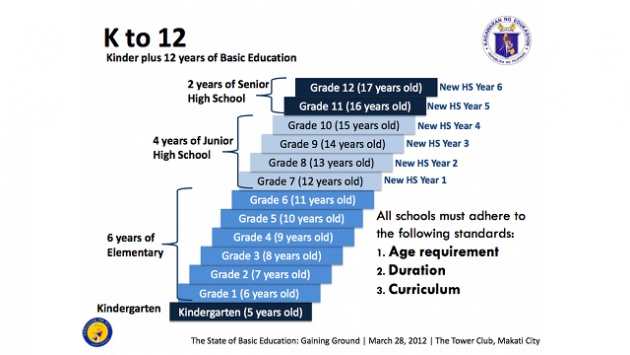 Image Source: via rappler.com
Senior High School contained the following strand – ABM (Accountancy and Business Management), STEM (Science, Technology, Engineering and Mathematics), HUMMS (Humanities and Social Science), and the General Course for Senior High School which is the GAS.
Students who would like to precede in Bachelor of Science in Entrepreneurship, Human Resource Development Management, Business Administration, Business Economics, Accountancy, Management, Tourism and many more, should take the ABM Strand. Students who would like to take Bachelor of Science in Information Technology, Computer Science, Computer Engineering, Chemical Engineering, Industrial Engineering, Biology, Mathematics, Architecture, Medical Sciences, Nursing, Pharmacy, Physical Therapy and many more in college should take the STEM Strand.

- via angelicum.edu.ph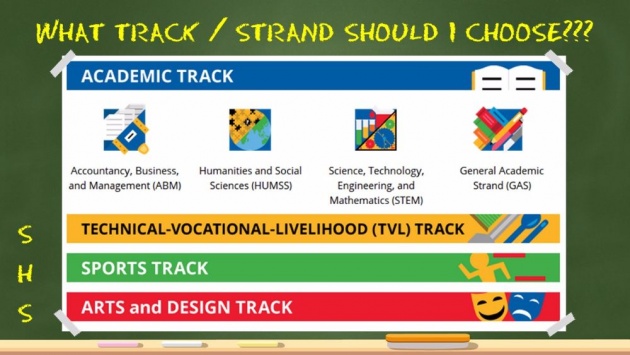 Image Source: via abbieenhere.blogspot.com
Students who are fond of the writings and arts they should take the HUMMS Strand which they will take Bachelor of Arts in Communication, Elementary Education, Secondary Education, Journalis, Broadcast Journalism, Social Studies, Philosophy, Asian Studies, Literature, Foreign Studies, Political Science and many more, in the college, and last the GAS Strand, for learners who are not yet decided on what course to take in college. It is possible that the learner will be given bridging courses to assess his/her preparedness for the field of study he/she will choose in the future.

-via angelicum.edu.ph
Other than the 4 Academic strands, there are 3 courses that can be take in Senior High, The Technical-Vocational-Livelihood, Sports and Arts and Design

Image Source: via depedresources.wordpress.com
THE NEGATIVE PART OF SENIOR HIGH
ADDITIONAL YEARS
- The Additional years of Studying are an addition to the burden of each parent of Senior High school Students. Even the student involved in it, doesn't really approved with the sudden change of Education Years. Personally, when I heard about the finalization of the Program, I felt like defeated and murmured in disbelief. My entire plan changed. I was planning to take Accountancy and have my board exam by the year 2020-2021 but it was revised by the fact I still have 2 years to deal with.
My Father also doesn't like the idea, even after the first ever announcement of the program which way back years ago. He repeatedly says that time that -
it would only bring burden and it will cause another financial problem for parents. Even though the government offered a subsidy of 14,500 PHP for private school and 17,500 for public school in the province, the subsidy will not cover the allowance for food, transportation, project, books, and many more, for 2 long years
Image Source: via careleader.org
He also told his opposition when coincidentally, he saw his former Professor in college, which likes the idea of senior high program. His Professor told him that:
You know that, Senior high is the key for our student to be competitive in foreign countries and I truly believe that it would help a lot of people
My father disagrees in disbelief "if a student is really bright and smart, he/she doesn't need to take the Senior High school program to be competitive" and he jokingly said "So you're telling me Sir that you are not enough to compete with other countries? Then your degree and license you have taken for 6 months are not enough? You didn't take Senior high, right?" and His Former Professor laughed his answer out "After all these years, you didn't change at all ha-ha"
APPRECIATING WORK
- Because of the change, we had realized that our working days and being career men/women in the future would be such a rush. My mate and I thought about what would happen if we graduated at the age of 23 or 24? The basis of marriage here in the Philippines is ranging from 24 years old to 27 years old. They always say that if you haven't still plan for your Marriage life at the age of 28 years old, you'll be left out by your generation. The tradition here in the Philippines is not for Career woman who I wanted to be. So having the Kto12 Program leaves a burden in my part.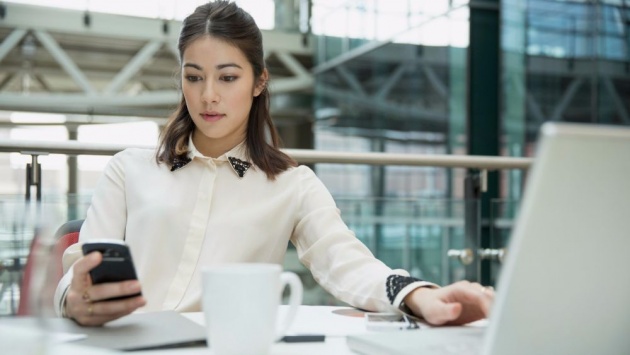 Image Source: via sheknows.com
THE POSITIVE PART OF SENIOR HIGH
In my opinion, there are only 2 positive things I've seen for the past 1 year and half of my Senior High experienced.
STUDENTS HAVE 2 YEARS TO DECIDE
- Going to college seems an easy way to do, especially you know what course you want to take, but what will happen if in the last day of enrollment for college, you end up undecided for your course? It's frustrating! And if you didn't really like the idea of what you've signed for, you'll end up scratching your head and shifting to another course.
Well, now, because of 2 years in taking Senior high school, you can now think what the best for you in college. However, you should take GAS because once you took ABM, STEM or HUMMS, you should be choosing between the courses under that strand or else you'll end up again just like my classmate who wants to have engineer has her course but chose ABM in Senior high.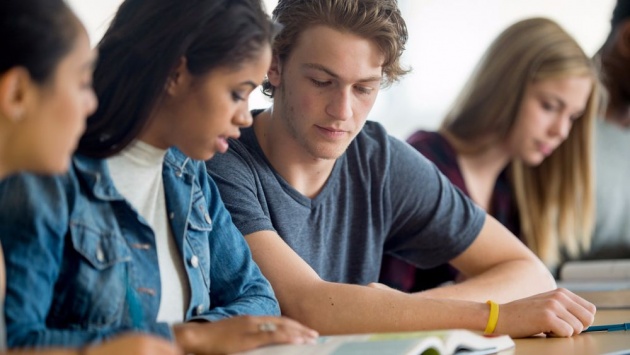 Image Source: via bath.ac.uk
These 2 years additional years of deciding were good for me. I can choose whatever course I want to have in college. I love things related to business, but I am not really sure what to take, so I decided to take ABM which is a Good choice for me.
WORK AFTER SENIOR HIGH
- This is one of the great things Senior High can offer. People who are lack of money to proceed in college can already work after studying for Senior high, however, don't expect a good position because some companies preferred a College Graduate. But it is still a good fight after all.
I personally like this idea because I am planning to have a Part time job which related to business after Senior High while I am studying Accountancy at College.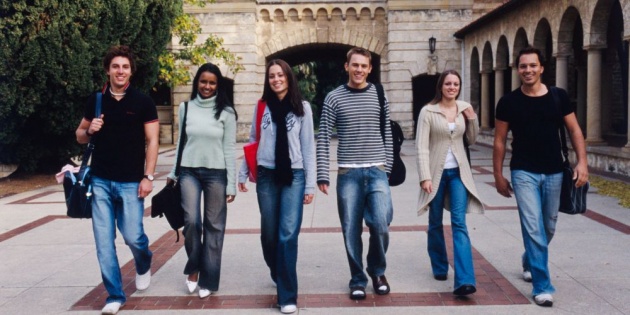 Image Source: via refinancestudentloans.net
SUM IT UP
Honestly speaking, sometimes I thought of, I wasted my 2 years of studying in senior high, especially when I found out that almost all of the subjects we've studied are all going to be taken again in college. Sounds depressing right? But I also thought of having an advantage towards other college graduate.
They told us that in the year when all Senior High School Students, graduates, the company would prefer people who took the program rather who didn't, except for people who took license exam and have the exceptional skills and attitude. But all in all, that's fantastic! I think we deserve it for sacrificing 2 years.
How it feels like to be the first Senior High Student in our country?
It's a privilege to be the first batch after all; people will look upon you and wonder what would be the results and such, and they will ask you questions that only a senior high student can answer, and it is also an experienced because of the different curriculum they've implemented throughout the Kto12 years.
This month is the start of the 2nd sem for my Grade 12 Education. I will be graduating this coming March and hope to have better future in my college years :)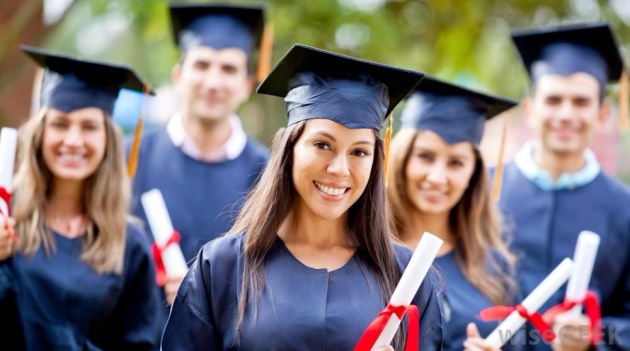 Image Source: via wisegeek.com
Video Source: Krazyrayray
November 2017