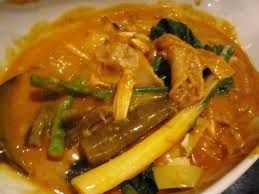 Ingredients:
1 Kilo of Pork or Beef cut into cubes
2 Bundles of pechay
1 bundle long beans cut into 2"
8 tbs of Peanut Butter
3 cloves garlic choped
1 medium onion, sliced
3 talong/eggplant (cut into 6 pieces)
1 small pack of achuete powder
1/2 cup cooked bagoong alamang
1/2 cup oil
10 cups of water
Procedure:
1 . In a large pot, boil the beef or pork in water for 1 1/2 hours until tender . Remove the meat into the pot after boiling.

2. Put Oil into a pan and achuete

3. Sauté onions and garlic, then add the beef/pork and peanut butter. Bring to a boil and simmer for 20 minutes.

4. Add the vegetables the pechay, sitaw and eggplant. Cook the vegetables for 2minutes .

5. Serve Hot! Kare-Kare is best with bagoong on side.
Thank you! Buzz, share and subscribe :)