Photo Credits: https://www.youtube.com
A Pimple is a skin disorder, which affects almost everyone at some point. It's an inflammation of the skin in which the oil glands infected with bacteria, swell up, and fill with pus. A pimple is a spot popping out of the skin.
Sometimes it becomes almost impossible to get rid of pimples. These are some of the definitions of pimples. Now, I just want to ask, "Have you ever faced pimple problem"? I am sure you have. It's a common disorder which occurs due to many reasons.
Video Credits: Smart Learning for All via https://www.youtube.com
Sometimes the reason for pimples can be:
● Diet
● Exposure to sun
● Use of quality fewer cosmetics
● Excessive use of junk food
● Lower intake of water
***¥ How to get rid of pimples? ¥***
Photo Credits: https://www.youtube.com
After getting affected by pimples, everyone wants a quick and rapid solution of pimples. There are hundreds of solutions for dealing with pimples. But, which suits your skin type is really important. Every skin type is different from another, that's why inspection is necessary before eating or applying anything on the skin. Basically, the solutions to pimples are divided into three different themes. These are:
❸ Systematic treatment
***¥ Natural Remedies ¥***
Photo Credits: http://www.rickys-nyc.com
In this article, I am just discussing the self-care or natural remedies that are associated with pimples. Going for expensive skin treatments and medication is not affordable for everyone. Therefore, there must be some alternative. Yes! I have many alternatives here with which you can make your skin acne free. These solutions are cheap and easy to implement. Let's start our first remedy.
❶Ice
❷Aloe vera Gel
❸Tooth paste
❹ Green tea
❺Steam
❻Lemon
***Ice***
Photo Credits: https://www.beautycareonline.com
Any easy solution to pimples without any risk of side effects is Ice. Ice is often used to bring down redness and swelling on the irritated skin. Ice helps for improving the blood circulation in the affected area. Besides that, ice also helps in tightening skin pores. Excessive dirt and oil can be easily removed with ice. The method of using ice is right below:


● Wash your face with mild cleanser and dry it with a soft towel.

● Take one ice cube and wrap it in a soft cloth.

● Hold it on the irritated area for 15 seconds.

● Wait a minute and repeat the process again for 4-5 times.

● Doing this three times daily will quickly reduce pimples.
***Lemon***
As we all know lemon is enriched with vitamin C. Lemon is the cheapest source of Vitamin C, which is much beneficial for the skin. Lemon juice is the best friend of skin because after applying it, skin looks fresh and glowing. It not only provides freshness rather lemon also dries pimples quickly. Fresh lemon juice is better because bottled products contain preservatives. The method to use this is:

● Before going to bed, dip a cotton pad in lemon juice and apply it gently on pimples.

● Keep it overnight and wash your face with lime water in the morning.

● You will feel magical results after that remedy.
***Aloe Vera***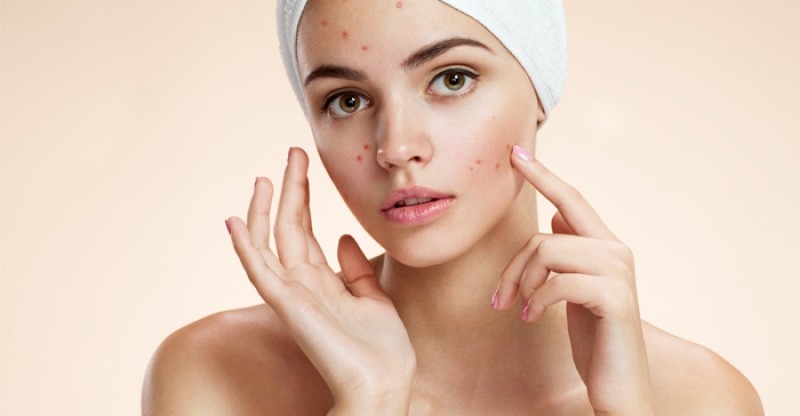 Photo Credits: https://www.well-beingsecrets.com
Aloe vera is a stifling plant with leaves that produces a gel. It's one of those natural products which are beneficial for skin, hair etc. everything. Aloe Vera fights with bacteria and reduces inflammation. It is used for wounding heals. Aloe Vera gel clears up all the pimples in just 2-3 days. The method of using aloe vera gel is right below:
● Take the gel out of leaves with the help of a knife.

● Apply aloe vera gel gently on skin. You can also add additional products in aloe vera for better results.

● Repeat this process 2-3 days.
***Green tea***
Photo Credits: http://theparkerreport.com
A lot of people drink green tea daily for a healthy body, but no one knows that it is can also apply to the skin. Green tea contains Flavonoid that helps fight against bacteria and inflammation which cause pimples. The antioxidants present in green tea work amazingly on the skin. Applying green tea will produce less sebum. In this way, harmful sebum is reduced which form pimples. The technique to apply it is:

● Make green tea and allow the tea to cool.

● Put this tea in a spray bottle and spray it all on your face.

● Leave it for 15-20 minutes and wash your face with lime water.

● Spray it twice a day for better results.
***Toothpaste***
Photo Credits: http://www.healthstumble.com
The Toothpaste we use daily for brushing our teeth also has significant benefits for the skin. Toothpaste is used for treating pimples quickly. But keep in mind that only classic white toothpaste is used for pimples. The gel-based toothpaste should not use for pimples. Toothpaste is enriched with such chemicals that can heal wounds rapidly. The methodology for applying toothpaste is:
● Take a small amount of toothpaste on the finger.

● Apply it on pimples.

● Wait for 2-3 hours until it dried up completely and then wash off.

● Repeat this process twice a week.
***Steam***
Photo Credits: https://www.facingacne.com
Steaming is wonderful for skin at any time, but particularly when you have pimples. Steaming will open all the pores and tightens your skin. Your skin can breathe after steaming. All the dirt, oils and bacteria trapped in your skin will immediately get out. After cleaning your skin the root cause of pimples will be eliminated. Thus, your skin becomes a pimple free. The process of steaming is much easy described below:
● Boil water on 100◦C and put it in a small tub.

● Take a clean towel on your face and allow the steam to come in contact with your skin for 4-5 minutes.

● Wash your face with tab water.

● After drying you face, apply some moisturizer on the skin.
Conclusion...
Video Credits: Alex Costa via https://www.youtube.com
Here is a video that also helps you in fighting against pimples. These are some natural home based remedies for treating pimples. Following these tricks for getting rid of pimples is much easy. Excessive use of everything is bad so try to use these remedies as per requirement. Applying these products for more than twice a day can be harmful. You don't need to pay for expensive cosmetics rather use these remedies the way I mentioned.
I hope you like reading this post. Thank you so much for reading that post. Stay tuned for further posts.
oOoOoOo

© This blog is written and presented by ®Kiran Abid, a Pakistani blogger, and student of Computer Engineering. To read more blogs written by me, click here.