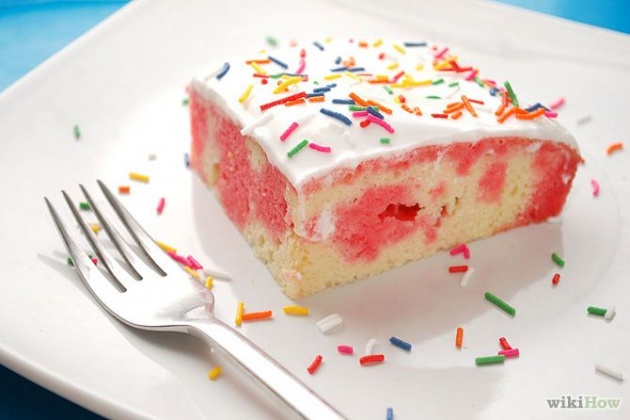 This is a delicious and simple recipe to make. It's also called "poke cake." Read and find out why it's called that!
Ingredients
White or yellow cake mix
One big box or two little boxes of flavored gelatin (Jello)
Water
Creamy whipped topping of any flavor
Candy sprinkles (optional)
Steps
2
After the cake cools for 15 minutes, poke holes with a fork (meat forks or metal forks work well) or a pair of chopsticks. Holes should not go all the way through cake to the bottom of the pan. The entire cake should be perforated this way with holes every 1/2 - 3/4 inch (1-2 centimeters).
3
Prepare a large box of flavored gelatin. Do not chill.
4
Pour cooled gelatin liquid evenly over entire cake. Holes in the cake allow gelatin to seep into the cake.
5
Place the cake in the refrigerator until gelatin firms, about 3-4 hours.
6
Spread a whipped topping over top of cake, decorate with colorful candy sprinkles (optional) and serve!
7
Finished.
Source: http://www.wikihow.com/Make-Jello-Cake