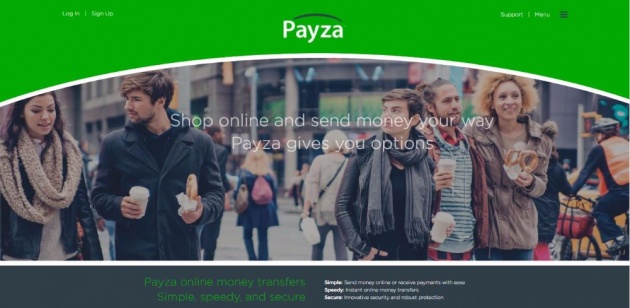 Image Credits: Payza Homepage Screenshot
As a leading online payments technology company, Payza's highly secure platform provides businesses and consumers with convenient and flexible solutions for sending and receiving payments worldwide. With full Bitcoin services that function alongside our fiat services, Payza is now a complete online payments solution that lets merchants accept payments and make payouts in both fiat currencies and Bitcoin.
Payza, formerly Alertpay Inc. has been around for quite some time. Payza is a globally known online payment platform founded in 2004 by Firoz Patel, a Canadian businessman under MH Pillars Ltd. On May 14, 2012, the company has relaunched a newly designed website with enhanced services such as localized bank transfers in more countries, global bank wires in more currencies and enhanced support system.
The localized bank transfer service may not be available in the Philippines up to this time because we could not transfer our money from Payza directly to our local banks. However, because of the availability of different currencies, including Bitcoins, withdrawing our funds from the site may not be a problem anymore.
I could still see some individuals who are facing difficulties when it comes to withdrawing funds from this payment processor to their local banks. This is the reason why most of Filipino online workers prefer using PayPal.
Although due to the recent updates implemented by PayPal, there were some online working sites which were greatly affected and they were ban from using PayPal. Included in the list was Clixsense which has been online since 2007 and regarded as the oldest PTC. There are other online sites that were prohibited by PayPal to use their services on the basis that their businesses are not in compliance with the PayPal's User Agreement.
On a message posted by Clixsense owner, Jim Grago, he said:
Members, this announcement comes with a very heavy heart. On Monday, February 6th Paypal placed a hold on our account. They advised me that due to new policy changes the ClixSense business model was now in violation of their user agreement and we would have to stop processing all payments (in and payments out).
We attribute this change to a large amount of fly by night PTC, HYIPs, traffic exchanges etc that have made this industry look bad for those that actually run a legitimate business.
I have had several conference calls with Paypal over the last few days trying to convince them that we've posed no risk for the last 7 years since we've introduced them, and even our account rep agrees, but in their eyes, it did not matter. On Tuesday afternoon I was told I would get a definitive answer either last night or this morning if we would be able to continue with them for at least mass pay cashouts. I received the call this morning that they are not allowing us to process with them anymore. If you haven't noticed, the option to pay by Paypal has been removed from the site.
For this reason, other online workers decided to find other alternative payment processors so that they may be able to withdraw the amount they earned. On the other hand, some online workers decided to avoid those online working sites which are not paying through PayPal thus, giving them a limited way of earning from an online source.
On a positive note, such change in policy also opened new opportunities for other companies or payment processor. On our part being the end user, this issue helps us to become more resourceful. Being an online worker, we should be adaptable to changes and should always be ready for upcoming challenges. Please do remember that nothing is permanent in this world.
Sometimes, we just need to think differently because for every problem there is a corresponding solution.
Because of the implementation of new policies with the different sites, I decided to update my other payment processors including Payza. I searched for different methods of transferring the fund from the processor to our local banks or through any other legal means. What is important is that we can have our hard earned money in our bank at the time we need it.
Being a Filipino online worker requires more effort as compared to those who are from the US or other countries for that matter. First, we need to adjust with the time of our clients. Most companies which are US based are operating during the time when we are supposed to be sleeping. Yes, because of the time difference, we need to exert more effort just to earn some amount of dollars. We need to work while everyone else is sleeping. Hard work and perseverance are our major investments in order to be successful and to earn some decent amount for our family's needs.
I was glad that verification process with Payza is much easier nowadays compared to the time I first had an account. They were requiring an American Express during that time. Because of this, I could not verify my account. But in 2014, they only require the member to submit a national ID. So my account was verified upon submission of the required document.
Bitlanders Rewards and Withdrawal
When I came back to Bitlanders after several years of being inactive, I found out that the site has been offering payment withdrawal on both PayPal and Payza. It was a good news for me since I have both of these payment processors. Although for the time being, requesting for payment is still not on my plan since I am still building my account. I have to save for the Gems which I will be needing for the submission of my blogs.
I would consider using both Payza and PayPal whenever withdrawing payment becomes possible or necessary. I can't wait for that day to come.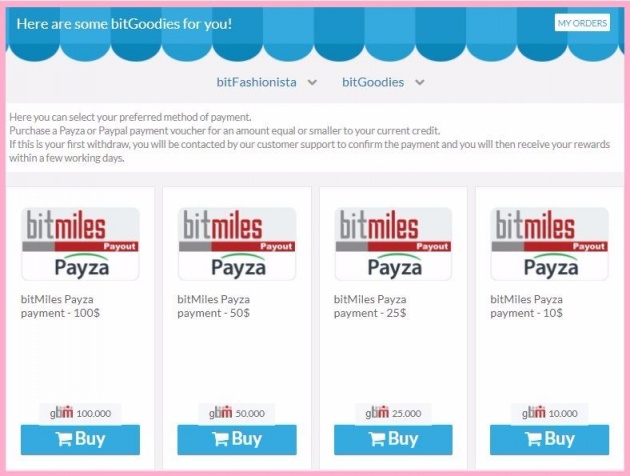 Transferring the Money to Philippine Banks
So, here is the main issue, how to transfer the money from Payza to our local banks in the Philippines?
I have been receiving a lot of queries in my inbox regarding this concern, especially when PayPal has made some changes in their policies. When I asked other online friends and fellow online workers, they told me that they are withdrawing their funds through money exchangers. Some said that they have opened a dollar account in the Philippines. However, the latter requires much higher fees.
Looking at the options available at Payza, I came to know that they were offering a service for exchange of currency which means they can send fund through Bitcoins. So I personally used this option to transfer my funds. The method requires another party, "Coins" so that I could complete my transaction. Coins is a Bitcoin Wallet that offers both Bitcoin and Peso Currency. Once we have the amount in our Coins account, everything will be easy for us. Please read my previous blog, Coins.ph - It's More Than A Bitcoin Wallet for more information about the site.
The Process
Here is a detailed process of the whole transaction from withdrawing funds from Payza up to receiving the funds to our local banks. Please do take note that we need another party, Coins, before we could complete the transaction.
Transfer of funds from Payza to Coins.ph
Step 1.
Click withdraw Funds from the Menu bar found at the uppermost portion of the home page of your Payza account.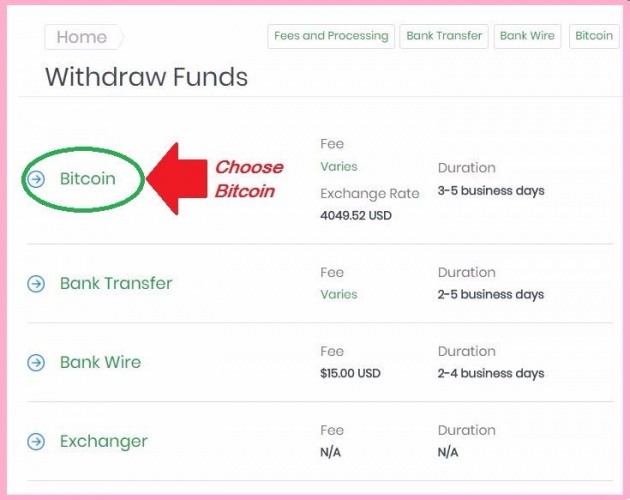 Note: You must have a minimum of Twenty Dollars ($20) in your account to be able to avail of this service.
Step 2.
A blank form will open where you can fill out of the required data. Please refer to the photo below for reference.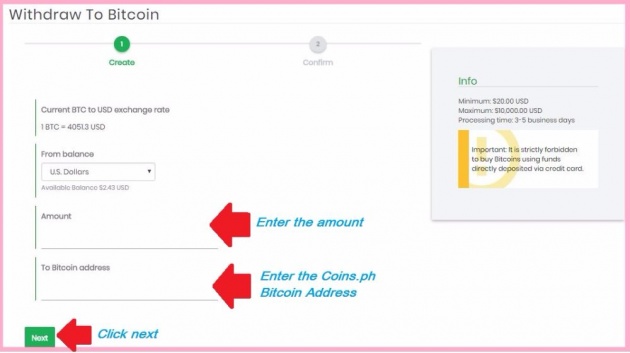 Image Credits: Screenshot image from an actual transaction from Payza.com
Click the confirmation button. From there, you will have to wait for several days before the amount will be credited to your Coins account.
Waiting Time
The waiting time would usually last up to 7 days.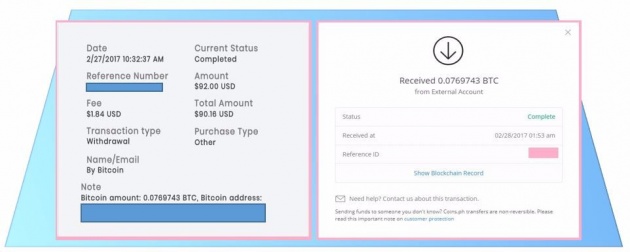 Image Credits: Screenshots of actual transaction records
Upon receipt of the amount on your Coins account, you can transfer it immediately to your bank or you can have it there until you decide to have it transferred.
Transfer of Funds from Coins.ph to Bank
From Coins, you can choose among the available ways to transfer money. You can choose from the different ways of transferring funds available at the site. I am using RCBC so I would be using this method as an example.
Step 3
On you Coins.ph account, click the CASH OUT button at the main menu on the uppermost portion of the monitor. A form will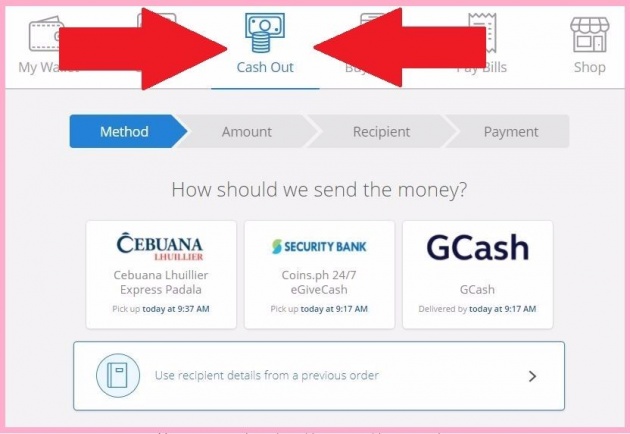 Image Credits: Screenshot from Coins.ph
Step 3.a
I have chosen Cash Card RCBC My Wallet. Click Next Step to continue.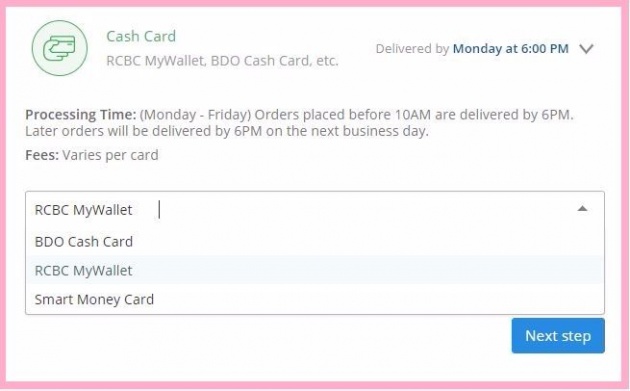 Image Credits: Screenshot from Coins.ph
Step 4
Enter the amount you want to withdraw. Click Next Step.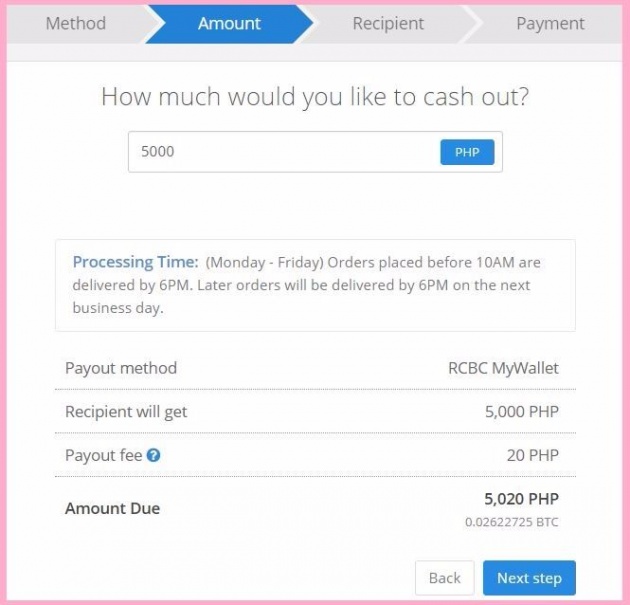 Image Credits: Screenshot from Coins.ph
Step 5:
Fill out the recipient details as shown in the example below. Please be careful when entering the account number. Mobile number is optional. Click Complete Payment.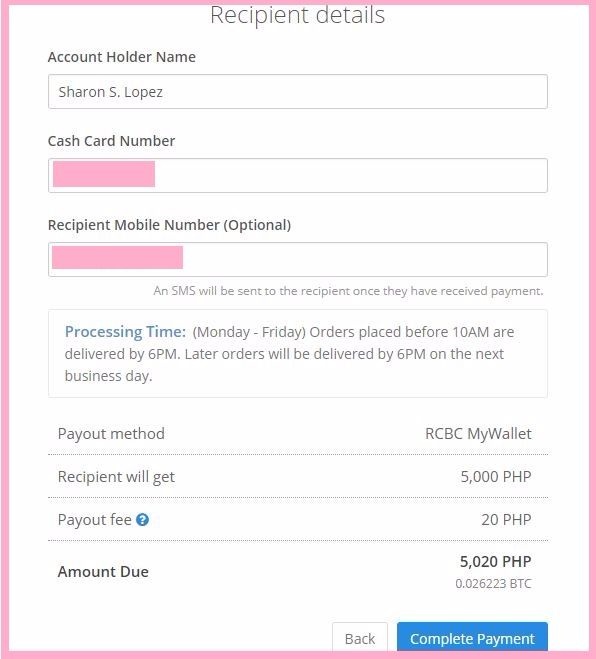 Image Credits: Screenshot from Coins.ph
The amount will be credited to your bank or ATM on the same day. With my experience, I usually receive the amount in minutes after my transaction. Sometimes, I even transfer the amount when I am already at the ATM booth.
A sample of completed transaction: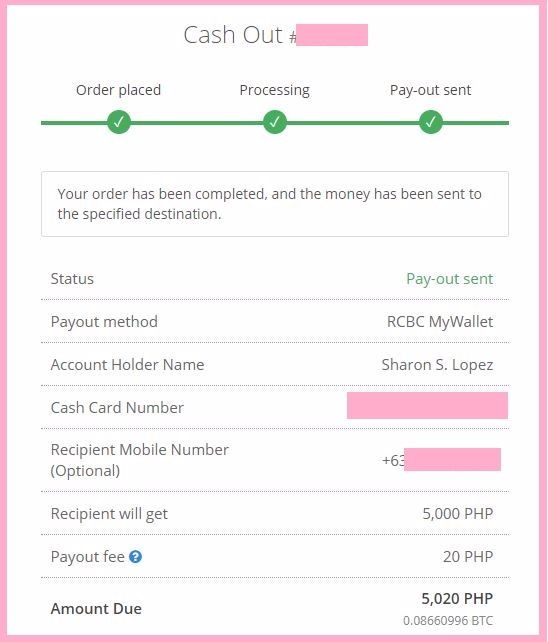 Image Credits: Screenshot from Coins.ph
The Fees
One of the setbacks in using Payza is the relatively high fees. We are paying for three (3) separate transactions. First, the fee from our working site to Payza. Second, from Payza to Coins,ph and third, to the bank. But this is cheaper as compared to having to open a Dollar account.
Processing Time
The processing time is also another issue. The number of days they indicated on the site is from 2to 4 days. But for several times that I made a transaction, the waiting time is almost seven days. Anyway, what is important is that our money is safe.
Although using Payza may not be the best option, especially if we have other choices, still it would be a good alternative. Some working sites might not offer other payment options but we can still work for them because we know how to transfer our funds to our local banks.
As an online worker, we should always be ready to face any challenges that may come along our way while we are working online.
Before we end the topic, here is another video tutorial that could probably help us in understanding transactions with Payza in so far as Bitcoin is concerned. Please watch it.
Video Credits: OJ Jordan via YouTube
Thank you for reading my blog. I hope that through this article, I was able to answer some questions and shared some valuable information for those who might need it. Please visit my Bitlanders blog page for more articles.
Have a wonderful day!
You might also like:
Coins.ph - It's More Than A Bitcoin Wallet
How To Earn Online While Having a Full-Time Job
References: