I've been watching this new show on my favorite channel weekly called " Your Face Sounds Familiar" since it was first aired on March 14, 2015. In this show (Philippine version), 8 celebrities compete in a sing and dance number while impersonating iconic singers.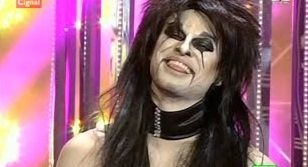 Jay-R, the prince of R & B is one of the eight contestants and I am always really impressed and amazed with his weekly performances. He took the week 1 of the said show where he impersonated the Philippines rock icon Pepe Smith. He was also able to win on the Easter Sunday when he performed as Kenny Rogers.
Last Saturday, though he didn't win as Nyoy got the first place, his performance was so amazing. He transformed into the Godfather of Shock Rock - Alice Cooper. He performed "I Never Cry" emotionally. That performance of him wowed the judges, the audience and even Alice Cooper himself.
Alice Cooper, said how impressed he is with Jay-R's impersonation, and did post the link of Jay-R's performance on Twitter.
Jay-R feels very proud about the rock icon's comment about his performance.
We, the Filipinos are also very proud of our country's own singers who have the quality of very good performer. Jay-R is one of them.
Kudos to you, Jay-R!