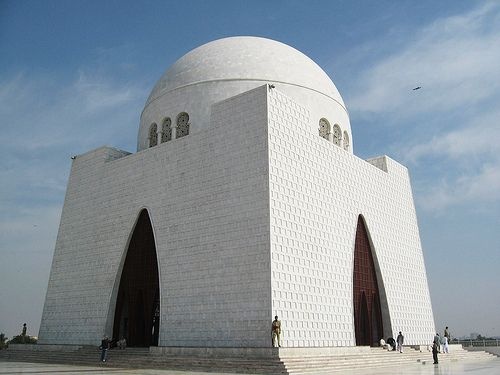 Karachi the largest and the most populace city of Pakistan, presents an interesting and colorful combination of the old and new. The narrow twisting lanes and alleys of the old city throb with life alongside wide roads and elegant modern building. Within the city, talented artisans with age-old skills produce handicrafts of exquisite beauty.

Karachi offers a variety of pleasant attractions, wide sunny beaches deep-sea fishing. Yachting, golf and horseracing, all year round. Its restaurants cater to a wide choice of Pakistani and Western cuisines. Its markets and bazaars offer an endless variety of exciting shopping, including indigenous handicrafts. Particularly rugs and carpets of rare designs and beauty.

Karachi?s recorded history goes back to the 18th century when its was a small fishing village known as Kalachi-jo-Goth. With the development of its harbor it gradually grew into a large city and an important center of trade and industry. Its selection as the capital of Pakistan in 1947 added to its importance and accelerated its growth and development. Though the seat of Government shifted to Islamabad, Karachi still remains the center of commerce and industry.
QUAID-E-AZAM`S MAUSOLEUM :
This white marble Mausoleum with its curved Moorish arches and copper grills resets on an elevated 54 sq. meters platform. The cool inner sanctum reflects the green of a four-tiered crystal chandelier gifted by the peoples Republic of China.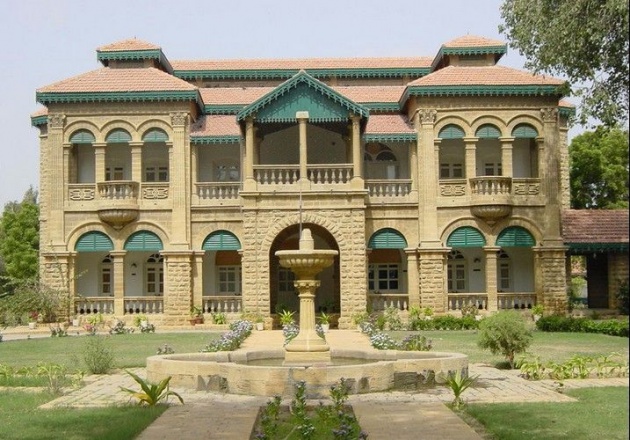 The memorial slab framed with silver railings dawns people from far and wide who come to pay their respects to the father of the Nation and to watch the impressive changing of guard?s ceremony that takes place everyday. Today the Quaid-e-Azam`s Mausoleum is a prominent and impressive landmark of Karachi. Nearby are the graves of the ?Quaid-e-Millat?. Liaqat Ali Khan, the first Prime Minister of Pakistan and the Quaid`s sister, Mohtarma Fatima Jinnah.
WAZIR MANSION :
Foremost among Karachi?s historic building is the birthplace of Quaid-e-Azam. The house is balconied, three-storied structure on Newneham Road, located in Kharadar, one of the oldest residential areas of the city. The house has been declared a protected national monument.
WLIAQUAT HALL / BAGH-E-JINNAH:
Surrounded by the green Bah-e-Jinnah, Liaqat Hall, originally the freer hall was once the Town Hall where Inc colonial days, concerts and social events were held regularly. This two-storied Venetian Gothic building now houses the Liaqat Municipal Library on the ground floor and an art gallery on the upper story. Named after one of Pakistan?s renowned artists, Sadequain the gallery displays a permanent collection of the artists work, Sadequain spent the last years of his life painting a huge mural on the ceiling of the gallery but, sadly, did not lived to complete it.
NATIONAL MUSEUM OF PAKISTAN / BURNS GARDEN :
This museum, on Dr. Ziauddin Ahmed Road, contains an important collection of items relating to Pakistan?s ancient heritage. Well-arranged galleries display Indus Civilization, Gandhara sculptures, Islamic art Miniature paintings ancient coins and manuscripts documenting Pakistan?s political history. There is also an interesting ethnological gallery.
EMPRESS MARKET:
Built by the British to commemorate the Silver Jubilee of Queen Victoria?s reign, this historic market is designed in the domestic Gothic style. From its center rises a tall clock tower. The market contains shops that sell meat fish, poultry, vegetables and other groceries.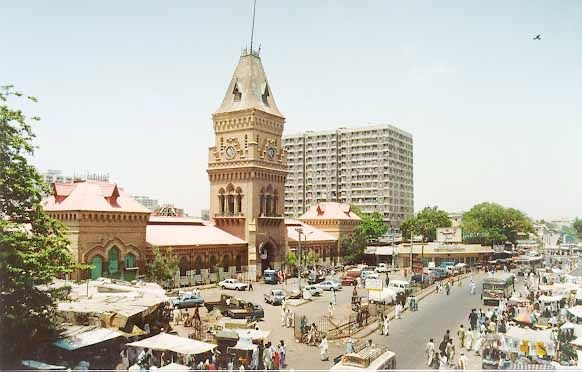 For souvenirs of brassware carved silverware, gold and silver jewllery, embroidery, delicate mirror-work of Sindh, handloom tapestries, printed fabrics. Lacquer-ware, camel skin articles and carved wood-work, tourists are advised to visit the All Pakistan Women?s Association (APWA) shop on Abdullah Haroon Road and the P.I.D.C. Cottage Industries show room where prices are fixed and quality ensured. There are a number of other shops in all main markets of city.
WHAT TO EAT?:
Pakistani food is rich, spiced and delicately flavored. Favorite dishes are chicken meat and vegetable curries, pulao (rice cooked with meat) , seekh kebab and tikka kebab (minced meat or meat pieces grilled on skewers).
ACCOMMODATION:
Accommodation presents no difficulty in Karachi. There are many modern five-star hotels offeringcomfortable accommodation. Karachi is easily accessible by air as well as land and sea. Almost all international airlines operate to through Karachi. Passenger ships journeying from USA and Europe to the Far East call at Karachi and a picturesque land route links Pakistan.
BOATING & FISHING :
Boating in Karachi is a pleasant experience. A catch of crabs and fish, is cooked and served aboard the boat by the crew. Bunder boats are available at Keamari and if required, the crew provides the bait as well as facilities for deep-sea fishing, but they must be arranged in advance. Prices should always be negotiated and fixed beforehand. On a moonlight night it is treat to sail up the sheltered harbor from Kemari to Sandspit.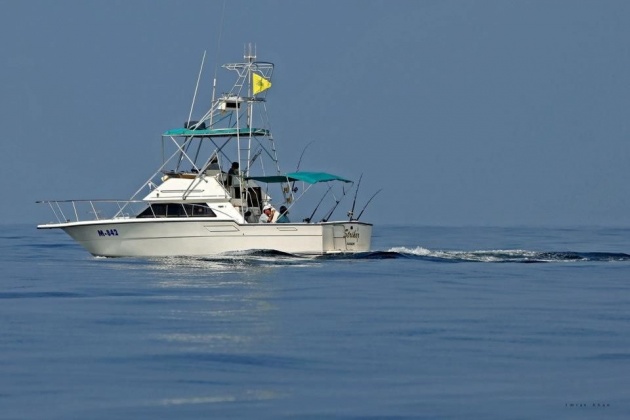 YACHTING:
Yachting continues in Karachi all year round. It is a wonderful sight to see the multi-colored sails of the yachts in the harbor contrasting with blues of the sea and the sky.
FAYZEE REHAMIN ART GALLERY:
The Fayazee Rehamin Art Gallery and Reference Library of Books on Fine Art (Aiwan-e-Rifat) on M.R.Kiyani Road is a favorites haven for art lovers and students.
MAGHO PIR`S SHRINE:
Located 16 kilometers north of Karachi is the shrine of Saint Mangho, which stands below a mosque built on a rocky hillock. There is numerous legends connected with the saint and the crocodiles inhabiting a shallow pool near it Legend has it that the crocodiles ? a few that are now left are of a rare and almost extinct species.
GOLF:
Golf a popular sport in Karachi is played on an 18-hole green course throughout the year. Visitors to the city are welcome to play for a small fee.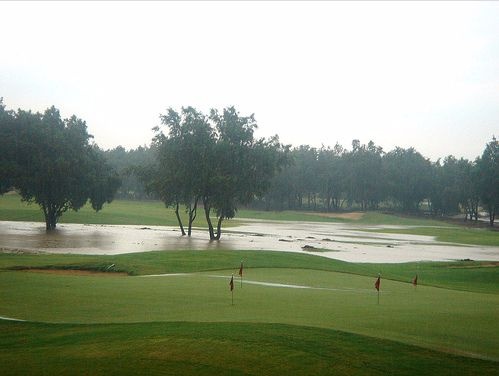 CHAUKUNDI:
Just off the National Highway, 271/2 Kms. (17 miles) from Karachi is Chaukundi. This is the site of graveyards that date back to the 16th to 18th centuries. The sandstone covers of these graves are exquisitely carved in relief with intricate motifs. The tomb slabs of women?s graves are embellished with designs of jewellery, necklaces, earrings and rings while those of men bear horse-and-rider motifs as well as floral and abstract designs.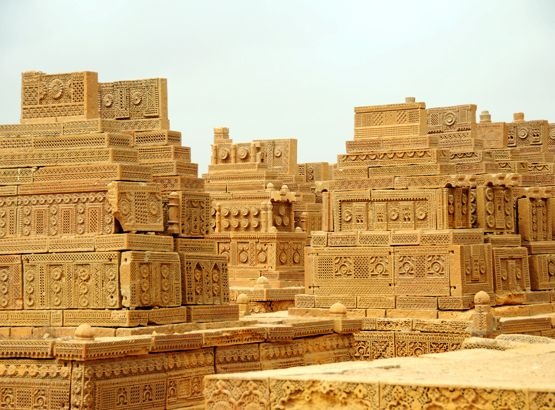 MASJID-E-TOOBA:
Situated in the Defense Housing Authority area, is the Masjid-e-Tooba a modern architectural marvel, is said to be the largest single dome mosque. The dome covers central prayer hall with a capacity to accommodate a congregation of 5.000 persons the mosque?s single minaret stands 70 meters high.
MEREWETHER TOWER
Positioned as the landmark of Karachi?s main business center. Merewether Tower is another historical monument of Karachi. It stands 35 meters high and carries a four-faced clock.
MAKLI
The Makli Hill near Thatta town has the world?s largest necropolis said contain more than one million graves spread over an area of 15 ½ sq. kms. Here in eternal sleep lie kings and queens saints and scholars philosophers and soldiers of a by gone era-an-era renowned for its culture and learning. The gravestones and mausoleums at Makli are master pieced in stone carving and netted stonework, representing different eras and dynasties, distinguishable by the styles of their ornamentation, the mountains cover the Summa period (14th to 16th centuries). The Tarkhan & Arghun period (16th century). and the Moghal period (16 to 18th centuries).
SINDH HIGH COURT
Built in the Renaissance style. This magnificent sandstone building is a combination of local and Roman styles of architecture, it is embellished whit the cupolas, balconies and tall Roman style columns.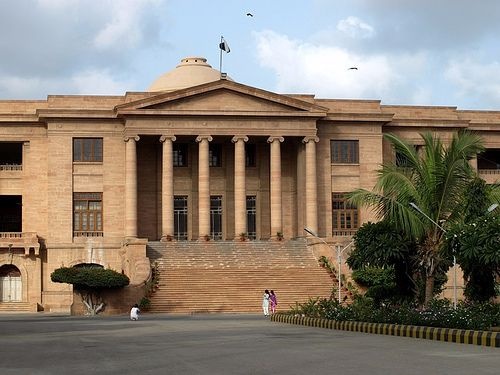 BHAMBORE
This archaeological site is believed to be the ancient port city of Debul, which flourished in the 8th century A.D. It is also where the Arab conqueror Mohammad Bin Qasim first touched the shores of the South Asia in 712 A.D. And where, after a fierce battle with the then reigning King, the Arabs consolidated their hold for subsequent expansion. Bhanbore is 64 ½ kms. From Karachi popular folklore has it that in the vicinity of Bhanbore was the trysting-place of the star-crossed lovers Sassi and Pannu, much celebrated in local performing arts.
BAZAARS AND SHOPPING
Shopping in Karachi is a delight. There is the Sarafa Bazaar, a typical oriental market in the city?s old quarter, which is the main market for gold and silver. Among the many colorful shopping areas offering a wide variety of local goods is the Zainab Market where cotton dresses and handicrafts are available. Shops in the Saddar Co-operative Market have a wide collection of handicrafts made from onyx, wood and brass. Since prices are not fixed, bargaining is advised. Leather goods and ready-made clothes usually have fixed prices but sell at a fraction of what they would cost overseas. Bohri Bazaar is typically oriental market where and endless variety of goods are available. Other modern shopping centers are at Clifton, Zaib-un-Nisa Street. Abdullah Haroon Road and Mohammad Ali Jinnah Road. The old Eastern bazar is the Juna Market, Khardar, Mithadar and Jodia Bazaar, which are worth visiting.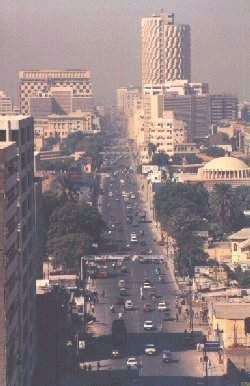 HALEJI LAKE
Halji Lake is the largest bird sanctuary near Karachi where every winter, thousand of migratory birds come from as far as Siberia. It is 82 kms. (54 miles) from Karachi and is a paradise for bird-watcher. Accommodation is available for overnight stay.
BEACHES
Karachi?s golden, uncrowned beaches stretch for miles. The more accessible of them are SANDSPIT HAEKES BAY and PARADISE POINT, which are within a radius of 10 to 20 kms from the city, and about 30 minutes drive away. A ride on a gaily-decorated camel is a must for must for most visitors. Beach huts are dotted along the shore. Some available for hire, for reasons of safety, care must be taken to swim only in the safe areas, as there is always a strong under-current, in May and June watch out for jellyfish. On moonlit nights, during the months of September and October, giant green turtles lumber ashore to lay eggs in the sand. The turtles are under the protection of the Wild Life Management Board.
CLIFTON BEACH AND FUNLAND
Close to the popular seaside of the city is Clifton Beach where Karachities flock to on weekends and holidays. Scattered along the shore are numerous stalls selling handicrafts made from seashells. Clifton has an amusement park with a bowling alley, and an aquarium.
FRENCH BEACH
The French beach, located half way between Hawkes Bay and Paradise Point is, in fact a small fishing village known to the locals as Hajji Abdullah Goth. Surrounded by a boundary wall, it has some 20 huts constructed by villagers for hire. The village has neither running water nor electric power. Its rocky beach and clear waters are ideal for snorkeling and skin-diving. Boats for scuba diving are available for hire. Visitors need to bring their own equipment as well as food and drink supplies.
THATTA
Ninety-eight kms (60 miles) to the east of Karachi, on the National Highway, lays the ancient town of Thatta. Once called the EI Dorado of the east. This busy river port of yore-before the Indus moved off to the east is now famous for some of the most picturesque and interesting specimens of Muslim architecture. Although the vestiges of past glories are of past glories are of comparatively recent origin, dating mainly to the 16th and 17th centuries, the history of Thatta goes back some two thousand years.
The palaces and pleasure houses have become one with dust, but many of the tombs, mausoleums and mosques remain, some of them in a fairly good state of preservation. Prominent among the town?s present day brick and adore structures are the wind-catchers that top them a cooling device that serves well during the long blistering summers. Amidst Thatta`s narrow alleys and lanes are quaint bazaars that offer unexpected bargains in hand-blocked and hand-dyed fabrics, embroidery work and bead necklaces.
SHAH JEHAN`S MOSQUE
Shah Jehan`s Mosque, situated on Thatta`s outskirts, is representative of Muslim architecture. It was built in 1647 A.D. by the Moghul Emperor Shah Jehan, and is said to have the most elaborate display of blue-and-white tile work in the sub-continent. Its 93 domes, designed for its acoustical purposes, carry the voice of them Imam to all parts of the mosque.
KEENJAR LAKE
This beautiful man-made lake is a combination of two natural lakes called Snheri and Keenjhar. The place has been developed into a resort with boating and fishing facilities. Accommodation is available at the lakeside motel. It is two hours drive and 115 kms away from Karachi.
Karachi Time Lapse HD