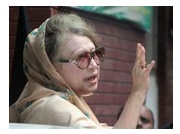 BNP chairperson Khaleda Zia is still confined to her Gulshan office where she has been since Saturday night.
The dozen trucks that were kept in front of her office on Monday were not seen in the morning, but water cannon and a number of trucks are there on Road No 86 in Gulshan 2.
The main gate is still under lock and key while a police officer seeking anonymity said there are around 100 policemen deployed around Khaled'a office.
Food was being sent inside through a small gate of the office in the morning.