Image credit to Liter of Lights via Facebook.com
One of the best things which had been invented by man is electricity. It is the main component which had made almost all the things which we enjoy more possible including powering up computers and the Internet which had also gave all the people who have access to it the ability to connect to the different side of the globe.
This electricity also provides each single home light during the night and is essential so they the members of the family can perform whatever they wanted to do during the evening. Electricity is available all over the globe but it is also evident that there are still some part of the earth which doesn't have access to it. There are countries which are poor that they can't provide this to the remote areas of their community while there are also others which have been struck by calamities that would result to a blackout. It is unfortunate that the individuals won't have the ability to see things at night and won't be able to manage the necessary things at night.
But what happens if you are part of this area, of this community and one basic thing you needed is the access to light at night. At least you can see the people around you and be able to put perform well.
The dark had somehow overcome my country when the huge storm visited Tacloban in a very unfortunate way. The Typhoon Yolanda or Haiyan as how it is referred to internationally left the city devastated, there were great damages in terms of building structures, establishments were heavily destructed and most specially, lives were taken away, families lost their members and somehow left the city dead, dark and hopeless.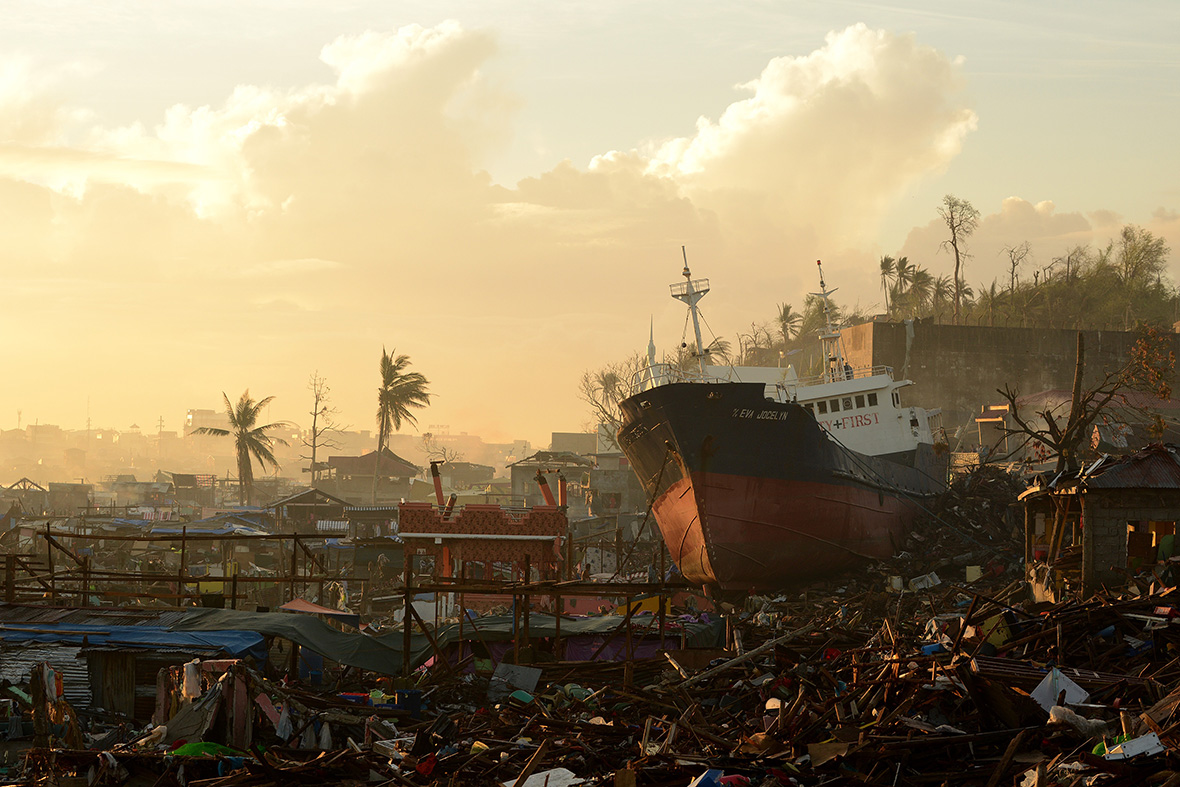 The Haiyan aftermath. Photo credit: http://www.ibtimes.co.uk
Haiyan is one of the strongest tropical cyclones ever recorded, and unfortunately, it is one that destroyed more than a million homes and killed more than 6,000 people in my country, it is indeed the worst enemy of this city that has been haunting the survivors even after this time, locals are still afraid when a storm comes and it reminds them of the bad things that had happened during that time. The storm surge with height as high as five meters destroyed all access to communication and basic necessities such as food, water and electricity.
It was indeed a sorrowful sight, one that I don't want to even imagine, I would not even watch videos of it as it brings my eyes to precipitation, my heart is with Tacloban, that my cousin and his family was there during that time, they survived thankfully and my cousin in law was also pictured with her baby carried by her towards the military plane which brought them to Cebu and other neighboring islands for refugee.

The nights in Tacloban was full of darkness, without electricity, without gas supplies, without anything to work as an alternative use for light, the streets and the households were all dark and sad. But when Liter of Light arrive, the locals and survivors said:
"If there is light, everything becomes brighter."
And truly, it did.
So this blog is dedicated to the Liter of Light which had blessed Tacloban and Leyte in general to make their nights brighter while waiting for electricity to come back.
What is Liter of Light?
"The bottle that brightens home and lives."
Photo credit: Liter of Light Facebook page.
"Liter of Light is a global, grassroots movement committed to providing affordable, sustainable solar light to people with limited or no access to electricity. Through a network of partnerships around the world, Liter of Light volunteers teach marginalized communities how to use recycled plastic bottles and locally sourced materials to illuminate their homes, businesses and streets. Liter of Light has installed more than 350,000 bottle lights in more than 15 countries and taught green skills to empower grassroots entrepreneurs at every stop. Liter of Light's open source technology has been recognized by the UN and adopted for use in some UNHCR camps.
Liter of Light is the proud recipient of the 2015 Zayed Future Energy Prize and a winner of the 2014-2015 World Habitat Award." (Source: Liter of Light)
The Liter of Light members were the first ones to install solar lights to the streets and homes of Tacloban. Not just installed but also educated and taught the survivors on how to make these lights.
How it Started
"Liter of Light" or "Isang Litrong Liwanag"
In this section, we will check why and how the Liter of Light started. I was actually browsing in the internet when I found out Liter of Light. I was not even aware that it first started in Tacloban so I was really interested on how this program had started and who had initiated it.
Mr. Illac Diaz together with a volunteer installing the Solar Liter of Light in Tacloban. Photo credit: Liter of Light Fan page.
It started with Alfredo Moser of Brazil, he developed the idea of providing indoor lighting from daylight or from the sun. His idea was used by Illac Diaz as a social enterprise and which was launched first in the Philippines.
Mr. Diaz implemented a "local entrepreneur" business model whereby bottle bulbs are assembled and installed by local people, who can earn a small income for their work. Within months, one carpenter and one set of tools in one community in San Pedro, Laguna, expanded the organization to 15,000 solar bottle bulb installations in 20 cities and provinces around the Philippines, and began to inspire local initiatives around the world.
In the Liter of Light's page on wikipedia: "Liter of Light has a goal to light up 1 million homes. The liter of light is installed in the roof of homes with the purpose of refracting sunlight in order to light up a room. The project's innovation lies in its utilization of cheap, durable and readily available materials to produce high quality natural lighting enabling the urban poor to have access to an affordable, environmentally friendly long-term alternative to electric light for use during the day."
How to Make a Liter of Light
"You don't need to be an engineer or a technician to make a liter of light"
Volunteers trained on how to make the Liter of Light. Photo credit: Liter of Light Facebook fan page.
The first sets created Liter of Lights were more for the daylight use inside the houses. Later on, the Liter of Light was revamped into a better version which can be used for night time too which uses solar panels.
These are the materials needed to create one:
1. Battery Powered Drill
2. Circular Patterns
3. Galvanized Steel Sheets (26 Gauge, 10 inches by 10 inches)
4. Bottle with cement for molding
5. Plastic Soda Bottle
6. Glue Guns with Sika Rubber Sealant
7. Riveter
8. Rivets
9. Working board
10. Sandpaper
11. Hammer
12. Chisel
13. Pencil
14. Curve Metal sheet cutter
A preview of the materials needed. Photo credit : Liter of Light Facebook fanpage.
To get to the right steps on creating them, you may check the video below provided by Liter of Light via YouTube:
Video Credit: Liter of Light via YouTube.com
In the description of the video HOW TO BUILD A SOLAR BOTTLE BULB 3.0, you can see the reminders on creating one.
"These are some important lessons learned:
- Use always a sheet metal scissors for cutting round edges to make sure that the hole in the roof is as close to the diameter of the bottle as possible ( you will have to glue the underside!)
- Sand very well the bottle till the shiny part is removed. The glue will not stick on to the plastic
- The top portion where the bottle meets the plastic is where most leaks happen. You must use a tougher glue than just an elastomeric sealant. Use a SikaFlex 11FC glue or an epoxy sealant to make 100 percent sure this is sealed properly.
- Always use PET soda bottles ( 1 L, 1.5 L, 2 L ) to make sure that it does not easily break. DO NOT USE plastic water bottles.
- Use a guide in cutting the roof that assures that the bottle fits snugly though the roof. You will have to seal this from the underside so don't freehand cutting the hole.
-Use a guide plastic bottle filled with cement to open up the cut metal sheet so you will not have to damage the empty plastic bottle.
- Seal the underside of the bottle cap once you placed distilled water and bleach to prevent leaks.
-Place a 1 1/4 inch pipe covering the top and around the plastic bottle cap as this is prone to cracking with the infrared rays of the sun."
Volunteers install the lights at the streets, this is the revamped Solar Liter of Light. Photo credit: Liter of Light via Facebook Fanpage.
The revamped version is better as it allows the usage of the liter of light at night when there isn't sun. It uses the reusable energy of the sun through the use of solar panels which stores the energy and will be used at night automatically as the liter of light has been designed to automatically turn on the LED light in it when it detects no sun light coming into the solar panels.
Wit this, the liter of lights continue to provide light at night and allow each home and streets as well to show light even without the sun.
How Liter of Light Changed Everything in Tacloban and the World
For days, the survivors in Tacloban had been suffering of dark nights but then when they heard of the activity of introducing the Liter of Light into the city, everyone had been looking forward to it and hopeful to see the light at night again.
Video credit to Liter of Light via YouTube.com
Bunkhouses in the Philippines specifically in Tacloban are so substandard in materials and quality of living. Made of cocolumber and exposed plywood sheets they are starting to mold and rot even after just this last month of being there. The build does not allow air to circulate, and the seven meter living space lacks privacy; and many do what they can with a blanket draped across to separate the room from people constantly passing by. However, the hardest is the corruption of hope that happens here. There are all the wires in place and bulbs, fuse boxes, but no sign of power reaching the bunkhouses anytime soon. Some have temporary relief when the contractor allows them to tap into the generator for a few weeks; but paying 10 pesos a night for light.
The relief to rehabilitation, from tent communities to temporary shelters. Hundreds of families have to be moved from canvas to wooden shelters in Tacloban City but often no lights and no water.
Image credit to Liter of Lights via Facebook.com
A family house in Tacloban with the Liter of Light. Photo credit: Liter of Light Facebook page.
More smiles from local Taclobanon for having brighter lights. Photo credit: Liter of Light Facebook page.
But a revolution was created at Bunkhouses in different areas of Tacloban to install the liters of light which eventually give them free reusable energy for light.

All images and videos are credited to Liter of Light's Facebook page and website as follows:
Website: Liter of Light
Facebook: A Liter Of Light
Best regards,
Jean Beltran-Figues