Today we were incredibly excited and moved by the work of TBWA\CHIAT\DAY LA, "Made in New York" featuring the future Hall of Fame short stop for the New York Yankees, Derek Jeter.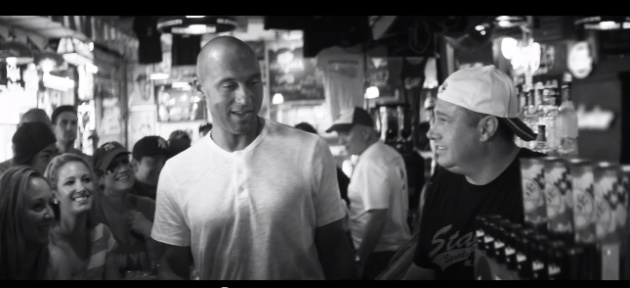 I have had the opportunity to see Jeter play the last 20 years in the Major League, and to top it off in each of the 5 World Series that the Yankees won with him. As a Bronx born New Yorker, I can tell you the Yankees are a religion. I didn't know soccer existed until I was older, SOCCER??? Baseball was everything from April till the end of summer.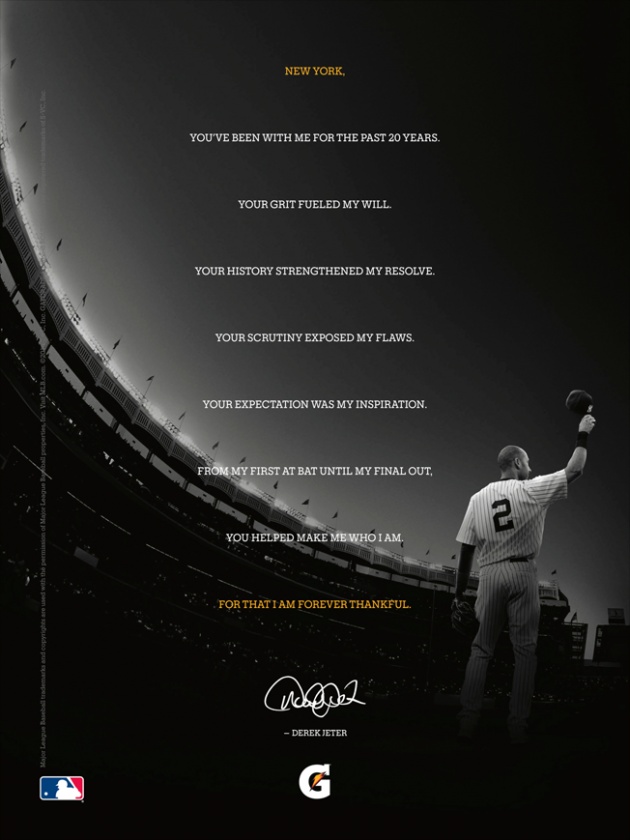 When you watch this ad for Gatorade, essentially this boils down to being an advertisement, understand that is a masterful "Native Advertisement" production. As a fan of the Derek Jeter, The Yankees and good creative production, I can safely say that TBWA, Smuggler and team nailed this in every single way.
You may not follow baseball, but the second Jeter exits the car to when he climbs the steps to give his customary tip of his cap, you are completely engaged. His adoring fans, each and everyone of them in that unscripted walk will remember the day Jeter stopped, shook their hand or signed a bat or the picture in Stan's. As they say PRICELESS!
If only I knew some of this crew below to tip me off to be on River Avenue in the Bronx that day there would have been nothing in the world that would have stopped me from going!
Mark my words. This "ad" will win a lot of prizes in Cannes Lions next year, and I will be there in case the legendary #2 shows up.
Client: Gatorade
Agency: TBWA\Chiat\Day, Los Angeles
Chief Creative Officer: Stephen Butler
Executive Creative Director: Brent Anderson
Creative Director: Renato Fernandez
Senior Copywriter: Nick Ciffone
Senior Art Director: Dave Estrada
Executive Producer: Sarah Patterson
Assistant Producer: Garrison Askew
Director: Henry-Alex Rubin
Production Company: Smuggler
Executive Producers: Patrick Milling Smith, Brian Carmody, Lisa Rich, Lisa Tauscher
Producer: Drew Santarsiero
Editorial: Rock Paper Scissors
Editor: Damion Clayton
Executive Producers: Dave Sellars, Angela Dorian