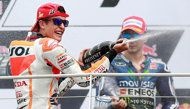 Silverstone - Repsol Honda rider Marc Marquez dominates free practice session ahead of England series MotoGP race at Silverstone Circuit, UK. This Spaniard was fastest in free practice sessions four times. In each session, the record time was much improved compared to its rivals.

By alternating the position of the second round of free practice session occupied by Andrea Dovizioso Ducati team-mate Dani Pedrosa and Yamaha duo Valentino Rossi and Jorge Lorenzo. If able to perform consistently is not likely he would seize pole or a pole position in the race race Sunday, August 31, 2014.

Along the Grand Prix series to-11, 21-year-old driver appearances have always been consistent. The proof he scrabbled over ten successful Grand Prix by winning the main podium. Collection numbers are also sped away, leaving the competitors.

In the drivers' standings, Marquez collecting 263 numbers left Dani Pedrosa in second place with 186 points. The only series that he fails to achieve is that when performing circuit in Brno, Czech Checks August 17 last. Pedrosa is managed to break the 10-game winning streak Marquez. He only finished in fourth place behind Jorge Lorenzo and Valentino Rossi.

He also said it can not wait to return to compete again. "Competition yesterday was the worst in this series," said Marquez. Repsol Honda team, he added, had found problems that occurred in the previous race. He also believes the main podium again at Silverstone. Moreover, Silverstone is one of his favorite circuits.