Certainly, I recommend this place to stay in Albay, Bicol.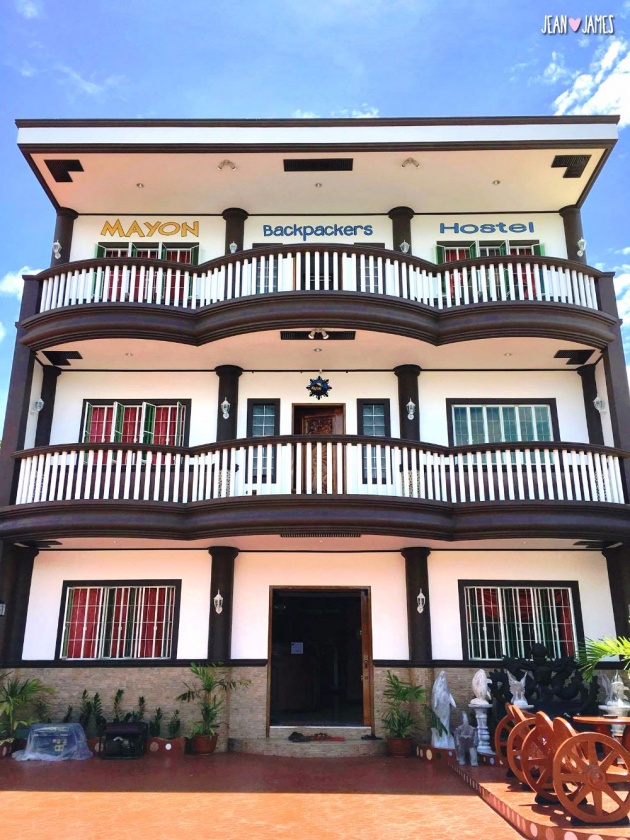 One of my personal concern when traveling and I suppose should be the top one to consider is the place to stay whenever you or I are going to another town, province or country. Every traveler should be able to secure him/herself a shelter to cater his or her needs in terms of a place to stay.
I was not thinking of anything fancy. Just something which has good roof and great internet connection and I suppose Mayon Backpacker's Hostel was able to provide it to me and my husband.
This blog entry is intended to help other travelers to who are planning to visit the said province. I do hope that this will be used as a basis for them to consider this hostel amongst the rest of the Inns and hostels available within Legazpi and Albay areas. Although we have not stayed at any other hostel, I will be providing you with as much information as possible about this hostel. Hopefully, you'll find it helpful enough.

So I have here points which I have highlighted and these are the ones which I have been personally marked as necessary stuffs to be available while staying on a hotel.
TWO POINTS I CONSIDER BEFORE BOOKING TO A HOTEL:
1. TOP REFERRED HOSTEL ONLINE
To all the hotel owners or marketing staffs for those hotel companies, this is one important thing which I believe you should work on but then again, this will always be a honest and real reviews from those which have already visited and stayed at their hotels so the most important part I guess is for the hotel managements to be good with their services and specific facilities.
So it is evident that whenever we go to travel, I would be spending hours in the internet checking for the best place to stay and when I say the best one, it basically means two things:
Affordability
Indeed the top thing to consider, is the hotel affordable? Can its cost fit to our budge? Will we be able to get extra cash to ensure we can enjoy our trip.
So yeah, for those travelers and backpackers, you know what I am talking about for sure.
Comfortability
Well, of course I have not stayed yet so this depends on the number of people or online netizens who had reviewed the said hotel and aside from that, the review result should be part of the decision.
I would consider it if it has passed 5 points out of ten from all the reviewers. Anyway, this is the first one of my list and when backpackers recommend it, that's usually where we'll be staying too. Remember, we are not rich travelers. We travel in a budget and we have to be as thrift as possible.
2. EASY RESERVATION
Another thing to consider is the reservation procedure. Is it easy to communicate with the hotel's contacts? Does the hotel staff sounds accommodating while the email or call communication happens?
Well oh well that can only be figured out when we start contacting these hotels or the ins for that instance. There are hotels which has no websites available or perhaps Facebook for that matter so I won't definitely consider that one. I have to be in touch with someone from that place days or weeks before coming over so I am assured that we are at the right and safest place.
But in the first place, how can you have a hotel without a website or a Facebook page? This generation is more on online researching and internet so any hotel without a website is out of the world this day, I bet you'll agree with me on this.
REVIEW ON MAYON BACKPACKER'S HOSTEL
So now I come to the next part of this blog, the REVIEW! I have a lot of things to say about this hotel and I will be enumerating them on bullets. Notice that my husband and I's reviews might be different to others who had spent days here so in case you have read this one, you should also be reading on other user's views on the hotel so to know the different sides of the story. I have read around five blog reviews on the place before I finally concluded that we'll have to stay here.
So here we go...
► Background Check
As I had done reviews on the hotel, I am quite knowledgeable on some aspects of the hotel. The location is at #040 Brgy. 11 Maoyod, Legazpi City, Albay. Based on the information of other bloggers, this is just ten - fifteen minutes away from the airport and of which is walking distance from the main highway.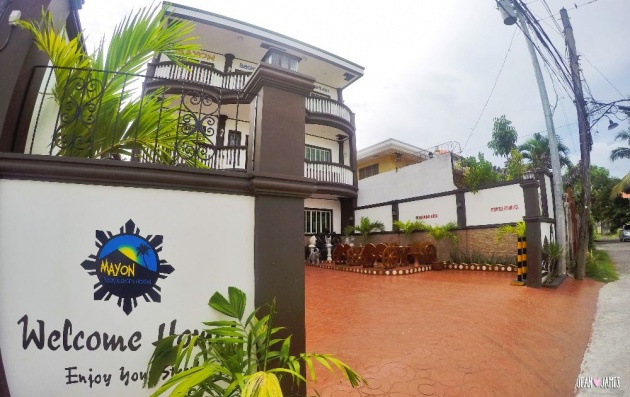 They have dormitory beds as well as private rooms with reasonable prices and they have this list of available services and facilities from their website. So I am expecting our stay will be good as well although there are reviews online which states some of the bad sides, I still preferred to stay there thinking that it is the most affordable out of the other hotels I have checked online.
Aside from that, the Mayon Backpacker's Hotel was the fastest one to respond to my email. I made a reservation online on their wordpress website and the process was definitely easy. I just filled up the fields for name, my email, group size, check in date and check out date and the preferred room. Additional comment box is available for additional information. That same day, they also responded and provided me with the voucher to show when we reach the place. So then, our reservation was concluded.
That was by far the fastest and easiest reservation that I had done with a hotel, no need to call or whatever and I was done! So far, I am satisfied.
► The Lobby
Reaching the hotel via tricycle only took us ten minutes after having our lunch at the Turo-turo eatery recommended by the tricycle driver at the airport. So we immediately showed the voucher to the receptionist. That was around quarter to twelve and our rooms will be ready at one in the afternoon so we have the entire lobby to chill.
The lobby is not that huge but spacious enough for guests who have just arrived and those who are checking out. While staying, two Europeans were killing time while two more joined us and we started chatting about the Philippines. They talked about the places they had gone to and what would be their most favorite spot in the country. I learned they love Banaue Rice Terraces and Palawan while they hate Manila and the processes they have to go through.
Although I am a Filipino myself, I can't help but agree with them. Manila just had too much traffic that I myself and my husband too can't bear that is the reason why NAIA or the Manila Airport is the only place where we can stay when we go to Manila, we don't want to go out of it.
I was amazed by the huge wooden door with dragon designs in it, the chairs and tables were all wooden and the concierge area too is wooden. I am really interested in anything with wood design so that time, I am feeling great seeing these items in the lobby.
► The Room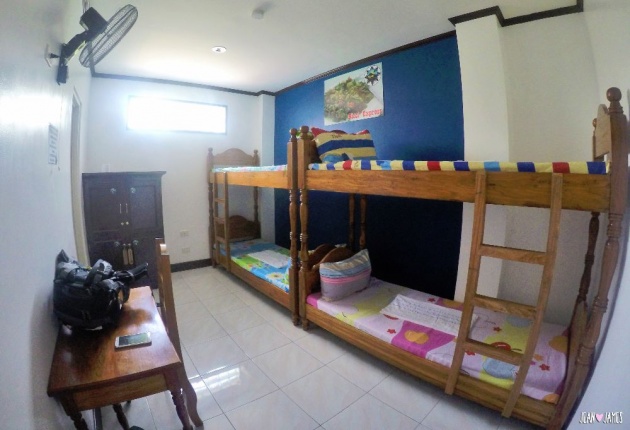 Aguila was the category name for our room. It is a dormitory kind of room and it has its own unique name of Bicol Express. Bicol Express is actually a name of a specific food originally from Bicol which is known for its spicy-ness. Made of chicken and bits of chili, ginger and coconut milk.
It has been known worldwide by Filipinos and wherever a Filipino is, they'll have their own version of Bicol Express.
Our room has good beds, four beds of course with pillows each and towels. The beds are obviously in a two decks.
The best thing about it is that it has its own comfort room. With good shower and water pressure was really good as we were able to finish taking a bath that fast and the throne of course is also good. It seems like this was a new room so the comfort room was really clean and doesn't have that CR-smell.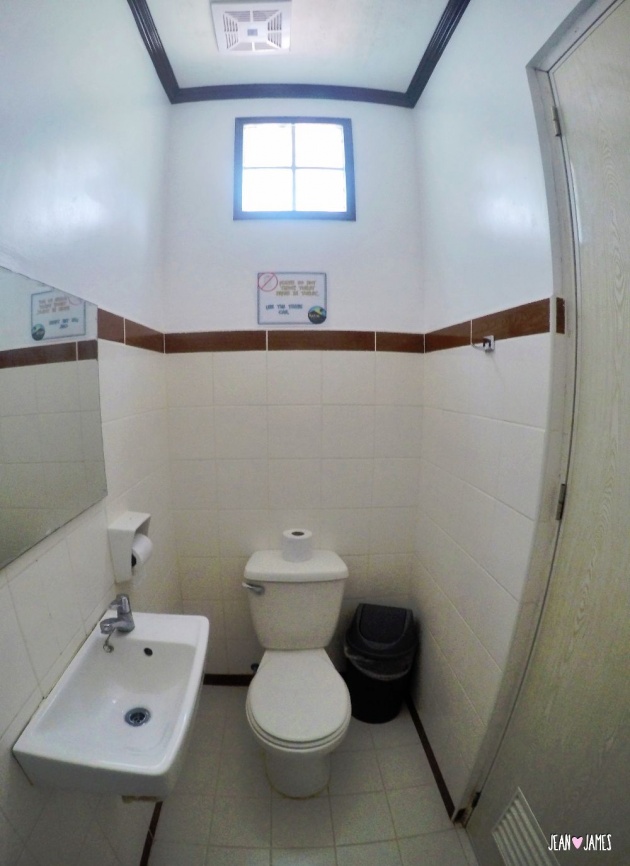 ► Free WIFI
This is true and it shows very good connection while we were at the lobby. I had even performed the specific speed test and the results were really astonishing, see below: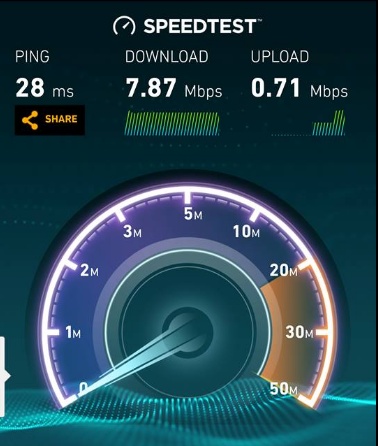 Then it disappointed me that even if our room was just three to five meters away from the lobby since we stayed at the ground floor, we are having a bit slow connection inside the room although the connection works fine when the door is opened but it isn't really comfortable to have an open door.
So what happens is that whenever we are at the hotel and needs internet connection, we need to go to the lobby for that case.
► Free Usage of Computers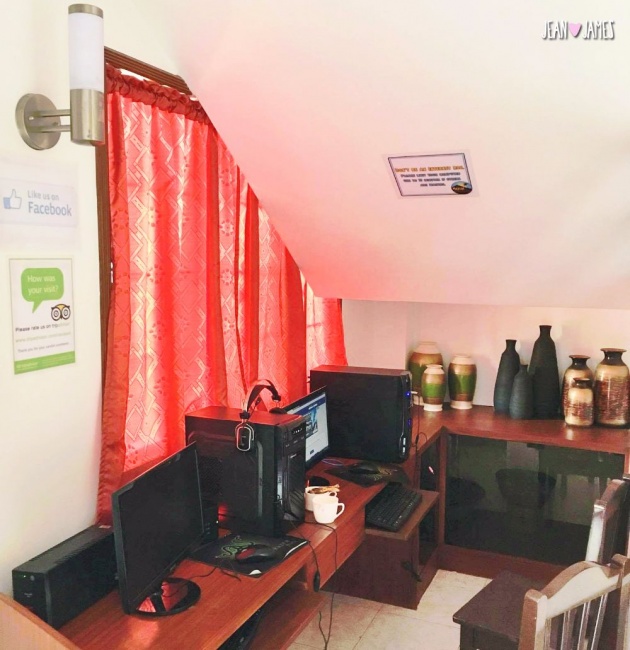 This was quite interesting and I was surprised when we reached and it is indeed available there. I thought that it was just the WIFI that is free but seriously, they have a mini internet cafe just right next to the entrance door.
Two Windows computers are available for usage however, there's a note that if there are guests who would also like to use it, one should limit his or her usage time to give chance to others.
Well, not all hotels are like that and that was a good 20 points additional for me to love this hotel! We all know that for those who are backpackers, those ones who have online jobs and travel at the same time, they'd need to use computers and internet connection together and if something happens like their own devices fail, the use of a computer is needed and this hotel provides them for free! There's no more going out to an internet cafe for that matter.
Indeed a great plus factor to this hotel!
► Free Book Exchange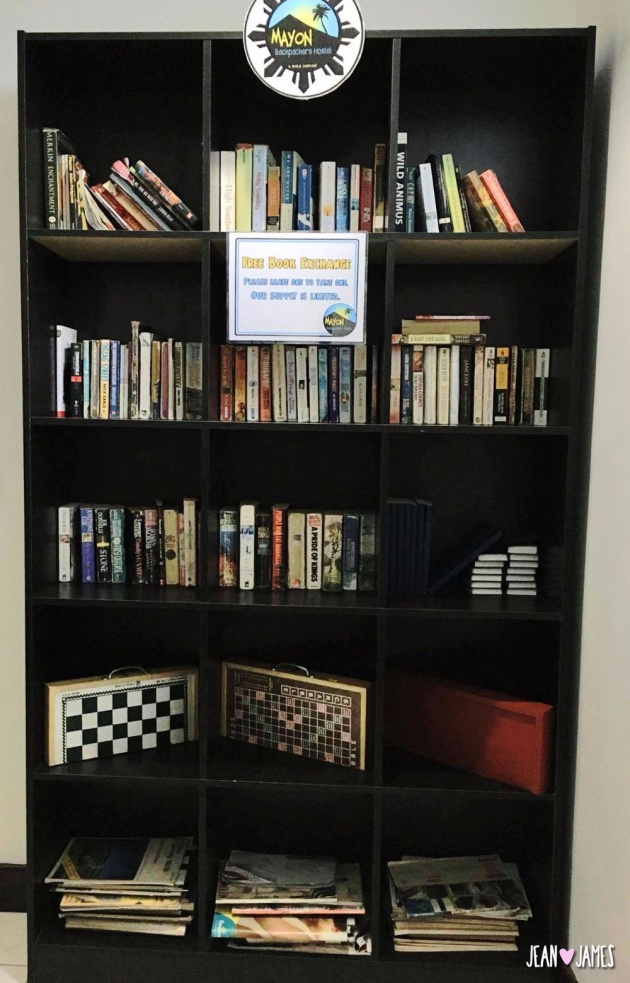 Another surprise which we had learned was the fact that while we were having breakfast, hubby noticed a huge book shelf at the corner of the kitchen area. By the way, their kitchen is very huge and spacious so that was really nice.
The free book exchange actually is for those who are traveling with books which they had just finished reading and they feel like reading the ones which are available from the hotel. So, one can leave their own book and get one!
That for me is a whole lot of fun. Imagine, you leave your book and perhaps leave as well a letter talking to the next person who'll be reading your book and maybe you can also leave your messenger account and you can chat about your travel experience. Maybe, just maybe, you'll find your forever.
► Free Kitchen Use
For those who are traveling with large groups, it is more practical to cook in the hotel specially if you're in a tight budget while traveling. And this hotel provides free kitchen usage. That basically means, one can use their utensils, the kitchen materials, the fridge, the gas and everything in it. So, if I am traveling with a group, I will definitely suggest that we will just be cooking in there.
By the way, it is very important that whatever you put inside the fridge should be labelled so that no one else except you would be eating the food you had prepared or drinks perhaps.
Also, the hotel believes in cleanliness as next to Godliness so it is a must that anyone who will be using the kitchen should clean, wash and wipe whatever mess making sure that it is cleaner than how you found it.

► Free Water and Free Breakfast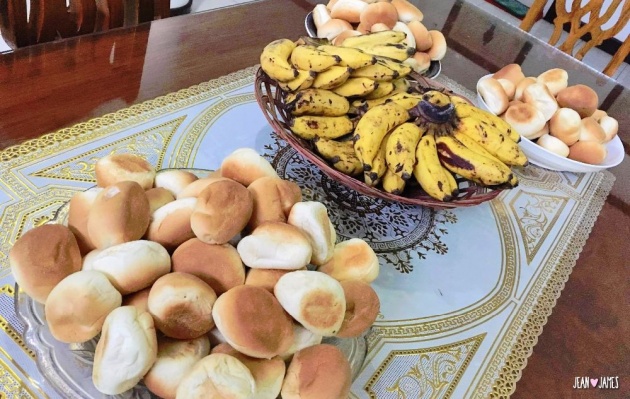 As the hostel aims to market the backpackers and those who are traveling on a budget, they had made it a point to also cater free water and free breakfast for everyone. The water was free and I was not informed so during our first and second day, I was buying bottled water at a pharmacy in the high way. I soon realized it when we had to go to the terrace at the top of the hotel.
Now for the breakfast, this isn't something fancy, this is just bread and fruit free for everyday and it is an unlimited kind of thing since there are no other people around so far based on our experience on our two days stay over there.
Although coffee wasn't free, five pesos worth of breakfast was definitely a budget friendly and anyone who is like us who are happier whenever we can save, this hotel had just exceeded what we thought a hotel can be to backpackers.
► Rooftop Terrace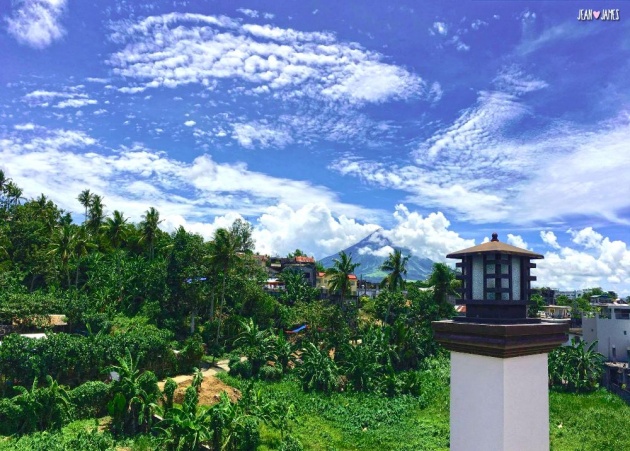 I had an amazing day on our second day where in hubby and I went for an exciting ATV ride going towards the lava front. I have written the story below:
At the end of the day, I was looking for a place to just chill out at the hotel and I learned from the concierge that they have a terrace! So yeah hubby and I went to there up to the fifth level of the building. It was an amazing time, at around eight in the evening and the Albay area has been obviously preparing to sleep. Even the Mount Mayon is clearing out the clouds around her. Too bad it was totally dark and taking a photo of her is not possible.
Hubby and I stayed there for around an hour. A cold beer or chips might be a perfect addition to the cold night but then we don't have one right that time.
That was a huge bonus every backpacker or traveler could receive from the hotel when staying at the this place.
What I didn't like about Mayon Backpacker's Hostel?
You might think that I am all about the good sides of this hotel. No, you are wrong. I am saving this for the last part so hopefully you are reading the entire blog.
So firstly, our room was only a fan one, although it has good foams, good pillows and the shower was good, it was super hot because there was no window available. We mostly open the door slightly to let air come in. In fact, the air outside is much cooler compared to the inside.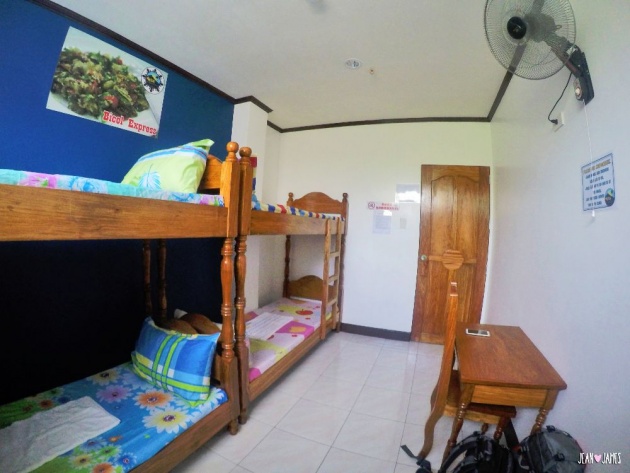 On our second day, I asked the concierge if we can move to another room with air conditioned but they have no more room available so we have to bear it instead. However, the second night was cooler compared to the first one maybe because we had some hours at the terrace which was cold and we also had shower.
Another bad thing is that although the concierge guys are approachable, there were numerous times where in it was left with no one. I recall these three Cebuano ladies who were on their way to their ATV rides and they left something, they came back and no one was at the concierge. They had to act like thieves to take the key from the table.
But overall, I am still recommending this to all backpackers and budget travelers. For only Php 250 per head, you'll have a good place to stay with free food and water plus you'll get a good view of the Mayon Volcano from their terrace!
For more information about Mayon Backpacker's Hotel, here are their details:
Mayon Backpackers Hostel
#040 Brgy. 11 Maoyod
Legazpi City, Albay, Philippines 4500
+63 (052) 742-2613 (Landline) / +63 905 518 6076 (Mobile)
Hope you had enjoyed this blog entry! Till next time! For now, check out my other blogs about our Albay Anniversary Special:
xoxo,