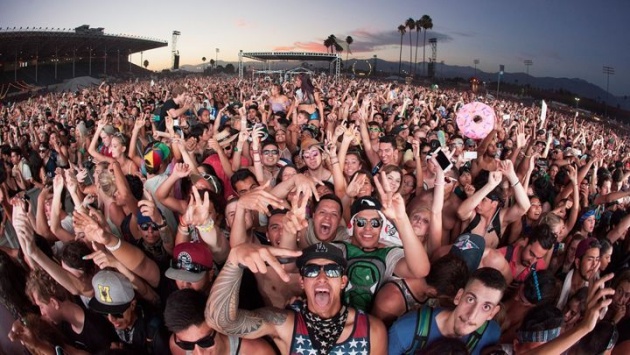 Earlier this month, two teenage girls died at the HARD Summer music festival in Ponoma, California, reportedly from "suspected drug overdoses." Less than two weeks earlier, an autopsy confirmed suspicions that Nicholas Austin Tom, a 24-year-old Californian who died at the Electric Daisy Carnival in June, died due to MDMA intoxication. The deaths are only the latest in a string of drug-related fatalities linked to EDM concerts in recent years – part of a trend that's led to a major shift in the live music industry. Some festivals have responded to the mounting pressure by bending toward zero-tolerance drug policies: After two people died at Electric Zoo in 2013, the festival required the following year's attendees to watch a D.A.R.E.-like anti-Molly PSA and stepped up law enforcement efforts with drug-sniffing dogs and heightened gate security. Following the deaths at HARD Summer, one Los Angeles County official went so far as to suggest a temporary ban on raves. At the same time, some organizations have taken another approach: acknowledging the prevalence of drugs in the scene and working to integrate harm reduction services on-site at festivals. Two of the most prolific such groups are DanceSafe, a drug-education organization with a bent towards checking the chemical makeup of drugs, and the Zendo Project, an initiative that provides safe spaces for people undergoing unpleasant psychedelic experiences.



Since its inception more than 15 years ago, DanceSafe has provided harm reduction services like clean snorting straws and condoms to partiers across the country. The group has also dedicated itself to raising awareness about the environmental conditions that can lead to medical emergencies for MDMA users. These emergencies are rare compared to other drugs, and in most cases, they are preventable; while there is no comprehensive national data on MDMA-related fatalities, it is generally understood that a very small percentage of use results in death. The most common cause of MDMA-related death is hyperthermia, or over-heating. Dehydration and over-hydration can both be risk factors as well. Experts advise that users of the drug should be mindful of cooling down and staying hydrated, but focus on consuming electrolytes rather than large quantities of water, which can cause more harm than good.
While hyperthermia plays a key role in most MDMA-related medical emergencies, some deaths appear to be linked to the drug alone. Why does the drug kill some people and not others? It remains unclear whether dose is a significant predictor of fatality. A 2001 study noted that "The toxic or even fatal dose range overlaps the range of recreational dosage." Rick Doblin, the founder of the Multidisciplinary Association for Psychedelic Studies (MAPS), puts it in stark terms: "There is no safe dose," Doblin tells Rolling Stone, because medical emergencies depend on an "interaction between temperature, dose and the environment."

\