Football is one of the most famous and popular game, played, watched and followed all around the World. This game has produced many star players like Ronaldinho, Maradona, David Beckham, Pele and others, etc during its 90 minutes duration who have received millions of love and fan following from the people. In the current World of football where several leagues have been introduced, it has become the right opportunity for the new footballers to show their talent and unleash their potential to get fame and generate high amount of income. Without having any doubt, it is a fact that the domestic football leagues such as La Liga (Spanish football league), Barclays Premier League (English football league), Bundesliga (German football league) and others are now becoming more popular than the entire International contest between two teams. Because this has brought more charm, glamour and money to the game than the International matches and it becomes the best source for Football fans to stay mingle and connect with their best football player or star.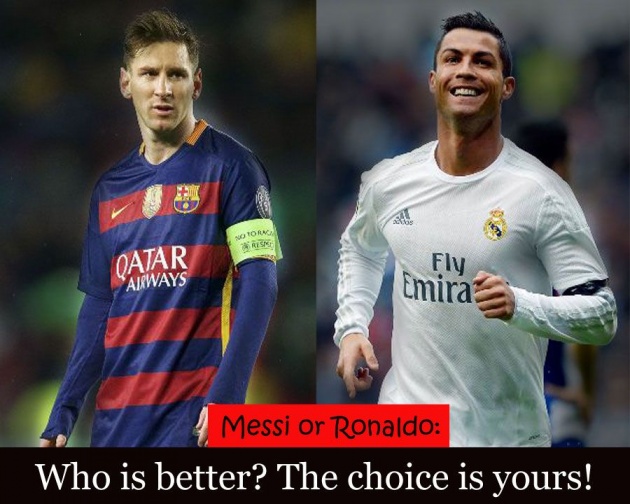 Image source: google.com/edited by me
Discussing the best football player in the current World, I must say that there are several famous players came and gone in every generation or decade, but I bet you, if you are a football fan or not, child or adult, man or woman, when you talk about the current best players of the World, everyone will instantly say Lionel Messi or Cristiano Ronaldo. Yes, these are the names which mostly crammed on the World's tongue and mind. Now the question is who are they? And how are they called famous and best players of the World? These are the questions which will be answered when the stats comparison between both of them will be held. So, why don't we start comparing both in statistics as they played in different teams but same league teams. So here are the basic statistics and profile of both the players who dribbles the World with their brilliant and amazing tricks.
Cristiano Ronaldo
Cristiano Ronaldo is a Portuguese professional football player who currently plays for Spanish club Real Madrid and the Portugal National team. According to Portuguese naming custom, his first or maternal family name is Santos and the second or paternal family name is Aveiro collectively Cristiano Ronaldo DOS Santos Aveiro. He was born in Santo Antonio, a neighborhood in Funchal, Madeira. His family wasn't good financially at that time, where his father was a municipal gardener. They grew up in poverty, sharing a room with his brother and sisters, Ronaldo later said.
Unstoppable achievements:
Ronaldo, since began his football career, marking achievements one to another and his career with fame and success is still going on along with him. After moving to Real Madrid from Manchester United, Ronaldo now currently plays as a forward player for Real Madrid. Since after joining Real Madrid, Ronaldo through his magnificent dribbling skills helped Real Madrid to win one La Liga title, two UEFA champions league title and two club World Cup. In fact, As of now, He is the highest goal scorer for the Real Madrid and second highest in La Liga after his career rival Lionel Messi.
Video source: Youtube.com
The dribbling skills of Cristiano Ronaldo in 2016.
Recently in 2016, Ronaldo won the Ballon d'Or Award again for the fourth time, which means he has been named the World's best player for the fourth time. The previous year 2016 proved to be very lucky for Ronaldo as he and his national team Portugal also clinched the Euro Cup 2016 for the first time ever in history under the leadership of the star footballer Cristiano Ronaldo.
Ronaldo has come through for the past two or three years and is the best in Europe. I think at the moment no doubt Ronaldo is the best player. - Pele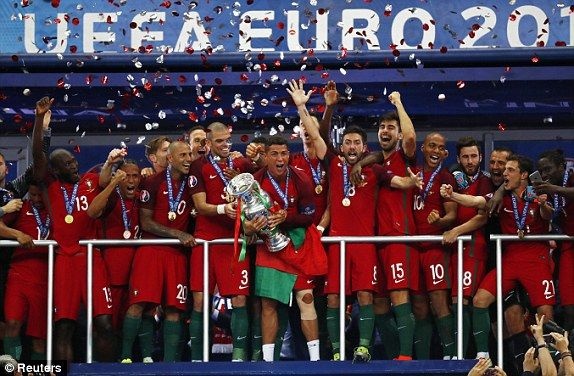 Image source: Reuters
Cristiano Ronaldo celebrating with his Portugal team mates after winning Euro Cup 2016.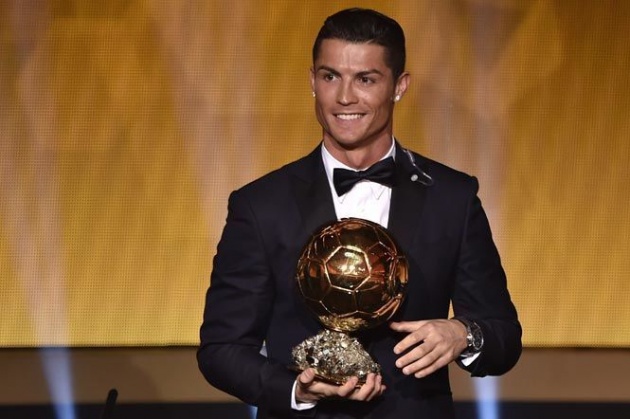 Image source: google.com
Cristiano Ronaldo after winning his fourth Ballon D'or Award.
Not lasted yet, by scoring 17 goals in the 2013-2014 season, Ronaldo holds the scored for most goals scored in a single UEFA Champions League season. He is also the fastest player to score 200 goals in La Liga, which he completed in his 178th La Liga game. He now becomes the all time high goal scorers in UEFA Champions League as well as the high scorer for his Club Real Madrid. The 31 years old star footballer is Portugal's most capped player of all time and participated in seven major events. And even when I decided to write a blog on both of these, Ronaldo again, has won the FIFA Best Player of The Year. This shows that the career of Ronaldo is made of records and achievements.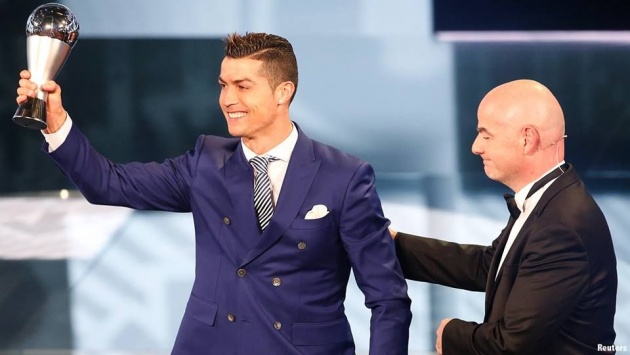 Image source: Reuters
Cristiano Ronaldo receiving his FIFA Best Player of The Year 2016 Award.
Lionel Messi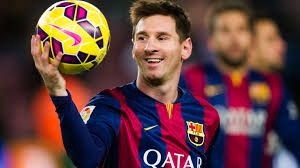 Image source: google.com
Lionel Messi…. Very few people exist in the world who actually do not know about him. Those are the people who also do not aware of the world's most popular game football and its players. Messi is a star footballer who currently plays for F.C Barcelona in La Liga and captains its national team Argentina. Like his career rival Cristiano Ronaldo, Messi also participating in the race of World's best footballers as he achieved many major awards and achievements through his splendid skills and mind blowing dribbling. From the start of his career, Lionel Messi always remain high and up to the sky when it comes to achievement and holds many records under his bag.
Video source: youtube.com
The dribbling skills of Lionel Messi.
Same like Ronaldo, he also had serious issues with his health in childhood. It actually came up when Messi was diagnosed with a growth hormone deficiency when he aged only 13 years old. But as we have heard, there is a bright morning after every dark night, so the morning of Messi is still going on and he's still weaving his magic through his extraordinary football skills.
Unstoppable achievements:

It is obvious that comparing him to Cristiano Ronaldo means there is something in this man which stands him stable against the bright career of Cristiano Ronaldo and without any doubt these are the records and achievements of Lionel Messi which insist the World to accept him as a competitor in the race of World's best football players.
"Don't write about him. Don't try to describe him: watch him." - Pep Guardiola about Lionel Messi.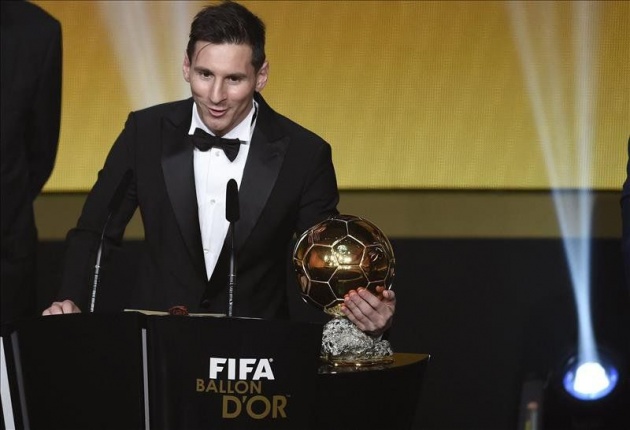 Image source: google.com
Lionel Messi receiving Ballon D'Or Award.
Often considered the best player in the World Lionel Messi has achieved many records and achievements. Few of those are winning five Ballon D'Or (four of which he won consecutively) and become the only player in the history who achieved it followed by Copa del Rey which he won four times. He also holds the record of scoring most goals in La Liga. Under his captaincy, he led his National team Argentina to the finals of FIFA World Cup 2014 which they lost against Germany, but for his performance in the World Cup he also won the golden ball.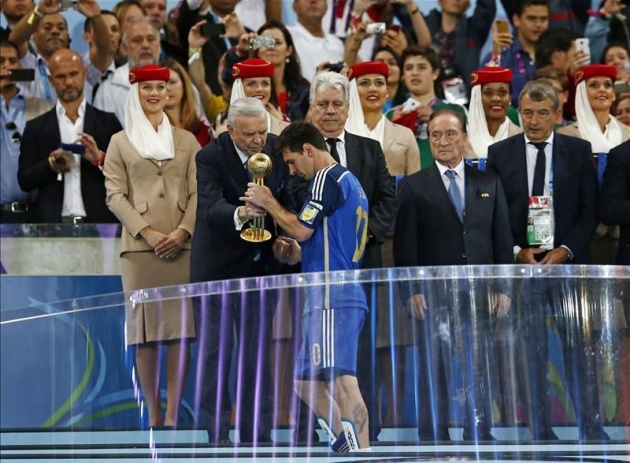 Image source: google.com
Lionel Messi receiving golden boot award for his performance in FIFA World Cup 2014.
Career Comparison:
Some people think Ronaldo is the best player in the world while some claimed Messi to be incredible. It's very easy to judge both of them as they are playing in the same era, so with their stats comparison we can easily reach to the conclusion. So without any delay, let's have some eyes on their excellent records.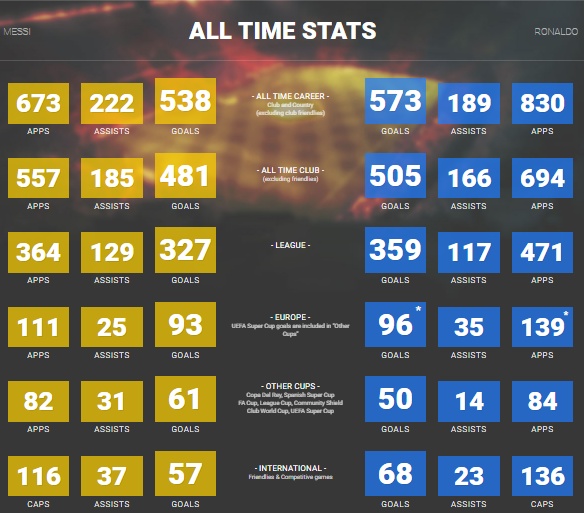 Image source: messivsronaldo.net
All time stats (Club and Country) of Lionel Messi and Cristiano Ronaldo.
As per these records, Messi prove to be a slightly better player than Cristiano Ronaldo not only because he has scored more goals, but he has a bigger impact on the entire team he's playing in. There is no doubt that both are great and the owner of some extraordinary skills. But with their characteristics, Lionel Messi is better at building up attacks and creating more chances which bring his team mates into play and can easily find the space no matter the defense is watertight with a bull's eye. Messi has a very classic control over the football, he can dribble, turn and twist the football better than everyone. Whereas Cristiano Ronaldo, who is a super athlete, runs fast, make solo runs, has the ability to score all types of goals, also known as free-kick specialist and all of above a better professional footballer.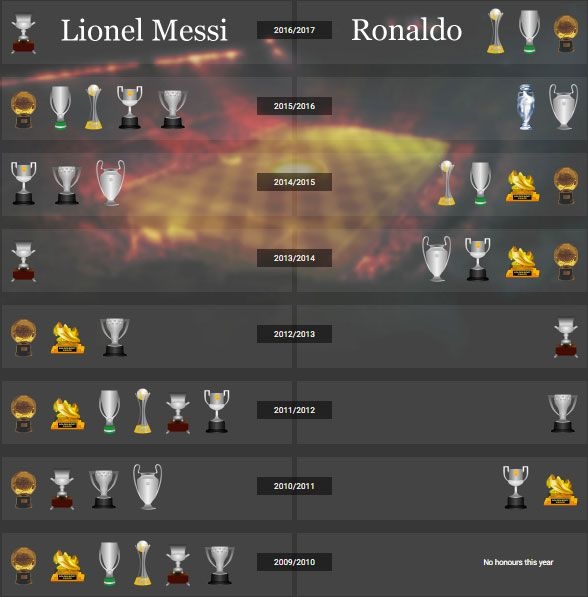 Image source: messivsronaldo.net
Honors achieved by Lionel Messi and Cristiano Ronaldo.
The summary is that this debate will become so long if we actually start to disclose their career comparisons, stats and achievements and it might will exceed the word limit. With all these stats, now the question is who is better Ronaldo? Or Messi? This is the question which divides all the football fans around the world. As I said before, both are great and star players, but when it comes to International competitions Ronaldo definitely takes a dig as he had won EURO Cup 2016 by leading the entire Portugal team. On the other hand, a few days before the Euro Cup Final when his career rival Cristiano Ronaldo marked a solid achievement, Messi missed a penalty shootout in the Copa America Final against Chile but nevertheless he had managed to win the Golden ball in the FIFA World Cup 2014.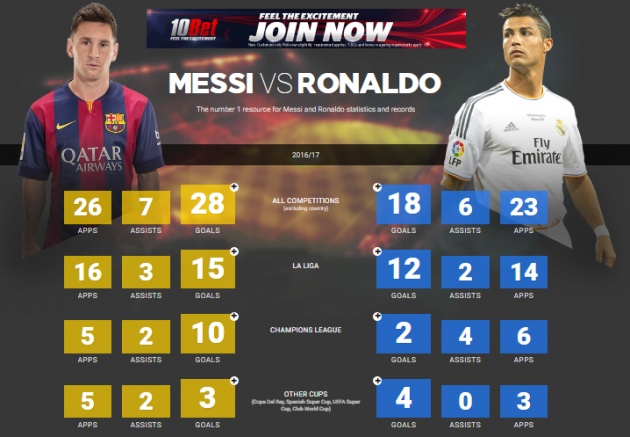 Image source: messivsronaldo.net
Career comparison of Cristiano Ronaldo and Lionel Messi as of 2016-2017.
Coming back to the question for which fans are curious in the world: Who is better in both of them? To me the answer is really simple, by discovering all the facts one must decide which one is better than the other one. In the end, it's all lies on the fan who will actually decide who is better and they love to see him more often.
I am concluding this blog with my message that there are different opinion found in the world regarding their stats, but it is a fact that they both become greatness of the game when they comes out in the arena. So keep enjoying footballs, cheer your favorite team and player. Stay Blessed and Happy!