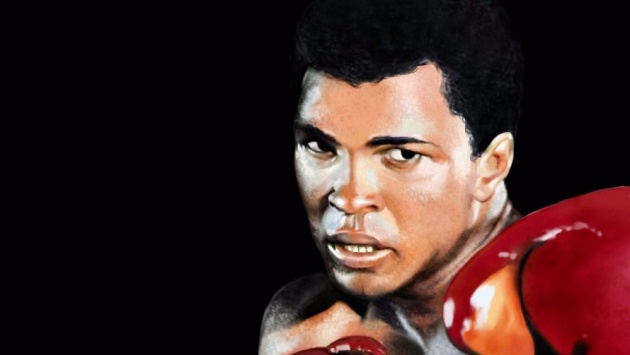 Source: Google
Muhammad Ali, a man of 6 feet 3 inches was not only a great American Olympic Professional Boxers but he is also a great philanthropist and social activist. Muhammad Ali's original name was Cassius Marcellus Clay,Jr. He changed his name and religion to Islam in 1964 after winning a boxing competition.
When Muhammad Ali was going to change his name he said…..
"Cassius Clay is a slave name. I didn't choose it and I don't want it. I am Muhammad Ali, a free name – it means beloved of God – and I insist people use it when people speak to me and of me. "[1]
He was 1st fighter who wins the title of the world heavyweight championship 3 times and then successfully defended this title nineteen times.He won 56 times in his boxing career. He also raised his voice on sensitive issues of religion, politics and race which made his personality controversial during his successful career.
Due to the unique style of Ali' fitting in the ring, "The Ring" Magazine Fighter of the Year included five times the name of Muhammad Ali. His name was also given the name of "Sports Personality of the Century" by the popular News Channel CNN. He was also known with his nick names "The Greatest", The Louisville Lip and The People's Champion. Besides boxing Muhammad Ali was also a good musician, actor and writer as well. As a musician Ali recorded two albums "Rhythm and Blues" and "Spoken word" which had nominated for "Grammy Award". Muhammad Ali also performed in movies named "The Super Fight", "The Greatest" and "The Freedom Road" etc. Ali wrote two autobiographies one is during his career and one after his career. In 1981 Ali left the world of boxing and got retirement and devoted his life for charitable work and religious. In 1984, Ali diagnosed by his doctor with Parkinson's syndrome (a disease boxing-related brain injuries). Due to his worst health condition gradually Muhammad Ali limited his social activities, and remained under the care of family.
Early Life of Muhammad Ali
On January 17, 1942 Cassius Marcellus Clay, Jr. (Muhammad Ali) was born in Louisville, Kentucky.Cassius Marcellus Clay, Sr. (father) and Odessa Grady Clay (mother) were parents of Muhammad Ali. Ali's father painted billboards & signs while his mother was a domestic helper. Ali had four brothers & one sister. He got his schooling education from Central High School. At the age of 12 years, Ali's talent of Boxing discovered by a police officer named Joe Martin when Ali's bike was stolen by a thief. He said to police officer Martin that he wanted to beat him. In reply then police Martin said to him first you should learn how to fight before challenging other people and later this police officer became his boxing coach.
Joe Martin gave to Muhammad Ali early training of boxing and told about the different useful techniques of the game. In the last four years of his amateur career, Ali was trained by cutman Chuck Bodak and he joined "Amateur Boxing" (also known as Olympic Boxing) for training of the boxing.
Muhammad Ali & Jeo Martin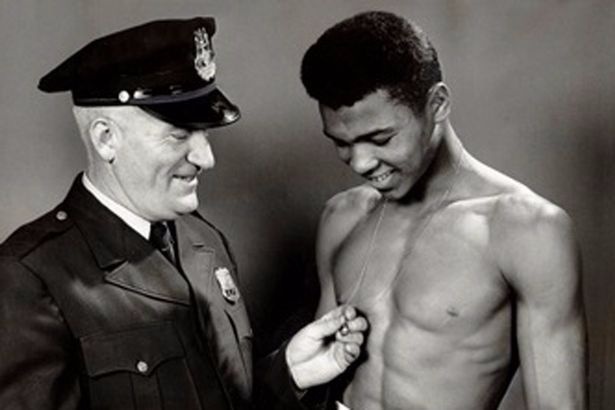 Source: Google
Career of Muhammad Ali
In 1954, Muhammad Ali won the fight by split decision. In 1956 Ali won the title of Golden Gloves tournament in the category of light heavyweight class. Then after 3 years, he not only won the title of National Golden Gloves Tournament Champions, but also the title of Amateur Athletic Union's national in the category of light heavyweight division.
Because of outstanding achievements in 1960 when Ali was eighteen years old, he got the chance for participating in the U.S. Olympic boxing team, and traveled to Rome (Capital of Italy). After winning 3 bouts Muhammad Ali defeated Zibigniew and won the gold medal for the category of light heavyweight.
After Olympic victory of Ali, people of his country (USA) considered as an American hero. After that Ali started a professional career under the guidance of the "Louisville Sponsoring Group"& continued overwhelming all competitors in the ring. In 1963, Muhammad Ali defeated Henry Cooper who was a British heavyweight champion. Then in 1964 Ali defeated his big competitor Sony Litson& becomes the heavyweight champion of the world. After winning this fight, Ali changed his religion and name.He becomes Muslim and his name also changed from Cassius Marcellus Clay to Muhammad Ali.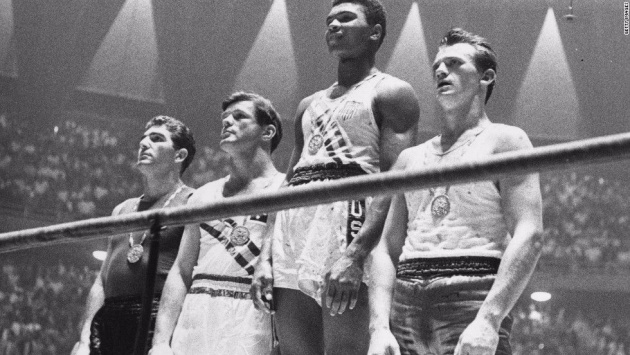 Source: Google
Ups and downs in Ali's Career
In 1964 Muhammad Ali applied the USA Armed Forces but he failed to pass the test of the Armed Forces. However in 1966, Ali applied & passed the test of US Army Forced and also selected for participating in war of the Vietnam. He refused to serve in the USA Army because according to Muhammad Ali……….
"War is against the teachings of the Holy Koran. I'm not trying to dodge the draft. We are not supposed to take part in no wars unless declared by Allah or The Messenger. We don't take part in Christian wars or wars of any unbelievers."[2]
Ali also famously said,
"I ain't got no quarrel with those Vietcong" and "no Vietcong ever called me nigger."[3]
After refusing of Ali, his all titles stripped from him & charged him fine and also spend him three to half year in prison ( as a punishment).
After finished his time period of punishment, Ali returned and joined the boxing ring once again in 1970 with fight against Jerry Quarry. After winning this fight the next fight of Ali was against the top competitor Joe Frazier heavyweight champion. In 1971 when fight was started, after long & interesting fight Joe Frazier defeated Muhammad Ali. This was Muhammad Ali'1st fight ever loss since his professional career. In 1973 Ali once again lost the fight against Ken Norton. On January 28, 1974 when once again Muhammad Ali fought against Frazier this time Ali won the fight. 30th October, 1974 Ali defeated George Foreman heavyweight champion.After so many outstanding achievements Ali faced downfall in his career he lost fight against Larry Holmes. In 1979 Ali got retirement from boxing because he lost his heavyweight title after losing an important fight against Trevor Berbick.
Fight between Muhammad Ali & George Foreman
Muhammad Ali is a Famous Icon in a Way:-
"Ali appeared on the cover of Sports Illustrated on 37 different occasions, second only to Michael Jordan.
Ali had a cameo role in the 1962 film version of Requiem for a Heavyweight, and during his exile, he starred in the short-lived Broadway musical,Buck White (1969)
Ali appeared in the documentary film Black Rodeo (1972) riding both a horse and a bull. His autobiography The Greatest: My Own Story, written with Richard Durham, was published in 1975. In 1977 the book was adapted into a film called The Greatest, in which Ali played himself andErnest Borgnine played Angelo Dundee.
Ali was featured in Superman vs. Muhammad Ali, a 1978 DC Comics comic book pitting the champ against the superhero.
He also wrote several best-selling books about his career, including The Greatest: My Own Story and The Soul of a Butterfly.
In 2002, for his contributions to the entertainment industry, Ali was honored with a star on the Hollywood Walk of Fame at 6801 Hollywood Boulevard"[4]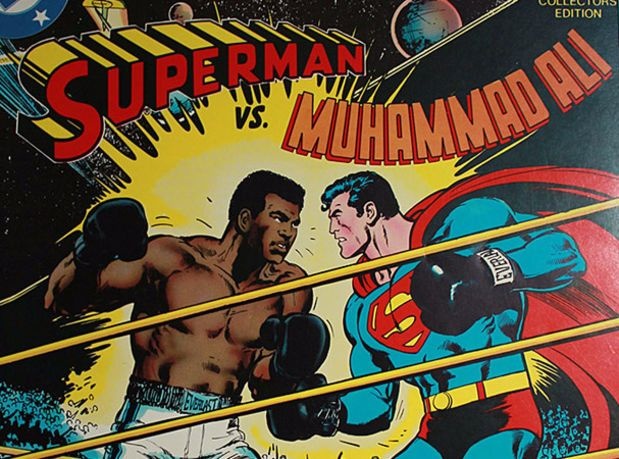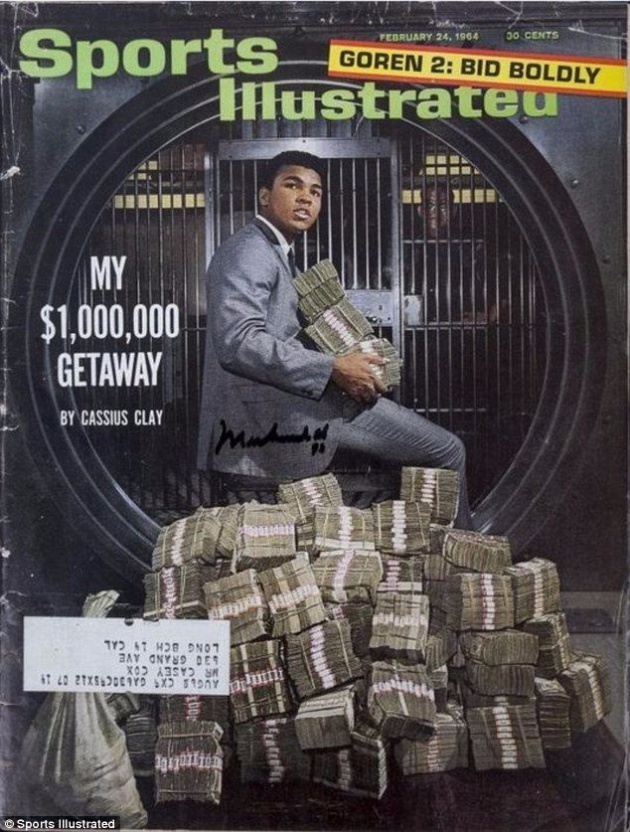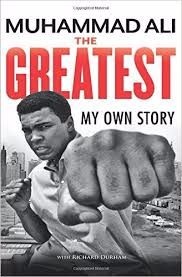 Source: Google
Awards of Muhammad Ali
Muhammad Ali got numerous awards these are the following……..
BBC Overseas SportsPersonality of the Year (1973, 1974 & 1978)
Sports Illustrated Sportsperson of the Year (1974)
Associated Press Male Athlete of the year (1974)
Milliyet Sports Award for World Athlete of the Year (1975, 1976)
Arthur Ashe Courage Award (1997)
BET Humanitarian Award (2002)
Presidential Medal of Freedom (In 2005, he receive this Medal by President George W. Bush)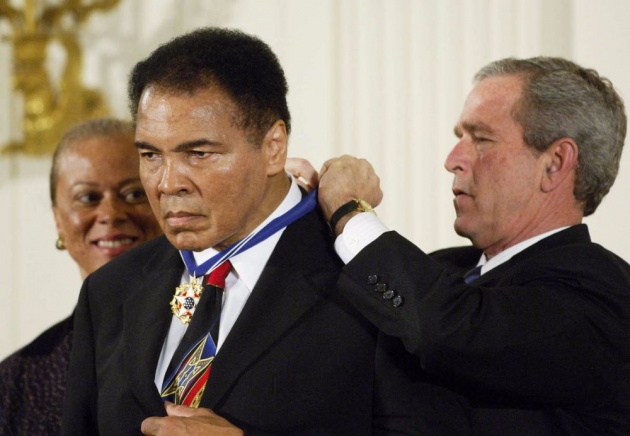 NAACP Image Award-President Award (2009)
Marriages and Children of Muhammad Ali
Muhammad Ali married four times and his wives names were Sonji Roi, Belinda Boyd, Veronica Porsche and Yolanda.He had nine children, two sons & seven daughters. In 1978 after the comments of Muhammad Ali against women boxing, his daughter Laila in 1999 chose the field of boxing to prove her father's comments wrong.
Muhammad Ali & his Family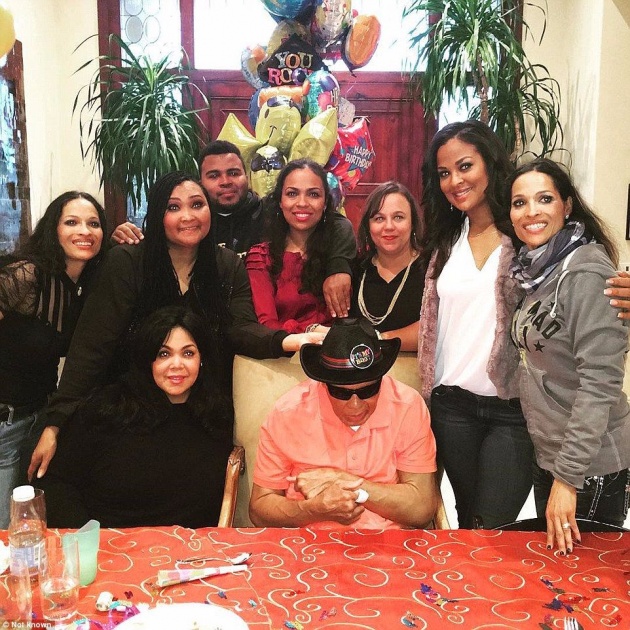 Retirement, Philanthropy& Diagnosis Disease of Parkinson's syndrome of Muhammad Ali
After a successful career of boxing at last in 1981 Muhammad Ali took decision of retirement from boxing. After his announcement, Ali devoted his life for philanthropy work. In 1984 Muhammad Ali diagnosed by his doctor with Parkinson's syndrome (a disease boxing-related brain injuries). Muhammad Ali wanted to make a center with his name "Muhammad Ali Parkinson Center" (www.barrowneuro.org/get-to-know-barrow/centers-programs/muhammad-ali-parkinson-center/), and for this purpose he was personally involved in raising funds as well. Muhammad Ali also supported "Make a Wish Foundation & Special Olympics".Charitable activities of Muhammad Ali were not only limited to his own country, but he also travelled numerous countries for this purpose to help out in their basic needs. In 1998 Ali was nominated as ambassador for peace by United Nations (because of his work in developing countries). In 1999, Ali had the honor of lighting the torch in the opening ceremony of Atlanta Olympics.
Muhammad Ali Lights the Torch in the 1996 Atlanta Olympics
In 2005, Muhammad Ali established "Muhammad Ali Parkinson Center" in Louisville, Kentucky. Muhammad Ali was very happy on nominated of President Barak Obama, because Barak Obama was first African American president of USA. In 2009, Muhammad Ali celebrated the inauguration ceremony of President Barak Obama in his office, and here Muhammad Ali received award NAACP (president's award) for his public service efforts.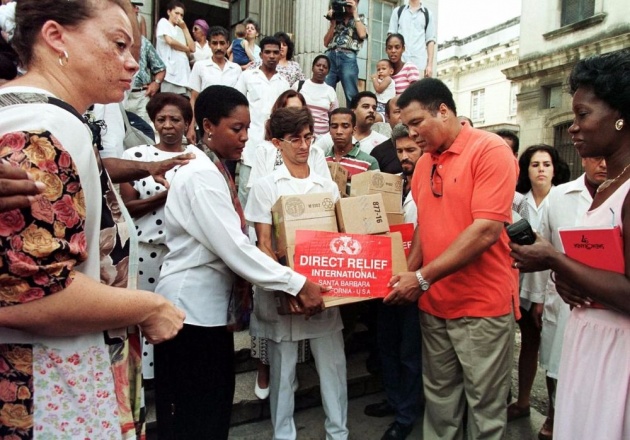 Source: Google
Death of Muhammad Ali
Due to worst condition of health, in 2015 Muhammad Ali was hospitalized because after pneumonia he got severe urinary infection. Doctors tried their best during his treatment, but at last on 3rd June, 2016 the greatest Muhammad Ali died.On 9th Thursday, 2016 for attending Muslim prayer (Janazah) of Muhammad Ali 14000 Muslims from his own country but also from all over the world came to his home town Louisville, Kentucky in Freedom Hall. However on 10th Friday, 2016 a public funeral procession with a memorial service attended by people in Louisville's KFC Yum! Center.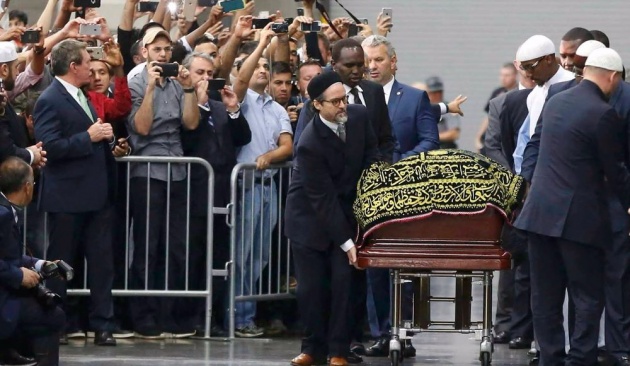 Source: Google
Given below is the link of different tweets of famous people (react on Muhammad Ali's death)
http://www.businessinsider.com/famous-people-react-to-muhammed-alis-death-2016-6
Famous Quotes of Muhammad Ali:-
"I hated every minute of training, but I said, 'Don't quit. Suffer now and live the rest of your life as a champion.' Muhammad Ali

I am an ordinary man who worked hard to develop the talent I was given. I believed in myself, and I believe in the goodness of others. Muhammad Ali
Float like a butterfly, sting like a bee. Muhammad Ali
I had to prove you could be a new kind of black man. I had to show the world. Muhammad Ali
No boxer in the history of boxing has had Parkinson's. There's no injury in my brain that suggests that the illness came from boxing. Muhammad Ali

Terrorists are not following Islam. Killing people and blowing up people and dropping bombs in places and all this is not the way to spread the word of Islam. So people realize now that all Muslims are not terrorists. Muhammad Ali"[5]
Refrences:
[1] [2] & [3] http://www.biographyonline.net/sport/muhammad_ali.html
[4] https://en.wikipedia.org/wiki/Muhammad_Ali
[5] http://www.brainyquote.com/quotes/authors/m/muhammad_ali.html
This is the End of my Blog. Hope you people enjoyed alot... I spend my hard working here in writing this and want your comments below in comment section.
Thanks for sparing time in reading My 23rd attempt for my virtual home "BitLanders".... Stay Connected for more articles.. :)