A couple of weeks ago I introduced to you my personal chatbot assistant through my post "Introducing My Personal Chatbot Assistant".
Chatbot Assistant, powered by Querlo, is an AI-powered chatbot that engages your audiences like a virtual you!


Influencers, entrepreneurs or creatives will all find this Assistant a personalized and effective solution to communicate with your audience and network, or even to keep in touch with friends and colleagues.

- Hillary Summers (bitLanders Blog Topics)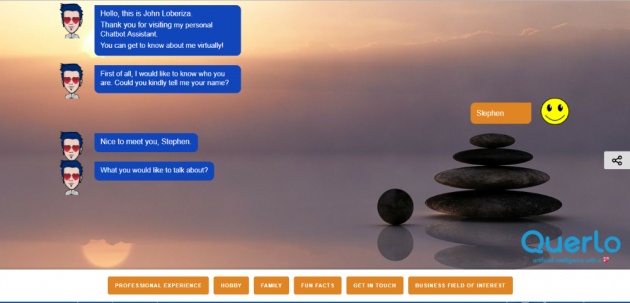 Image credit: Introducing My Personal Chatbot assistant by @artbytes
After I made that post, I have been observing and analyzing how a personal chatbot assistant could be of help to bloggers and online marketers.
In this chat blog, I will share with you some basic information about the Personal Chatbot Assistant and my own thoughts about it.
Thanks for chatting.
~°~°~°o0O0o°~°~°~
If you like this chat-blog, please share.
John Reynold Loberiza (a.k.a @artbytes) is a freelance graphic artist, web developer, and blogger. He is also a licensed Financial Adviser under Insular Life.
The content of this blog post is the author's original work. Proper credit is always given to the respective sources of information and images. Please feel free to check out my other blog posts: http://www.bitlanders.com/Artbytes/blog_post
If you have any reactions or inquiries regarding the subject of this post, please write it in the comment or send the author a private message.
For more information or questions you can also:

Follow me on Twitter: http://twitter.com/jrlcentral
or email me at jrlcreativeideas@gmail.com


~°~°~°o0O0o°~°~°~
Join Bitlanders
If you are not a member of Bitlanders yet and you are a content creator- a writer, blogger, photographer, an artist or a hobbyist, you can earn from your creations (blog posts, photos, artworks, or videos) by uploading them in Bitlanders.
You can join Bitlanders by clicking this link-> http://bit.ly/Join_bitlanders