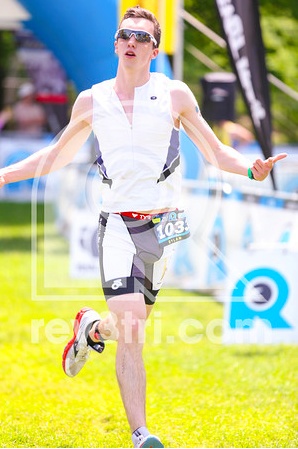 This past weekend in Middlebury, Connecticut was the Rev3 Half-Ironman (more commonly referred to as an Ironman 70.3). And for me, this was my first ever Half-Ironman Triathlon. I had been training for this race for a good 2 ½ to 3 months and this Sunday was Judgment Day; the day when I would see if all of my training had finally paid off.

My day started at an early 4:15a in my hotel room about 20 miles east of the race site. After forcing down a plain bagel and an energy bar, my mom and I headed to the race site. Many prerace emotions were flowing in as I began to set up my transition area next to my bike. At 6:30a, all 1,000+ of use headed down to the water for a warm-up swim, which I desperately needed in order to get my blood flowing and (more importantly) to get use to the frigid water temperature. Then I promptly set off on my 70.3-mile journey at 6:55a with the rest of the men under 35 years of age in the race. After a surprisingly easy 1.2-mile swim in Lake Quassy, I emerged from the water to the transition area to grab my bike and headed off to the 56-mile ride that awaited me. I had never done this race before, but the one thing that I did know about this course was the fact that there were hills, and that there were a lot of them. And boy did I learn about these hills on the bike. Mile after mile meant hill after hill and endless strenuous work for my legs. After about 3:40 minutes of going up and down and up and down, I came into transition to throw on my running shoes and to head out onto the run. Once again, it was hill after hill after hill. It was the slowest half-marathon I had ever run. However, I finished, which was my goal. I did a total of 6 hours and 16 minutes; not bad for a first Ironman 70.3.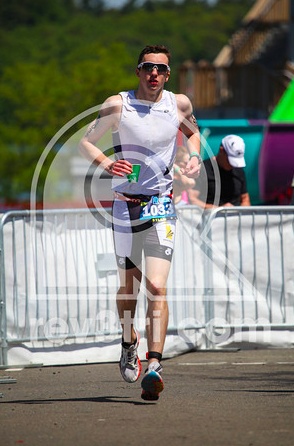 I am very pleased with my result and my overall race experience. It has been a fun and tough 2 ½ months of training but now it is time for me to get back on the squash court, although I do think there will be more races for me in the future.