Lars Mittank's Mysterious Disappearance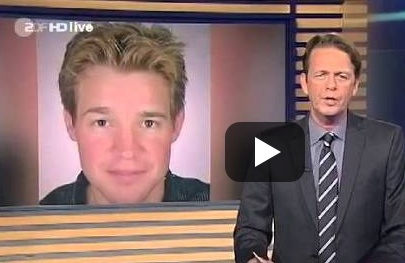 - This one is creepy, at the same time bizzarre and unbelievable.

WARNING: The video is a little creeepy and confusing. You might ask more questions to why he is acting like that or also have some answers to the mystery. You can find it in youtube.
I recently searched for some interesting videos in youtube and was able to end up with the clip about mystery occurances/happening. The case about Lars Mittank got me interested and lead me to a post in reddit. (Read below not my own composition)
Last year in July there was a case about a 28 year old man from Germany, Lars Mittank, who visited Bulgaria with his friends. This place in Bulgaria is very famous for young people from Germany and England, same as Mallorca or Ibiza.
Mittank got involved into a fight and hurt his ear. Something that happens always at those places where many young people are partying.
He stayed there and enjoyed the rest of his holidays with his friends. When they had to leave though, the doctor said he can not use the airplane because of his ear. He decided to stay in Bulgaria and rented a room in a hostel while his friends left.
He called at night his mother and said he fears for his life.
Mittank wanted to leave again and catch his next flight. He went to the doctors office though, with all his stuff, suitcase etc. After that, he runs out from the doctors office leaving all his things behind.
People outside saw him how he climbed over a fence and disappeared in a nearby forrest.
Till today, no one knows what happened or where he is. His family is still searching for him.
Other information:
He asked his mother to block his credit cards.
He didn't understand what the antibiotic was even though a doctor prescribed it for him and therefore maybe paranoid of the prescription given to him.
Source: https://www.reddit.com/r/UnsolvedMysteries/comments/2x0rns/mystery_case_of_lars_mittank_2014/
DISCLAIMER: I DID NOT CREATE THE STORY JUST SHARED IT HERE AND EDITED SOME PARTS OF IT