For the past few weeks, many users have submitted blogs about Gelato! This is quite understandable since it is one of the double rewards topic announced by Micky (Micky-The-Slanted-Salerno). Fyi please for those who are not aware, Micky posted (approximately three weeks ago) about two double reward topics – these are Gelato while the other one is Sports and Social Good. Interestingly, even though there are two double rewards topic, it seems that majority of the members opted to go and write about Gelato.

(Image Source: Personal – screenshot and edited by jikZ)
Since there are already numerous Gelato blogs submitted and floating around bitLanders, I will somewhat deviate from the norm and write about the other double reward topic – this blog will be about Sports and Social Good!
What is Social Good?
(Image Source: Google.com Images)
Before we continue, it is important that we have a clear idea on what is the meaning of social good. Something tells me that the reason why some members did not submit a blog about Sports and Social Good is because they are not that familiar with this particular term - "Social Good"
Social Good is actually not that hard to understand – just by looking at its two root words, one can already have an idea on what it means. Social, in its general context refers to society, group of people, organization, etc… On the other hand, Good obviously means righteous, approval, or something desirable.
So basically, if we put the two together, the statement Social Good can signify an action or feature that gives out a desirable benefit for a huge group of people using a far-reaching method – in short, it is doing something that benefits society in the most practical way.
Examples of Social Good –
To further illustrate the definition of the term, the following examples might help give you an idea on what social good is all about:
• A charity event that promotes education
• A mission whose purpose is to gives out hygienic and clean living
• A program that aims to secure the safety of citizens
• An innovative invention that changed the life of people for the better.
Naturally, one may think that only large institutions are capable of providing social good – this may include private organizations, public companies, and even government agencies.
However, it is important to note that social good is not only limited to large institutions – individuals can also contribute. One great example are celebrities who uses their fame to promote and do good deeds. Even the great minds behind modern innovative inventions which includes GiraDora (an electricity free washing machine) or the BioLite can be said to have contributed social good.
(Image Source: Google.com Images)
What does Sports have to do with Social Good?
At this point, some readers might be wondering what does Sports have to do with Social Good? That is actually a very good question and one that I am glad to answer.
We already know that engaging in sports has numerous benefits for one's body and physical condition. In fact, some people who have mentally-taxing careers or day jobs even consider sports as a stress reliever of sort (anything that does not resemble the four closed walls of an office setting - beleive me, I know that feeling)
Anyway, what a lot of people probably did not notice is that Sports has the potential to go beyond the individual (the person) – it has the potential to be more than just being a physical activity.
Although competing and winning is one of the major objectives of sports athletes and game participants – when utilized correctly, sports can also be a medium or platform to achieve social good.
Here is a quick and simple example –
Running is quite popular nowadays here in Philippines. Many private businesses and public institutions organize running marathons. Luckily, many of these organized events are hosted for a good cause. By this I mean, many running events are planned and executed in order to raise funds for charity.
(Image Source: Google.com Images)
What do I want to imply with my example above?
Basically, what I'm trying to say is that if you want to accomplish something and it needed numerous people to join in – one of the best way to make them participate is to host an event that they will recognize.
This is where the role of sports comes in. Since ancient times, sports has played a critical role in society. Sports has the power to attract people and can easily be recognized. On top of this, has this amazing power to inspire.
NBA Cares – a great example of Sport promoting Social Good
NBA Cares is a great example of sports being a platform / program for social good. Needless to say, the word NBA is one of the most recognizable organization in the world. Since it's conception in 1946, the National Basketball Association has been inspiring millions of youth all around the globe. The league has been promoting important individual traits like respecting the opponent, importance of following the rules, and instilling values of personal development.
By launching NBA Cares, the organization is utilizing its fame and influence to promote social responsibility and address social issues not only in the US but also around the world.
Although NBA is already famous around the world, NBA Cares has partnered with other international similarly social oriented programs. This only shows that there is much work to be done and that NBA Cares (as well as all the other social responsibility organizations) needs all the assistance / donation that they can get.
Some if NBA Cares internationally recognized organizations include Reading is Fundamental, UNICEF, Feed the Children, Charities Aid Foundation, etc...
NBA Cares Photos, Videos, Community Partners
Listed below are the photo sources of the images below:
NBA Cares Community Partners -- http://cares.nba.com/nba-cares-community-partners/
NBA Cares Social Responsibility Activities -- http://ak-static.cms.nba.com/wp-content/uploads/sites/54/2015/10/NBA_SR_Report_1415.pdf
A video of NBA Cares Basketball Without Borders project n Africa -- https://www.youtube.com/watch?v=4wDAt_XCO60
1. NBA Cares Community Partners (images can be found on NBA Cares website)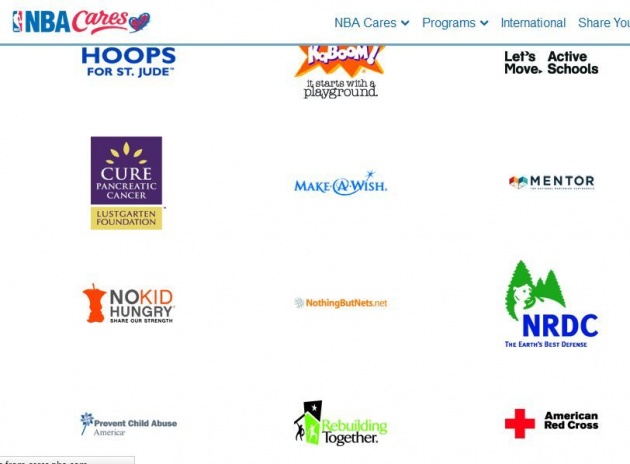 2. NBA Cares Social Responsibility Activities (images can be found on NBA Cares website)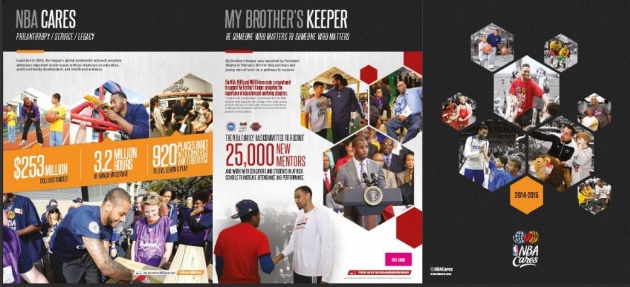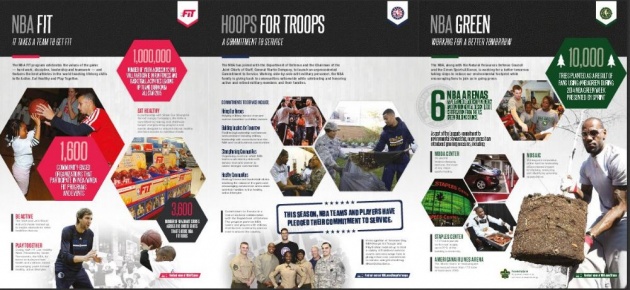 3. NBA Cares Basketball Without Borders program in Africa (clip from YouTube.com)
NBA Cares in the Philippines
I know some of you probably heard that some charity organizations are scam or bogus. But believe me when I tell you that NBA Cares is legit. In fact, I can remember two social good events here in the Philippines where NBA Cares is a part of.
(Image Source: www.philstar.com/sports/2015/05/23/1457941/nbas-clarkson-burke-grant-give-back-fans-nba-cares-event)
As can be seen on the above photo, NBA legend Horace Grant posted for a selfie together with current Lakers guard Jordan Clarkson and Filipino youths who attended the NBA Cares event here in the Philippines. A lot of people may not be aware of this but Jordan Clarkson has Filipino blood.
Meanwhile, on the photo below is another NBA Cares event in the Philippines and is organized in collaboration with Sun Life. NBA personalities included in the pic together with Filipino children are Portland's Wesley Matthews, coach Greg Stolt, and both mascots of Denver Nuggets and Sun Life.
(Image Source: www.sunlife.com.ph/philippines/About+us/Newsroom/Press+releases/2014/Sun+Life+And+NBA+Hold+NBA+Cares+For+House+Of+Sarang+Orphanage?vgnLocale=en_CA)
Here is also a short clip of NBA Cares activity here in the Philippines:
(Video Source: YouTube.com)
That's just about it. Helping less fortunate people is a moral and social responsibility of everyone.
Attending social helping events is not the only way to to provide assistance, NBA Cares (and I'm assuming that all of its partners and similar organizations) accepts online donations. Let us all help each other and aim to better the lives of our less fortunate brothers. With whatever amount, it helps in fulfilling the dreams of small children and improving the lives of families.
Let me end this post with the photo below. It is an advanced thank you for those who have read this blog and have it in their hearts to help in any way they can:
(Image Source: Google.com Images)
If you want to read more interesting things about Sports and Social Good, check out the links below: