Never Knew I'd Dine at Bubbagump
Not Enough Cash, Stranger
I never knew I would dine at Bubbagump. When I did our Hong Kong itinerary, I didn't consider Bubbagump because openrice 'told' me: "not enough cash, stranger!" Resident Evil style. Since it was on aunt's tab, it was all the more embarrassing that I choose eating at places with a hefty price tag.
Strategic Location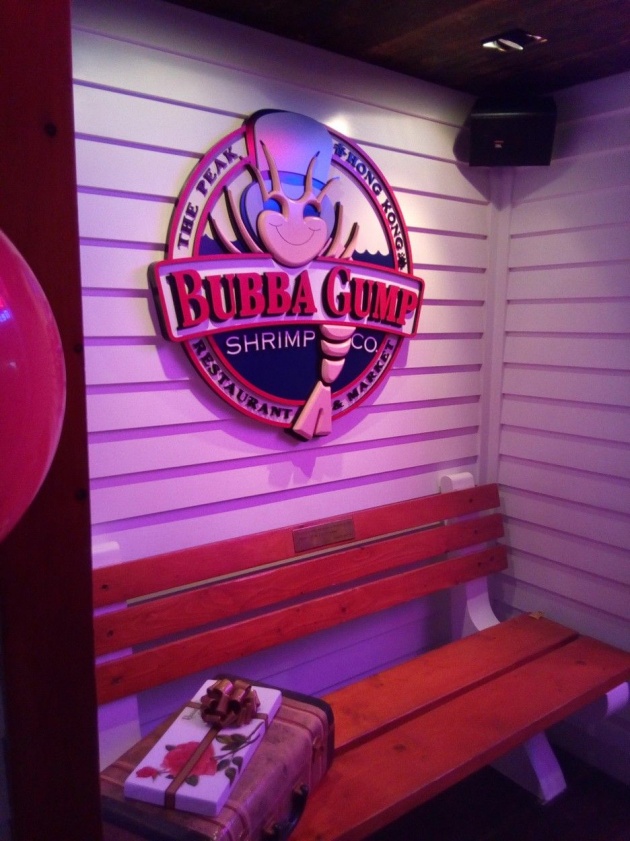 Photo credit: lapiz-lazuli
Anyway, when we arrived at the Peak Tower, we were puzzled how to go around and about. How can I locate Mak's noodle with a labyrinthine floor plan such as The Peak Tower? OK, I'm exagerrating, but that was what I've felt when I saw Madame Tussaud's in front of me after passing through a flea market.
We had tickets to The Sky Terrace, so we decided to go there first. As we escalate per level through an escalator, my aunt saw the familiar logo of Bubbagump Shrimp Co. Restaurant.
She told us that they occasionally dine at the said resto. She added that food was good there. I was a bit hesistant because internet told me that it was an expensive restaurant, but hey, my aunt didn't seem to mind.
Shrimp Mascot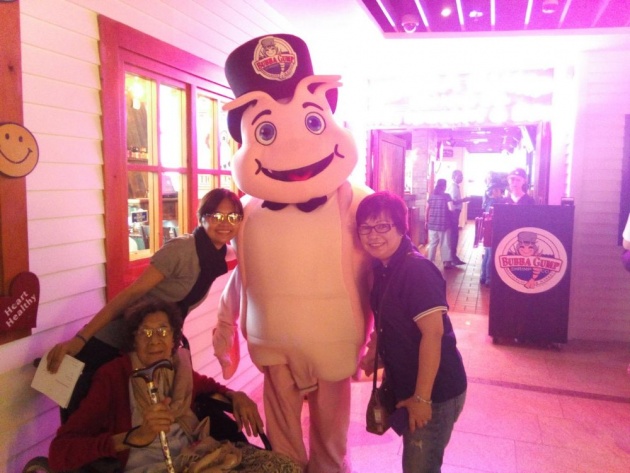 Photo credit: lapiz-lazuli
After we explored Sky Terrace 428, off we went inside Bubbagump. But before we did, there was a pinkish shrimp mascot who was very enthusiastic and friendly to bystanders near their entrance. "It" was so amiable, I managed to shake "its" hand and hug "it."
Bubbagump Merch

Video credit: lapiz-lazuli via bitlanders.com
As you pass by the entryway, you will see different merchs of Bubbagump--caps, shirts, keychains, posters (I think), etc. From this point on, you will be able to tell where they got the name and the restaurant's theme (*ehem* Forrest Gump *ehem*).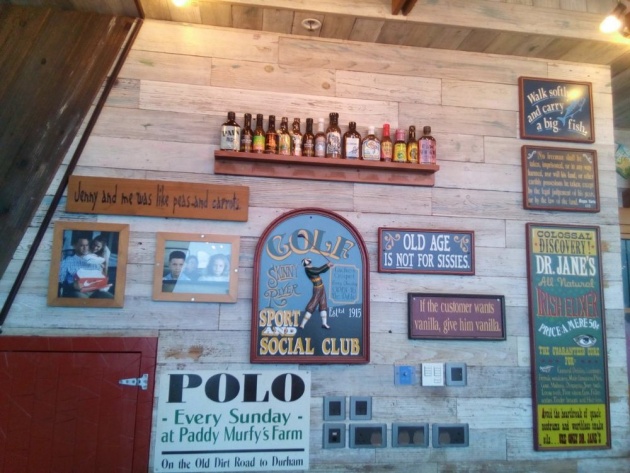 Photo credit: lapiz-lazuli
Most wall decor had a picture or a quote from that movie. And yet, it was cleverly decorated to look modern, with lots of woodsy-cabiny-thing going on.
Universal Edge
The staff can speak fluent English, and their accent quite comprehendable. It was not a fast food eatery in Hong Kong where there were only very few staff know how to speak the universal lingo. Even the waitresses at Bubbagump know simple, conversational English.
Waiting and Ordering
We sat near the glass walling but alas, when we visited The Peak Tower, it was already late afternoon so it was chilly and foggy. But the view was still nice because the lights from buildings and roads were still visible when you take a peak from the glass wall.
I was kind of surprised we only ordered about three foods from the menu: a starter platter, mac and cheese with shrimp, and a fish dish. But I thought from our Crystal Jade experience, I sort of expecting bigger servings per order of one dish.
Video credit: lapiz-lazuli via bitlanders.com
While waiting for our orders, I motion captured their menu and some other interesting things on our table. There was a sign which read: "Run, Forrest, run!" and "Stop, Forrest, stop!," which means that if you place it on the edge of your table, you quickly needed a waiter to attend to you, or halt your call.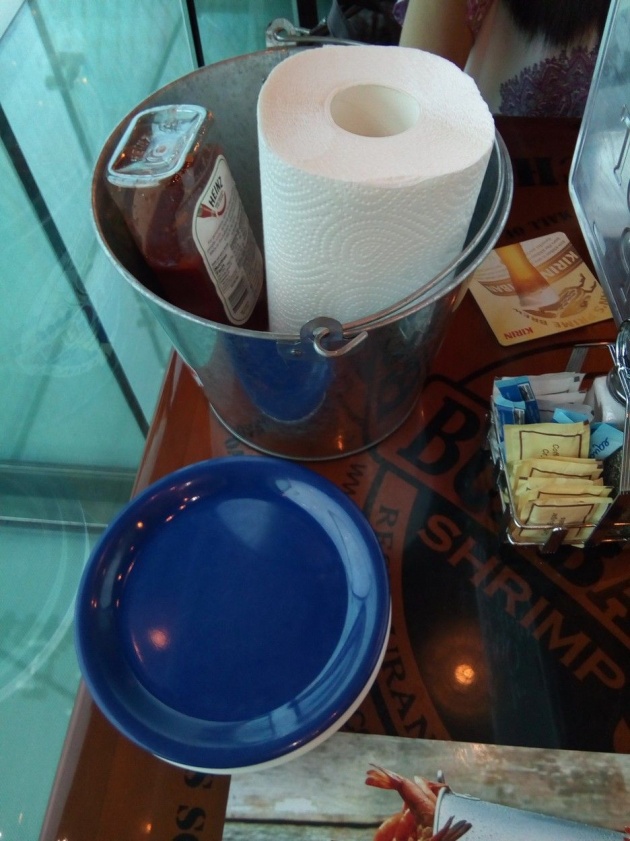 Photo credit: lapiz-lazuli
There was also a large metal bucket at every table. Inside were a big squeezable bottle of catsup, and a huge roll of tissue. Beside the bucket was a pile of small plates.
The Phood!
Starter Platter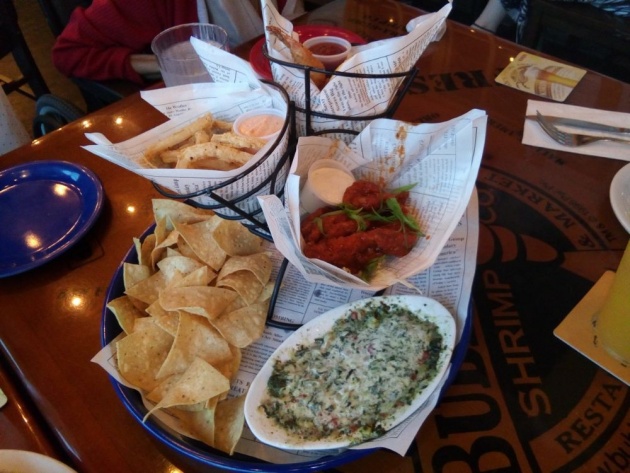 Photo credit: lapiz-lazuli
When our food arrived, I was surprised (again) at the serving. It was just normal-sized, like what restaurants served here in the Philippines. As we gobble up the starters (breaded shrimp strips, corn balls, a spicy finger food (chicken, as far as I can recall) and nachos with dip), I felt my tummy being half full. I told this to my aunt to which she replied that it is how it is at Bubbagump, dishes at this resto would make you feel fuller. I really thought (at first) it was because of them Hongkies' serving size, but I stand corrected.
The shrimp and chicken were the first to empty, and no one dared to eat the corn balls. I was just the sympathetic volunteer because I only managed to eat a few of the stuff from the starter. I really wanted to know the recipe for the nacho dip because it was super scrumptious. Grandma even gobbled down every chip because of that dip.
Mac and Cheese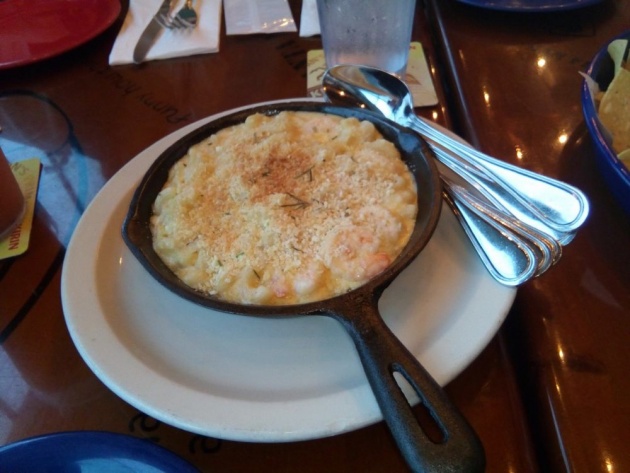 Photo credit: lapiz-lazuli
The starter wasn't even half finished and the mac and cheese arrived. It was served on an iron skillet with a plate at the bottom. It really looked tiny; judging from its look, it was only good for two people. I took a few spoonfuls to my plate, but after eating a couple, I thought I had undermined this dish--it was really filling.
I thought at that time, does it contain alginate? When I was watching one of Jamie Oliver's shows, he came up with a recipe that includes alginate to decrease portion sizes. It's made of seaweed and what it does when added to a recipe is to make you feel fuller, even if the food serving is very small. So anyway, back to the "review."
Something Fishy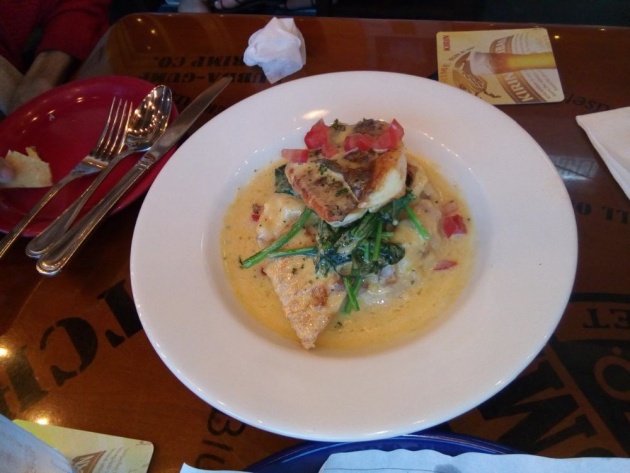 Photo credit: lapiz-lazuli
The last dish was a fishy one, I mean, literally. I only took a few bites and I was very satisfied. The cooked flesh was delicately soft, the veggie part was ok, and the sauce was thick. It was a one solid dish.
Drinks are Up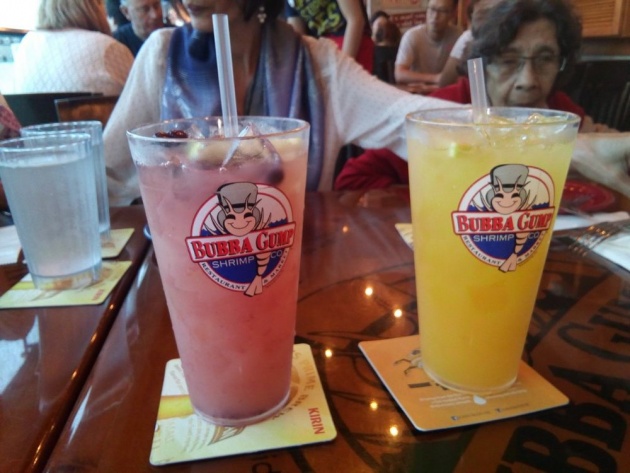 Photo credit: lapiz-lazuli
As for the drinks, I ordered a strawberry juice with buts of blueberry and for my aunt, some plain lemonade. They were really authentic: didn't use powder, used real fresh fruits and not preserved, weren't too sweet and just the right flavor. And they were damn cold.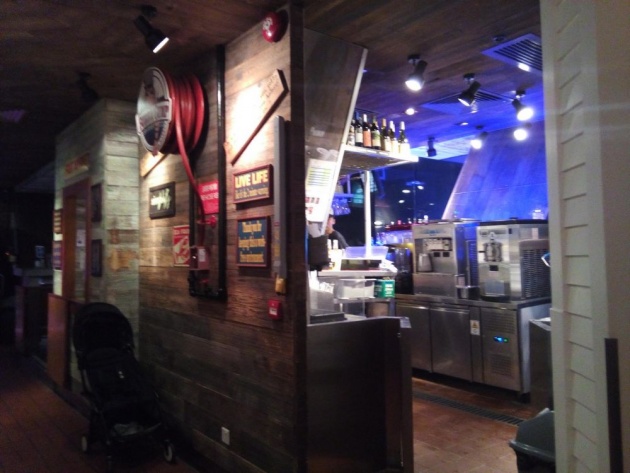 Photo credit: lapiz-lazuli
There was a separate menu for cocktails; they even have a drinking station viewable and separate from the kitchen. We very rarely drink, we didn't order one so I can't say anything about how their liquor tasted.
My uncle didn't come with us (only male in the group) at The Peak, my aunt was on a diet, plus we were all light eaters, so we really struggled to finish every meal, as few as they can be.
In Two Words
I had a full-filling and intense experience on Bubbagump Shrimp Co--those adjectives relate heavily on how their food were like.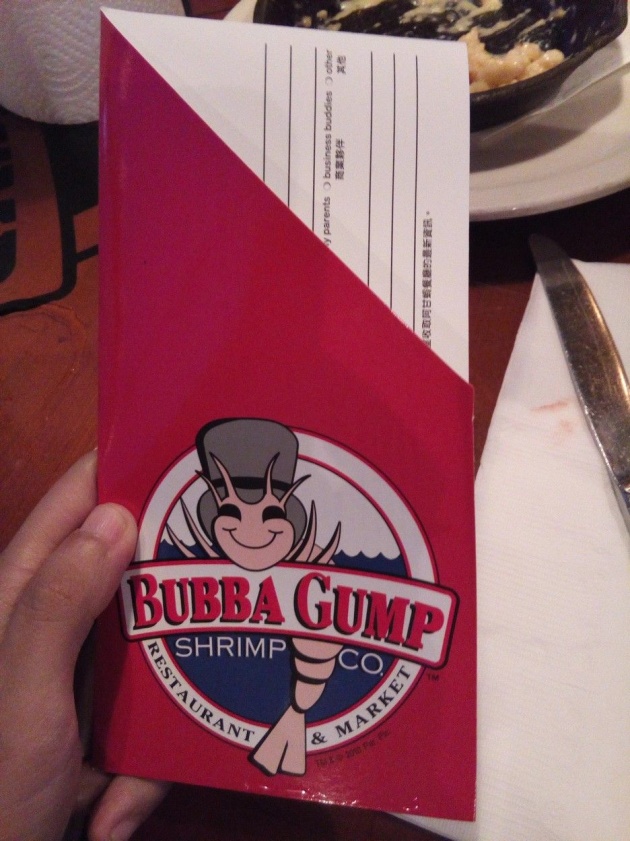 Photo credit: lapiz-lazuli
One thing I don't like about their Peak Tower branch was their 75-minute sit-in time, else you'll be charged extra. I jotted this down when I filled out their survey. If you'd like to answer one, here's a Querlo chat about restaurants:
Disclaimer: Pictures, videos and writeup are owned/made by lapiz-lazuli, unless stated otherwise. Views and opinions in this blog post are truthful but subjective and are not influenced by sponsorship of any sort.