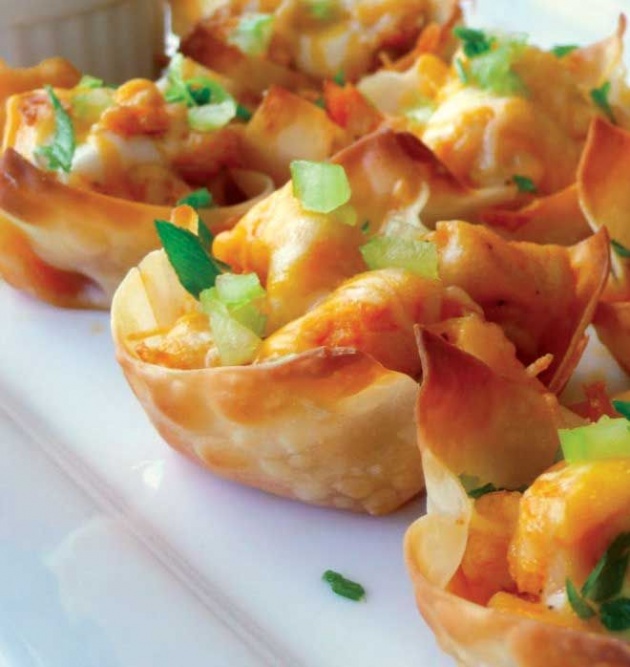 New Year's Eve is here and those of us who are planning to have a bash at home are all planning menus. Sometimes we forget about the scrumptious finger food we can serve instead of just chips and dip. I'm planning to put things on sticks, shooter glasses and soup spoons this year!
Cucumber Smoked Salmon
Easy and hardly any fuss this recipe will please you as well as your guests.
Ingredients
2 cucumbers, peeled and cut into 1 inch circles
4 slices of smoked salmon, cut into index finger wide strips
7 tablespoons of cream cheese
½ a lemon's juice
Salt
Black pepper
Method
Beat the cream cheese, lemon juice, salt and black pepper together. Keep aside. Place the sliced cucumber and put a teaspoon of the cream cheese mix on top. Place the smoked salmon on top and secure with a toothpick.
Grilled Salad on a Stick
You know the amazing salad you make but no one really touches because it's being over shadowed by your mains? Well there is a good solution, serve it as an appetiser. You will need wooden or bamboo skewers for this recipe, which you will have to soak in water for 30 minutes before grilling.
Ingredients
1 box of cherry tomatoes, cut into halves
2 cups paneer, cut into cubes
1 tsp of chilli powder
Salt
1 Tbs of Olive Oil
1 capsicum, cut into cubes
2 cups pitted green olives
Dressing
3 Tbs Olive Oil
Salt to taste
1 tsp garlic paste
Method
Take a skewer and put a tomato, cheese, capsicum and olive on it. Place it on a microwave tray. Place the tray in the microwave for two minutes or if you have an electric oven for 5 minutes. Take the tray out and let it cool for 5 minutes before you move it on to the serving tray. After placing on the serving tray, mix the dressing up with a whisk and drizzle it on the skewers. Serve.
Masala Crab Phuchkas
You get packets of frozen crab flakes nowadays and it's absolutely the best. Just defrost them and put them aside while you make the sauce it will cook in.
Ingredients
½ cup coconut milk
1 lemon juice
Handful of coriander, chopped
1 tsp chilli powder
2 tsp garlic paste
1 tsp ginger paste
½ cup spring onion, sliced finely
½ cup tomato, chopped
1 tsp coriander powder
Salt
Phuchka shells
Method
In a pan heat a bit of oil, when it is hot enough put in the onions and fry till the turn a translucent. Add the garlic, ginger, chilli powder and coriander powder. Fry till the oil starts to separate. Add the tomatoes. Really mash up the tomato with your hand before you add them. Cook for 4 minutes. Add the coconut milk and chopped fresh coriander, salt as well as the crab meat. Cook for 10 minutes as you would want it the sauce to become reduced.
Right before taking it off the flame, add the lemon juice and mix thoroughly. Break the phuchka shells with the back of a teaspoon and place a spoonful of the crab meat in it. Top with the onion slices and serve.
Chicken Meat Balls with Brown Sugar Glaze
If you are absolutely stripped from time, pick up a packet of chicken meatballs and dress them up for your guests.
Ingredients
1 packet chicken meatballs
½ cup brown sugar
3 tbs of butter
2 tbs of bbq sauce
salt
2 tsp chilli powder
Method
In a pan heat the butter till it becomes slightly dark golden and add the brown sugar. After the sugar has melted add the bbq sauce, salt and chilli powder and the chicken balls. Fry this for 8 minutes and place on a serving try. Top each one with a toothpick.
Grilled Shrimp
Ingredients
1/2 cup fresh coriander
1 small clove garlic
1 tablespoon cashew, toasted
2 tablespoons kissan cheese, grated
2 tablespoons olive oil
1 tablespoon lemon juice (~1/4 lemon)
salt and pepper to taste
1/2 kg shrimp, peeled and deveined
Method
Put the coriander, garlic, cashew, Kissan cheese, oil, lemon juice, salt and pepper in a blender and blend until smooth. Marinate the shrimp in the mix for at least 20 minutes, up to overnight, in the fridge. Skewer the shrimp and grill in a pan over medium-high heat until cooked, about 2-3 minutes per side.