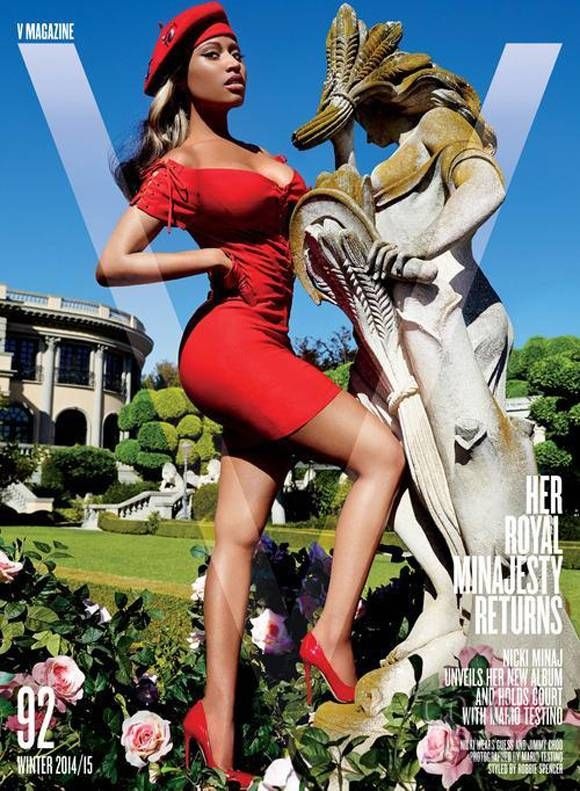 Beware these curves, gentlemen! And ladies!

Nicki Minaj's curves are like a dangerous winding road leading people to wicked temptation, and she knows it!

We bet she also LOVES it!

The rapper flaunts her very mouth-watering assets on the cover of V Magazine's winter issue in a skintight red Guess dress, which is kind of unexpected since we usually see high-end designer clothing on covers.

It's actually a pretty nice surprise!

The spread includes several more body-gripping clothes, including a Balmain one that basically looks like a textile cage and is a lot like the one Kendall Jenner wore when she walked the S/S 2015 show!

It just barely keeps Nicki's boobs contained!


In the interview, Nicki mostly talks about her upcoming album The Pinkprint, but she answers some fashion questions as well!

Regarding her more streamlined style recently, she said:

"It's a very natural transition for me. I've already done crazy. I always thought that at this time in my career, for my third album, I would be wearing my real hair. And it goes so well with The Pinkprint! The name of the record is obviously derived from Jay Z's The Blueprint, which is something scaled back and getting down to the essence of how things are built. I've stripped myself down. You're seeing me, you're seeing my face, you're seeing my hair…you're seeing my soul! There are songs on the album where I am going back and forth saying, Do I release it to the world? Is it too personal? But I think it's important for my growth, in the same way that having a natural look is important for my growth, so people can get to know me as a person."

She also talks of her love for Versace, which she also wears in the spread, saying:

"I'm so in love with Donatella. What I love about Donatella and what I love about Versace is that it's so rich. It's not afraid to be rich and braggadocious. To me, it embodies everything that "supermodel" meant. It's nostalgic for a time when Naomi Campbell ruled the earth, and to me she represents diva and confidence and beauty and an attitude. There are attitudes in fashion and in hip-hop that match each other…it's an almost snobby type of feeling. It's fun! It's like showing off! I think rap is a lot of showing off, and fashion is too. Versace is like, Look at me, bitch. I'm here."

Heck yeah, it is!

Anyway, enjoy the photos in the gallery (above)!