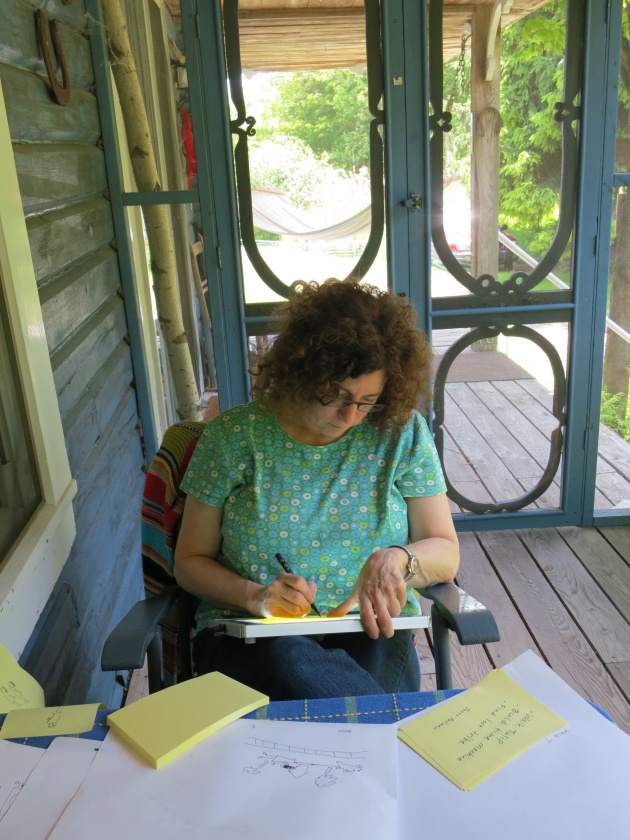 (Janet Perlman animating on the cabin porch in the Quebec countryside near Bolton-Est, Quebec)
With the upcoming internet launch of my 2013 animated film, Yellow Sticky Notes | Canadian Anjiam, I am presenting a blog series with interviews and profiles on some of the animators who animated segments of the anijam.
For the film, 15 of some of the biggest names in Canadian indie animation came together to create a collaborative animated film. An 'Anijam' is a collaborative animation with various animators who do individual short animated segments that link together to make one larger film.
This week just before the online launch of the new anijam, I'm featuring an interview with animal lover and Oscar nominated anijam animator, Janet Perlman. Anijam mentor, Marv Newland, helped put me in touch with Janet, who I had never met before starting Yellow Sticky Notes | Canadian Anijam. Although, after the film was completed, I had the pleasure to hang out with Janet in person at both the SPARK Animation Festival Anijam Celebration event in Vancouver and then again at the Ottawa Int'l Animation Festival! To say that Janet is amazing and lovely is an understatement. She has such a positive spirit that after meeting her, I felt like I had known Janet for years. I truly admire Janet's animation and illustration work and she is a great inspiration to me and many thousands of animators around the world.

BIO: Janet Perlman is a Canadian animator and children's book author and illustrator whose work includes the short film The Tender Tale of Cinderella Penguin, which was nominated for an Academy Award for Best Animated Short Film at the 54th Academy Awards and received a Parents' Choice Award. Her 13 short films have received 60 awards to date. She is currently a partner in Hulascope Studio, based in Montreal. Perlman has produced animation segments for Sesame Street and NOVA. She has also taught animation at Harvard University, the Rhode Island School of Design and Concordia University. She has written and illustrated four children's books, all published by Kids Can Press. Cinderella Penguin, The Emperor Penguin's New Clothes and The Penguin and the Pea are all "penguinized" versions of well-known fairy tales.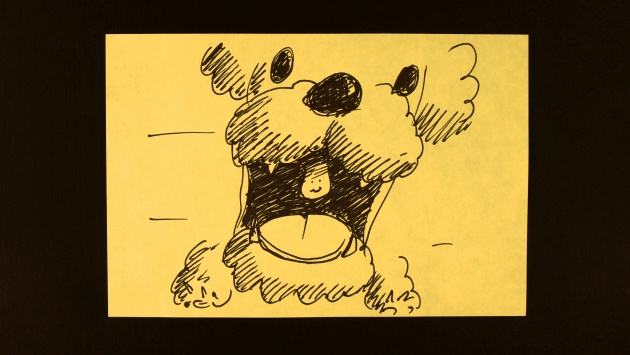 (Still of Tulip, Janet's dog, from her sequence in Yellow Sticky Notes | Canadian Anijam)
JANET PERLMAN INTERVIEW:
* For the interview blog series, all the anijam animators were asked the same series of six questions.
1. What inspired you to become an animator?
JP: I was not so much inspired as forced against my will to become an animator. You see, when I was an art student at the Museum School in Montreal, for only that first year, animation was a required course. My passion was painting. I didn't even understand animation. For my first assignment, I drew a character frame by frame doing nothing but panning across the screen. It was when I got the idea for my first film that everything changed. It was a good idea, and now I wanted to make it. The film, Comic Strip, won prizes and praise. Once I understood that animation offers limitless possibilities, and I discovered the great animation community, I was hooked.
2. Which animated film of yours are you most proud of and why?
JP: I am most proud of my just-completed NFB film, Monsieur Pug. It has a solid story with a generous helping of magic realism, a compelling message, and a lot of surprises and laughs. It satisfies me on many levels. Hopefully others will agree.
3. What do you think makes for a successful short animated film?
JP: A successful short film should hold the audience's attention, should make them want to keep watching to see what will happen next. This can be achieved with an irresistible hook, an engaging story, great animation and design, or a well-structured abstract narrative. The goal of the film may be to entertain, disturb, or educate, and if it realizes its goal it will go on to live a long and healthy life, with winters in Florida.
4. What advice do you have for students wanting to become animators? Any animation tips or wisdom you've learned over the years?
JP: Make sure that every decision, every shot, every line you draw and write, serves the film. It is not being made for you to enjoy, it's for those who will watch it. Be brave enough to test your film at various stages, to try and gauge what is working and what isn't. Be brave enough to rethink and redo and throw away, if necessary. That said, if you ask twenty people, you'll get twenty opinions, so you can't listen to everyone. Believe in your idea, and keep it in focus.
5. The Yellow Sticky Notes Project is a foundation created as an extension of our Yellow Sticky Notes | Canadian Anijam to teach kids and youth classical animation using sticky notes and collaboration through anijams. From your experience, how do you feel animation can be used to help foster creativity and self-expression?
JP: Animation is very liberating, because one can do anything, and create and explore any kind of world. You bring to it all of your interests, such as drawing, painting, dancing, storytelling, or music. Any subject that interests you can be translated into animation, and put on the screen, or on a sticky note.
6. What are you working on now and when can we expect to see it?
JP: I've just completed a ten-minute film called Monsieur Pug, about a paranoid dog who's convinced he is the target of a vast conspiracy involving smart phones. I've had a great time making the film. It was made in the French animation studio of the National Film Board. I can't say when you can see it, it's just leaving the gate!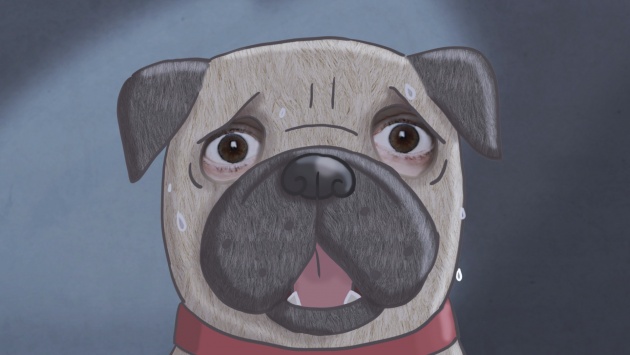 (A super exciting sneak peek of Janet's upcoming animated short, Monsieur Pug! -Courtesy of the National Film Board of Canada)
YELLOW STICKY NOTES | CANADIAN ANIJAM ARTIST STATEMENT FOR JANET PERLMAN'S SEQUENCE:
"I've always wanted to know more about my ancestors. Where were they from? How did they get there? When I was young I should have asked more questions, but I do know they came from Russia, Romania, Turkey and Egypt. But that's relatively recent history.
My To Do list, which I'm sure I'll get around to sometime, includes building a time machine and going back in time, with Tulip the dog along for the ride. Finding an ancient tribe of my ancestors will surely be a life-changing event! But why stop there? We could physically regress back through the millennia, until we reach a point where our common ancestors are amoebas. It would be great to meet them!"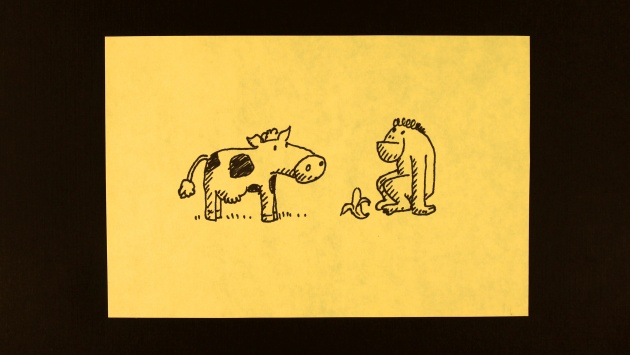 (Some of Janet's distant relatives? A still from Janet's anijam sequence)
Below, you can watch Janet's animated segment from Yellow Sticky Notes | Canadian Anijam. Enjoy! Please subscribe for new blog posts in this series (many other great animators to come) and more clips from the film!