As i promised before to visit again Pakistan National Monument that's why i visited last week. when i visited before this Museum was closed because it is closed on monday for public.This Monument Museum basically follow a theme of Pakistan Freedom Movement.
Entry Ticket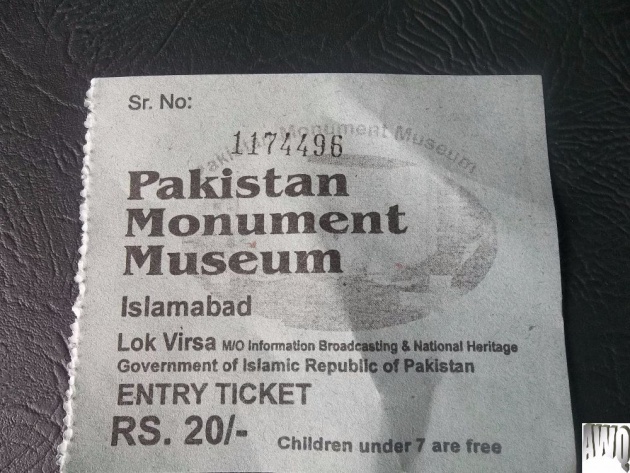 After entering first I visited Room Tagged with Freedom fighters who played their role for the freedom of our beloved Country (Pakistan).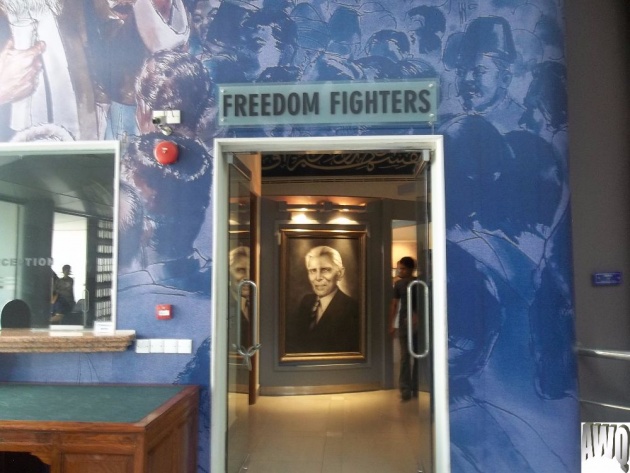 This room filled up with Face statues of Freedom fighters .There Names are
Quaid-i-Azam Muhammad Ali Jinnah(1876-1948), Madar-e-Millat Mohtarma Fatima Jinnah(1893-1965), Allama Muhammad Iqbal(1877-1938), Mulana Shaukat Ali (1873-1938), Hussain Shaheed (1893-1963), Maulvi Fazlul Haq (1873-1962), Abdur Rab Nishtar(1899-1958),Nawab Mohis-Ul-Mulk(1837-1907), Sir Abdullah Haroon(1872-1942), Mulana Zafar Ali Khaan(1873-1956), Nawab Viqar-Ul-Mulk(1841-1917), Nawab Saleemullah Khan(1884-1915), Nawab Muhammad Ismail Khan(1884-1958), Sir Agha Khan (1877-57), Sardar Rab Nishtar(1899-1958).
Quaid-i-Azam Muhammad Ali Jinnah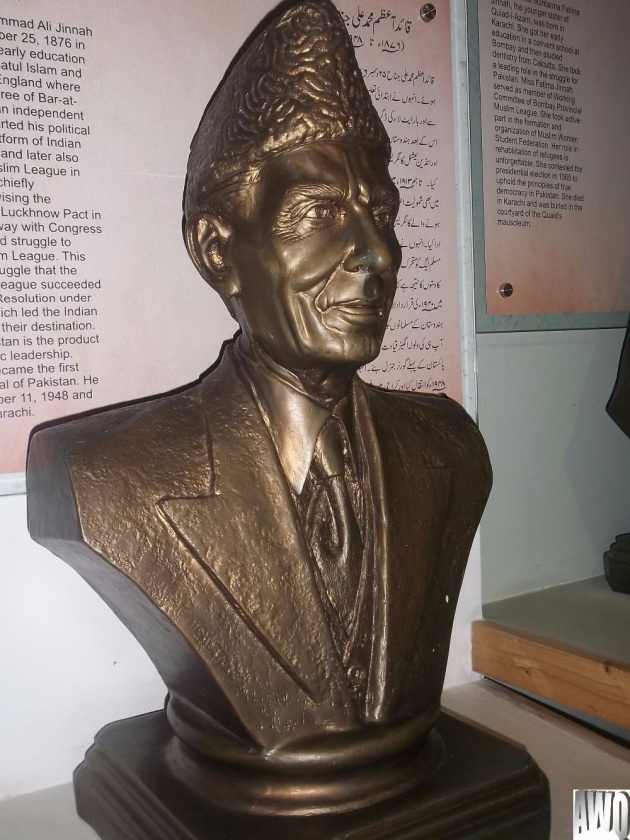 Quaid-I-Azam Muhammad Ali Jinnah was born on December 25, 1876 in Karachi. He set up as an independent lawyer and then started his political career from the platform of Indian National Congress and later he joined All India Muslim League. Due to his struggle All India Muslim League succeeded in passing 1940 Resolution under his leadership.Creation Of our beloved country Pakistan can't be possible without him. Quaid-I-Azam became the first Governor General of Pakistan.
Madar-e-Millat Mohtarma Fatima Jinnah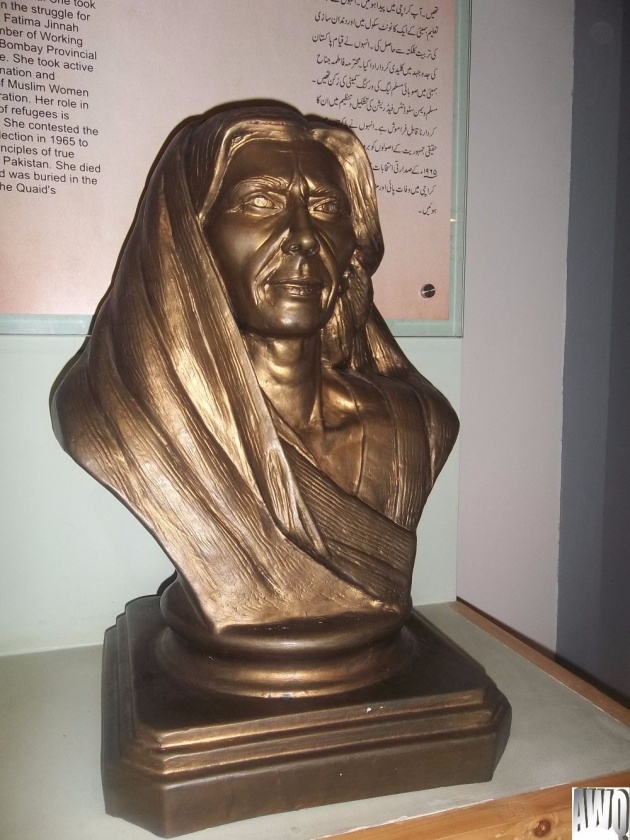 Madar-e-Millat Mohtarma Fatima Jinnah, the younger sister of Quid-I-Azam was born in Karachi. She took a leading role in the struggle for Pakistan. Her role in rehabilitation of refugees is unforgettable.She died in Karachi and was buried in the courtyard of Quaid's mausoleum. She took active part in the formation and organization of the Muslim Women Student Federation. She contested the presidential election in 1965 to uphold the principles of true democracy in Pakistan.
Allama Muhammad Iqbal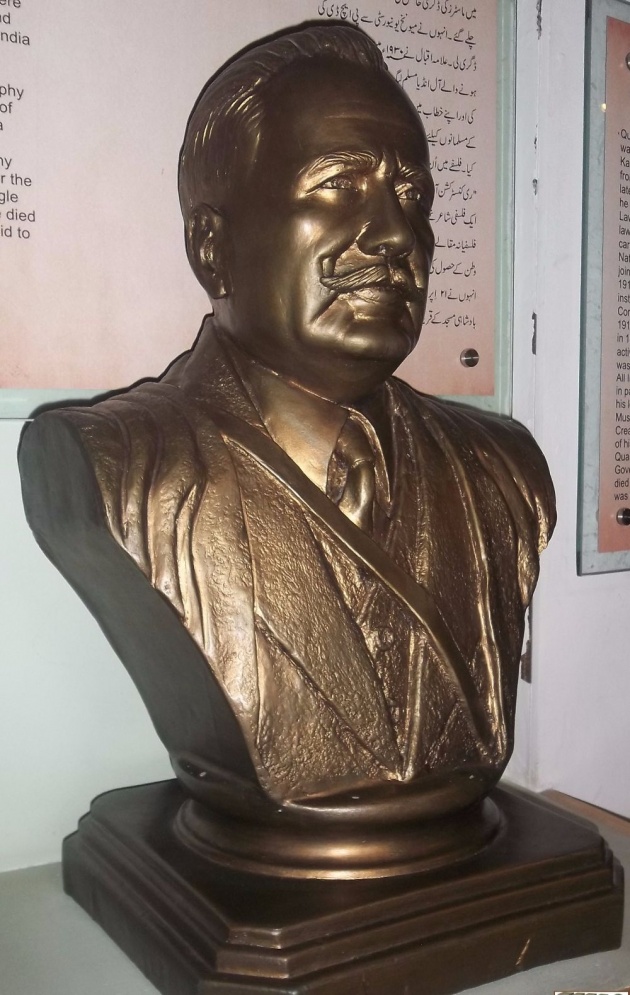 Allama Muhammad Iqbal (Thinker of Pakistan and Poet of the East) was born in Sialkot on November 9, 1877.In League session held at Allahabad where he boldly asserted the demand for the creation of a "Muslim India with in India".
Arrival of Islam in the

Subcontinent

.
In this video you saw the part of the Museum, which shows the Arrival of Islam in the Subcontinent.
History
With the arrival of Muhammad bin Qasim in 711 A.D the Muslim rule was established in western parts ofthe Subcontinent.He was followed by, Ghaznavids in the eleventh century.
Mughal Period
In this video you saw the part of Museum represents the Mughal Period. The Mughal Dynasty started in India in 1526 and collapsed with the Failure of the war of Independence in 1857 with Bahadur Shah Zafar being the last Mughal ruler.
This video represents the
Sufism In the Sub Continent
The Sufi Saints entered Indian Sub-Continent in the wake of Muslims invasions. They propagated Love, Tolerance, andsocietal harmony in multi-religious society. Prominent Saufis of the subcontinent was Syed Ali Hajveri, Data Ganj Bakhsh, Faridud-Din Masood Gnj Shakar, Nizamuddin Auliya, Bahuddin Zakariya etc.
The first war of Independence
The first war of Independence was an attempt of Indians to regain power from the British by the use of force. It was failed due to the lack of organized and effective leadership. The war of independence had many negative implications for the Muslims as they were victimized more than other communities.
The Lahore Resolution of 1940
The Lahore Resolution of 1940, commonly known as the Pakistan Resolution, was unique in the sense that its mere four hundred words changed the destiny of the nation. The Resolution was moved and passed in the 27th annual session of All India Muslim League on March 23-24, 1940 which stated that the areas in which the Muslims are numerically in a majority, as in the North West and Eastern Zones of India, should be grouped to form independent states.
On

3rd June Plan 1947
On 3rd June Plan 1947, Mountbatten announced that India would be partitioned and the power would be transformed to the separate states of India & Pakistan on the basis of Dominition status.
Independence and Migration
In the Partition of 1947, around fourteen million people crossed the newly
created
borders of India and Pakistan
.
Higher
numbers of refugees created immense problems for the newly created state of Pakistan.
Quaid-I-Azam addressed the constituent Assembly of Pakistan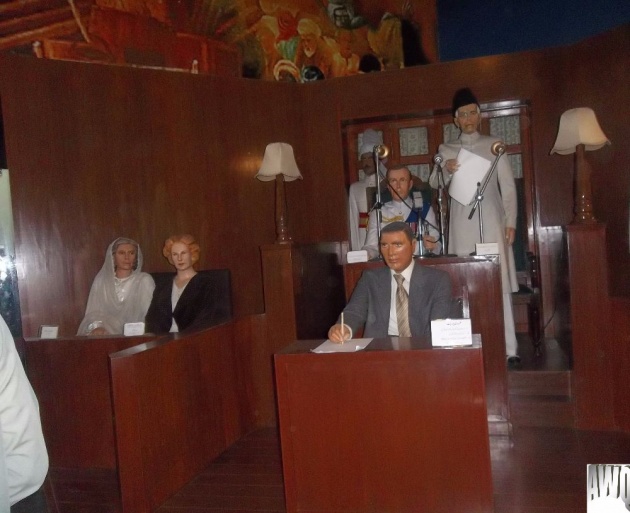 On August 14, 1947, Quaid-I-Azam addressed the constituent Assembly of Pakistan as its President following the address of Lord Mountbatten. Quaid -I-Azam in this address stressed on the welfare and well being of all communities inhabiting Pakistan. Quaid-I-Azam emphatically said that our Prophet (PBUH) not only by words but also by deeds treated even the Jews and Christians with the utmost tolerance and respect for their faith and beliefs.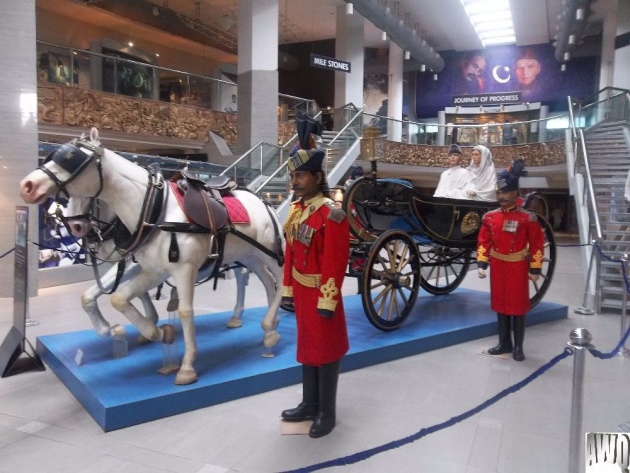 This whole statue structure shows that
Quaid-I-Azam and Mohtarma Fatima Jinnah arriving for the opening ceremony of State Bank Of Pakistan July1, 1948.
Art work on walls was also so nice