People with Attitude
I promise you will be able to recognize them once you lay an eye on them.
Well, you have only two choices, either to "ignore what they are saying and never argue with them" OR "IMMEDIATELY RUN THE OTHER WAY"
AS FOR ME, I WILL CHOOSE THE SECOND ONE OF COURSE, BUT LET ME FIRST TELL YOU THE REASONS BEHIND MY REACTION.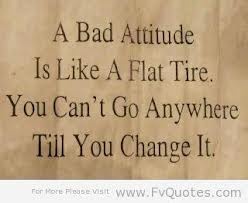 People with bad attitude will drag you down by each possible way, they will argue with you about every single detail of what you are saying, even if what you are saying is a proven fact, because they are right along the way, or that is how they see themselves!.
They never see any flaws in themselves, they only attack you, they see themselves as there is no one on earth is like them, they are the perfect ones and all other people are just normal human beings.
Moreover, they will try to discourage you; they will try to beat you down not because they hate you but because they hate themselves for not being able to be just like you.
In my opinion if you give an ear to these people, it will be the easiest way to the end, you have to ignore what they are saying and to know that they do not care about you even a little bit.
They just want to feel good about themselves; about their empty lives; about their miserable experiences, even if this will happen over your dead soul.
So now you know their true intentions, DON'T LET THEM BEAT YOU DOWN!!