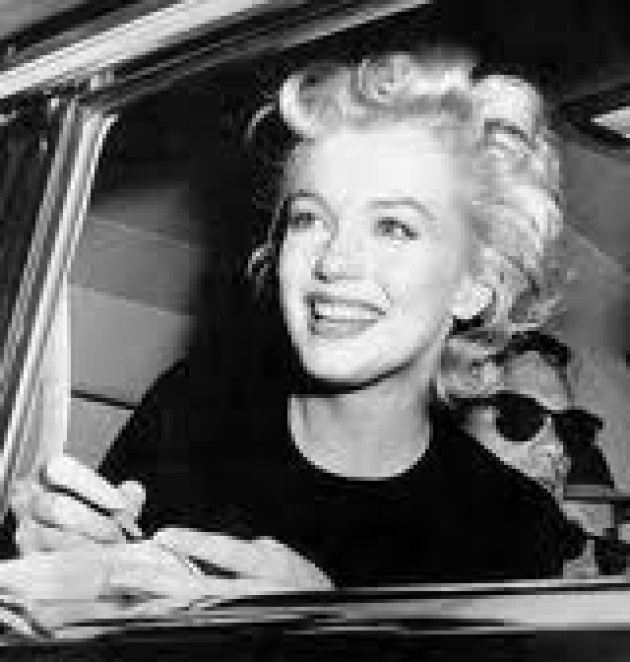 "If you can make a girl laugh, you can make her do anything."
Marilyn Monroe
The young handsome and charming photographer Milton H. Greene met the world's most famous actress Marilyn Monroe when she was a young and innocent girl dreaming of Hollywood. Marilyn would soon blossom into one of the most beautiful women of all time in front of Greene's eyes. The photographer and actress met in August of 1949 in Palm Springs, CA. to shoot the first of many memorable photography sessions. At the time, Milton took more pictures of the most photographed woman on Earth than anyone else on the planet. Their friendship and relationship ran the gamut, while both their stars rose to stratospheric levels not seen before by adoring audiences worldwide. Monroe's meteoric rise in fame made her one of the most influential actresses on the Big Screen in history. Monroe's images make the top of the list of most popular deceased icons year after year.
When Marilyn needed advice about her contract negotiations with Daryl Zanuck in 1952, who was one of the most powerful men in Hollywood at the time, she turned to Milton Greene. Milt advised her to meet his New York City attorney, the well-known Louis Nizer, a future New York State attorney general. Nizer had started his very successful firm a few years earlier. Paranoia ran rampant. Senator McCarthy was running around the country calling everyone Communists and writers, actors, all sorts of creative people were targeted.
Nizer defended many falsely accused and made a name for himself. He happily reviewed Monroe's contract and concluded that it was air-tight. Zanuck had his best lawyers write it up for his young super star. Zanuck knew she had a special talent in her, and the lens loved her. He wanted to tie her up for as long as he could and he did. She was paid $1500. per/wk and had to play any roles that 20th Century told her to play. She wanted out!!! soon after her films were made more money than any other actor/actress in Tinseltown.
Marilyn Monroe wanted the ability to pick her own roles. Everyone knew that she was about to marry Joe Dimaggio, the retiring star centerfielder for the New York Yankees, so Nizer came up with a plan: play a game of poker with the boss. Marilyn couldn't work for another studio, and the strategy was simple get to the table and demand to be released from the contract, or she would simply retire and marry Joe and make babies. In the alternative, if Zanuck and his partners agreed to let her out of her contract, she give him 20% of thge stock in Marilyn Monroe Productions and the first right of refusal to distribute anyt films that she chose to make. Zanuck was taken with Marilyn from the start and he couldn't bear the thought of losingh her entirely, so a deal was struck. This groundbreaking event was one of the first successful cases of 'free agency' in Hollywood.
Marilyn was so appreciative of Milton's advice that she made him a 49% partner and SVP of Production for the newly formed MM Productions. They duo surrounded themselves with the best and the brightest. Nizer was their lawyer, Jay Kanter became her agent. Kanter also represented Grace Kelly and Marlon Brando's careers and would go onto run Universal Studios and MGM. Milton Executive Produced "Bus Stop" in 1954 and "The Prince and "The ShowGirl" in 1956 with Laurence Olivier, The recent film, "My Week With Marilyn" was the subject of that backstory. Their partnership was perfect, until her marriage to Arthur Miller, who then wanted to control and direct MM's career. They sadly parted ways and disolved the company in 1957, but not before taking some fabulous pictures together such as "The Black Sitting".
Marilyn Monroe called the great photographer one more time, perhaps knowing that their wonderful partnership was coming to an end, but not before they had one last 'fling'! So late this evening she called Milton, and the photo shoot was a smashing success. Marilyn wore an elegant and sexy black outfit with only black tophat, and you see her laughing and sipping some Vodka from a cocktail glass, and can only imagine Sinatra's "Fly Me To The Moon" playing in the backgtound. She was always at her best in front of the camera with Milton Greene snapping away! Although the duo split due to Miller's pressure, Greene was Marilyn's loyal friend until the end, Before her tragic death, Greene and Monroe discussed moving back the east coast and restarting. Just think what more wonderful movies and images they may have made had Marilyn Monroe lived. We miss you both.
By Jeffrey H. Sado
See Jeff at http://www.filmannex.com/webtv/historymavens/movie/jeff-sado-about-lady-liberty/30465. Jeff talks about his latest screenplay "Lady Liberty."