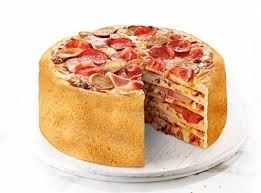 Ingredients:
-Dough
1 ½ pound all purpose flour
2 ½ cups warm water
4 tbsp olive oil
1 1/2 tsp salt
3 tsp sugar
½ oz dry yeast
-Topping
1 ½ cup pizza sauce
14 oz cheese, grated or thinly sliced
14 oz pepperoni
I decided to give it a try and create my one version of pizza cake, from scratch. If you want, you can do it too.
First I made dough, regular pizza dough, rolled it and cut out 6 pieces (16 centimeters in diametar each). Preheat the oven to 200 °C (400 °F) and bake each layer for 15 minutes.
Take a pot and use the rest of the dough to cover the sides of it, and put one prebaked layer on the bottom. Add tomato sauce, put cheese and pepperoni on it, and repeat the process. Bake it for 25 minutes at 200°C. Let it cool off for a couple of minutes and remove from the pot.
Yes, your dreams did just come true. It is here, the 6-layer meaty pizza cake, try making it yourself ! Enjoy !