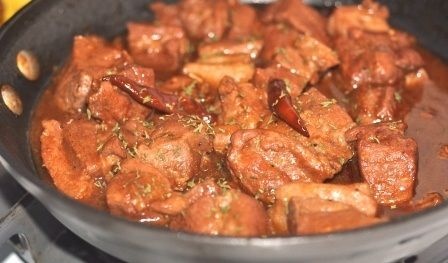 Ingredients:
1 kilogram pork belly, chopped
1/3 cup light soy sauce
2 tablespoons oyster sauce
1 teaspoon of whole peppercorn
2-4 pieces dried bay leaves
4 tablespoons white vinegar
2 teaspoons white sugar
5 pieces dry red chili
3 cloves garlic, crushed
1/2 cup water
3 tablespoons cooking oil
Salt to taste
Procedure:
-Heat the oil in a cooking pan.
-Saute the garlic.
-Add the pork and then cook for 3 to 6 minutes.
-Pour the soy sauce, oyster sauce, and water. Stir and then let it boil.
-Add the dry chili, peppercorn, and bay leaves. Cover and the simmer for 30 minutes
-Pour vinegar and allow for 2 to 3 minutes to boil.
-Add sugar and salt. Stir and then cook for another 3 minutes.
-Transfer to a serving plate.
-Serve. Share and enjoy!