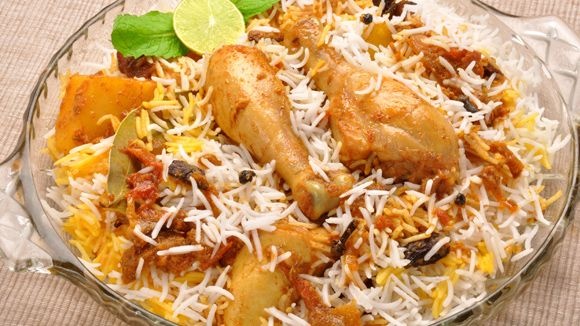 Ingredients:
200 gms basmati rice
400 gms chicken pieces
1 cup curd
1 tbsp ginger garlic paste
2 oios lsice
½ cup tomato puree
1 tbsp garam masala
1 tbsp jeera
2-3 cloves
2-3 pepper corns
2 baby leaves
A pinch of saffron mixed In ¼ cup milk
400 gms water
3 tbsp ghee
Salt to taste
Preparation method:
Mix curds, ginger garlic paste, salt, garam masala with chicken pieces and keep in the refrigerator for ½ hr. to marinate. Take a microwave safe bowl and add oil, put sliced onions, tomato puree ad dry masalas and microwave at 100% power for 6-7 minutes stirring in between. Soak the rice for ½ hr. then add it to the masalas. Also add the marinated chicken and water ad saffron milk mix ad microwave covered at 80% power for 15-16 min. stirring in between. Give standing time of 5 min. serve hot with raite and chutney.