Primedice is one of the most known (if not the biggest) dice gambling site where we play with bitcoins, however, and as in every other gambling site, we are risking our money so I putted up a little strategy to get some winnings without follish risks. So here we go, step by step:
1º - You will create 2 accounts (not a problem with IP or browser or whatever, you can make even 10 accounts if you want), one will be your main account, the other will be your bank.
2º - For this to work we'll have to make a small deposit, about 50k or 100k satochis, this is just because the minimum tip is 50k.
3º - And now you're on, you're not going to bet yet, right now you'll go to the account that you have at zero and click on the faucet to get some satochis.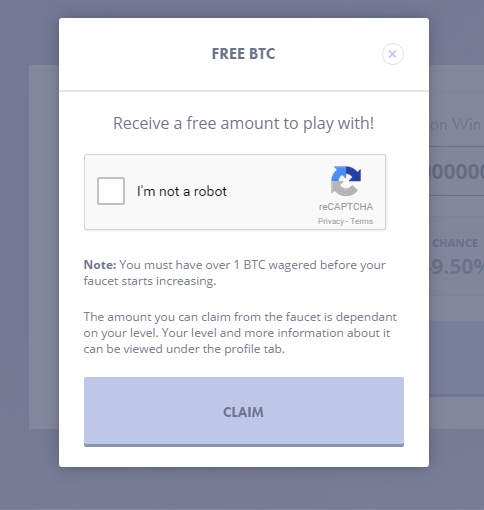 At first you'll have only a 200 satochis faucet each 5 minutes, but after you wager (not profit) 1BTC the faucet will start to raise the values, also, it's only possible to claim the faucet when you're at zero balance.
4º - Once that made, you logout and go to the account where you have the 100k satochis, you have an active chat on the site, on the chat you will write "/tip *username of your other account" (example: /tip Wolverine74) and press enter, a small window will open on the site and you just send everything to the account where you've claimed the faucet. After that you claim the faucet, logout and log back on the other account, you'll have now 100200 satochis instead of just 100k, repeat the process, go to chat and tip back your other account with everything, claim faucet and log back on the other, you can repeat this process each 5 minutes so it will give you more satochis in one day than any normal faucet.
5º - Now, the interesting and dangerous stuff, after all this is a gambling site, so, let's play a little, but playing safe. With 100k you can play quite safely while waiting for the faucet timer. So, there is 2 strategies that I use safely:
5.1º - First strategy is some manual betting, i keep it in low payment, you can choose a bigger payment but that means risking a lot and we don't want that, so, what I do is choosing 1.3x payment and bet max 1000 satochis each time and on wrong sometimes do martingale on 200% and sometimes just keep the 1000 bet and continue, remember, if you lose one bet of 1000 at 1.3x, you have to win the next 3 bets or go martingale, that should not be a problem because at 1.3 we have 75% chances. Don't do to much bets, win just some and don't forget that the real method is the faucet, you're not here to be a gambler and lose it all.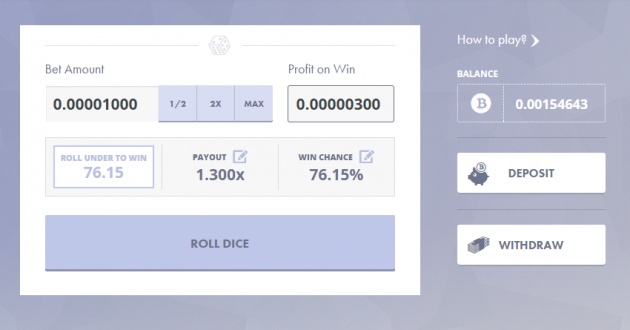 5.2º - This next strategy is good to win some faster or to recover, but it's a little more dangerous because is the auto-bet system so be really careful with it, don't let it roll too much. Here you have 2 options, bet on 2.2x or 2.667x payout, on 2.2x you will use the martingale method at 100%, on 2.667x you'll use it between 66% (safer) and 77% (higher payback). Again, don't let it roll too much time or you will lose everything, just win some and stop.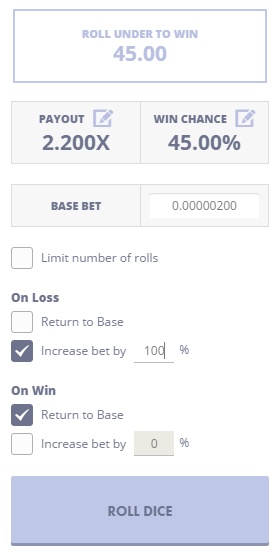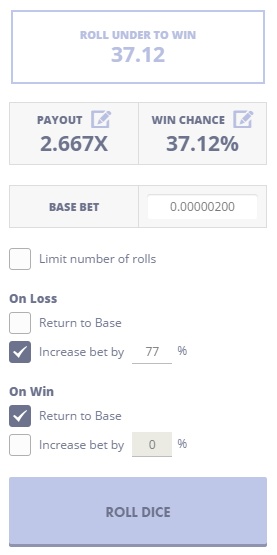 6º - Just to remember that the real process is the tipping exchange between your 2 accounts making possible to claim the faucet, even if you don't play you always win, the betting strategies are just to make it faster but I don't recommend you to use them for long times, just make some bets but not many, later you'll have much more than 100k on your balance and then you can simply make bigger bets and win more. Also, be active in the chat, that will be a good help because some players when winning big give lots of tips randomly, but don't beg. At least but not last, be always careful.
For register: PRIMEDICE
Hope it helps and good luck.