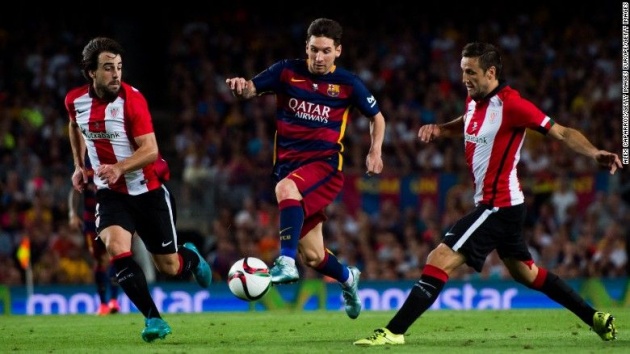 Lionel Messi, Carlos Tevez, Carli Lloyd and... David Ball.
That's right, Fleetwood Town's Ball -- a 25-year-old footballer playing in English football's third tier -- is up against the four-time World Player of the Year, a Champions League and Copa Libertadores winner and a World Cup winner to take the FIFA Puskas Award for 2015.
And for one night only, all four -- plus six other nominees -- will be in contention for an award which is handed out to the scorer of the most beautiful or aesthetically pleasing goal of the year.
"It's fantastic just to be amongst those names," said Ball, who was shortlisted for his sublime chip against Preston in March.
"Playing League One football in England and to be able to be recognized with such names is fantastic.
"I've tried it a few times in training. I've done a bit of skill to get past a couple of players and seen him (the goalkeeper) off his line and gone for the dink into the far corner -- and luckily I've managed to pull it off."
The delicately floated chip was reminiscent of a goal scored by Eric Cantona for Manchester United against Sunderland in a 5-0 win in December 1996, and Ball says the Frenchman's skill provided the inspiration for his effort.
"There was quite a lot (of Cantona influence) because it's such an iconic goal," said Ball, who was part of Manchester City's youth academy, though he never played for the club. "You see Beckham scoring the halfway line goal and people trying it, it's such an iconic goal.
"So, for me, I've seen it and thought, 'Let's go for it and give it a go,' and I've managed to pull it off. I'd say that's my best ever goal. I'll take any goal but that was a special one."
Ball faces stiff competition for the much-coveted prize, including fine individual efforts from the aforementioned Messi and Tevez, as well as Lloyd's long-range strike in the final of the Women's World Cup.
Lloyd's goal is the seventh time a woman has made it onto the Puskas Award final list. Last year, Stephanie Roche's wonder goal earned her second place -- the highest ever finish for a woman.
"Personally I'd go with the Carli Lloyd goal," Ball said. "Just because it was a hat-trick and such a big occasion and she's scored from the halfway line, which is unbelievable.
"On a personal level it would be the best thing that's ever happened to me (if I won), but for the club it would put them on the map as well, but certainly for myself it would be incredible."
The FIFA award is named after legendary Real Madrid and Hungary striker Ferenc Puskas.
"Not only did David Ball demonstrate some fine footwork with a few clever touches on the top of Preston North End's box, but his equalizing goal was just as talented as his fast feet," read FIFA's description of the Fleetwood Town player's goal.