(Photo Credits: Universal Parks & Resorts via Wikipedia.org)
Universal Studios Hollywood is recognized as one of the oldest film studios at tinsel town (Hollywood) that is still in use. If the Disney Resort in Anaheim California is called the "Happiest Place on Earth" Disneyland Park – Universal Studios Hollywood is highly regarded as "The Entertainment Capital of the World".
As can be seen on the title, this post is a Universal Studios Hollywood Vacation Plan that is presented in a "Question and Answer" format. In this way, this blog will address many of the questions any person would have when planning a trip or going for a vacation to Universal Studios Hollywood.
Additionally, the answers found on this guide are based on my personal knowledge and experience from my most recent trip at the said theme park.
How many theme parks does Universal Studios have?
Let us start with this question as this is the most common one that a lot of people have in their mind.
Anyway, please be advised that Universal Studios actually have four theme parks. The official collective name of all is Universal Parks and Resorts but it is also popularly known as Universal Studios Theme Parks or simply Universal Theme Parks.
The company's HQ is located at Orlando (Florida). However, there are two other theme parks located outside the US.
Listed below are all the existing theme parks Universal Studios has:
• Universal Orlando Resort
• Universal Studios Hollywood (this is the one that went to)
• Universal Studios Japan
• Universal Studios Singapore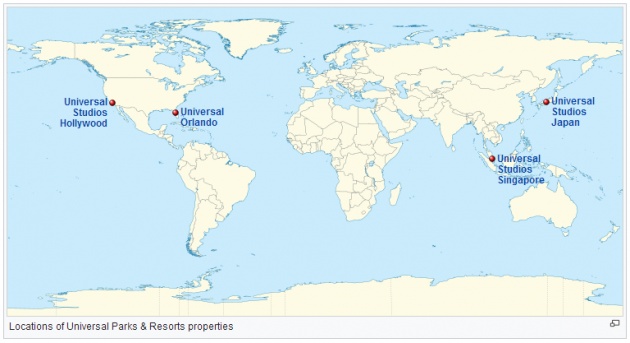 (Photo Credits: Snapshot via Wikipedia.org)
Why does Universal Orlando Resort have a different naming convention than the other three?
Very good observation and excellent question. Universal Orlando Resort is used to be called as Universal Studios Florida. However, it has since been expanded many years back. Nowadays, the facility is now able to house two theme parks (Universal Studios Florida and Islands of Adventure), five hotels, a water park, and a night entertainment complex.
Basically, referring to the whole site simply as Universal Studios Florida is no longer accurate since doing so will only refer to a single theme park. To market the entire resort as a great vacation destination, it has been renamed as Universal Orlando Resort.
Which Universal Studio theme park first opened?
Universal Studios Hollywood is the first of all the theme parks to open.
However, it is also worth noting that Universal Studios Japan (often called as USJ) is the first one to open outside the US.
How different are each Universal Studio theme parks from one another?
Besides location, each theme park has their share of similarities and differences. As mentioned, the one in Florida is considered as a resort. The one in Hollywood is both a theme park and a studio tour.
On the other hand, Universal Studios Singapore is the only one that is not wholly owned or operated by Universal. Whereas, Universal Studios Japan has attractions that is unique to it – meaning the attractions cannot be found in other Universal Studio theme parks
As for similarities, each of the park share certain attractions – both those that are from its own library and those from competitor franchises. For those who are wondering, this is the reason why Universal has the Harry Potter attraction when the franchise is distributed by Warner Bros.
Additionally, with regard to this question, one can clearly notice the similarities and differences of each theme park from their respective logos. Photo of each logo are provided below for easy reference.

(Photo Credits: Universal Orlando Resort logo via Wikipedia.org)

(Photo Credits: Universal Studios Hollywood logo via Wikipedia.org)

(Photo Credits: Universal Studios Singapore logo via Wikipedia.org)

(Photo Credits: Universal Studios Japan logo via Wikipedia.org)
Which is better, Universal Studio theme parks or those from Disneyland?
This is actually a tricky question whose answer depends on a number of factors. For instance, if one will look at the number of visitors on both parks, Disneyland is the clear winner.
Popularity of the company's franchise also plays a vital role. If one is to look at Disney, the company has tv shows for different age groups, blockbuster movies, and has been around for decades. Universal, on the other hand, have fewer of those aspects but has captured a great deal of solid fans or followers.
But personally, I prefer Universal Studios compared to Disney theme parks. Don't get me wrong, I enjoyed my visit to both parks, however, I found the rides and attractions of Disney as too inclined for the kids. Which is quite understandable since many shows and merchandise of Disney are more family oriented.
Which attraction lines' queue are longer, Universal Studios or Disneyland?
The answer to this question is quite a given. As discussed above, Disneyland has more visitors compared to Universal so it only follows that the lines at Disneyland are longer.
When we vacationed at Disneyland, the average time that we waited in line to get to an attraction, will not go lower below 30 minutes. However, for Universal Studios, as memory recall, the longest time that we waited is 10 minutes. Basically, Universal Studios visit, the average waiting time we had for an attraction at the park is between 1 to 3 minutes only.
Does Universal Studios also have something similar to Disney's Fast Pass?
Interesting question, and quite understandable so as to maximize your Universal Studios Hollywood Vacation.
Since, the wait time in Universal Studios is relatively tolerable (only between 1 to 3 minutes), the park no longer offers something similar to Fast Pass. But who knows, they might in the near future.
Is it true that Universal Studios Hollywood is situated on a mountain?
Although it is not officially indicated, one may think so about this particular notion. Unlike Disney Resort whose park is noticeably constructed in a flat surface, Universal has two divisions – the Upper lot and the Lower lot.
As the name implies, the two lots are on different levels as indicated by its description. To access the two lots, the visitor has to use the so-called Starway to descend and ascend between the two lots.
The photo below (Universal Studios Hollywood Studio Map) shows the Upper Lot and Lower Lot: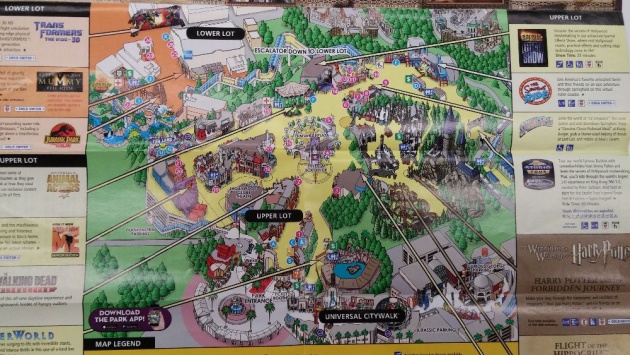 (Photo Credits: jikZ via bitLanders.com)
What is Starway?
Speaking of Starway, it is a long series of escalator within the park that one will use to go or switch between the theme park's Upper and Lower lot.
Think of it this way, besides vacationing to an awesome park – a trip to Universal Studio Hollywood, you'll also be treated to riding a long escalator something that some may consider as an attraction in itself).
Here is a video of Universal Studios Hollywood's Starway:
(Video Credits: InsideUniversal via YouTube.com)
Which is advisable to visit first: the Upper lot or the Lower lot?
The answer to this question actually depends on what is your vacation's personal preference. This is because, the Upper Lot is more, shall we say, family friendly. This means that the attractions on the Upper Lot is something that the entire family can enjoy (as most, if not all, has no height restrictions).
In the Upper lot, one will see kiddie themed attractions such as Despicable Me, Shrek, the Wizarding World of Harry Potter, and other play areas. As for Upper lot attractions that can be enjoyed by the whole family, there's the Studio Tour, Waterworld, and the theme park's Animal Actors.
Let us now talk about the Lower lot. Universal Studio's Lower lot is smaller than the Upper lot and whose attractions are more designed for the thrill and adrenaline seekers. With that being said, two of the rides that we visited at the Lower lot has height restrictions (Transformers and Jurassic Park).
So going back to the main question, your vacation preference and who you are with are the determinants on what lot you must visit first and spend more time at.
The photos below are also provided as it might help you decide on what attractions to go to in the Upper and Lower lot: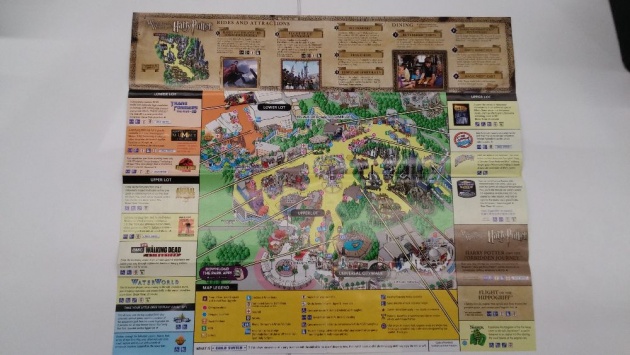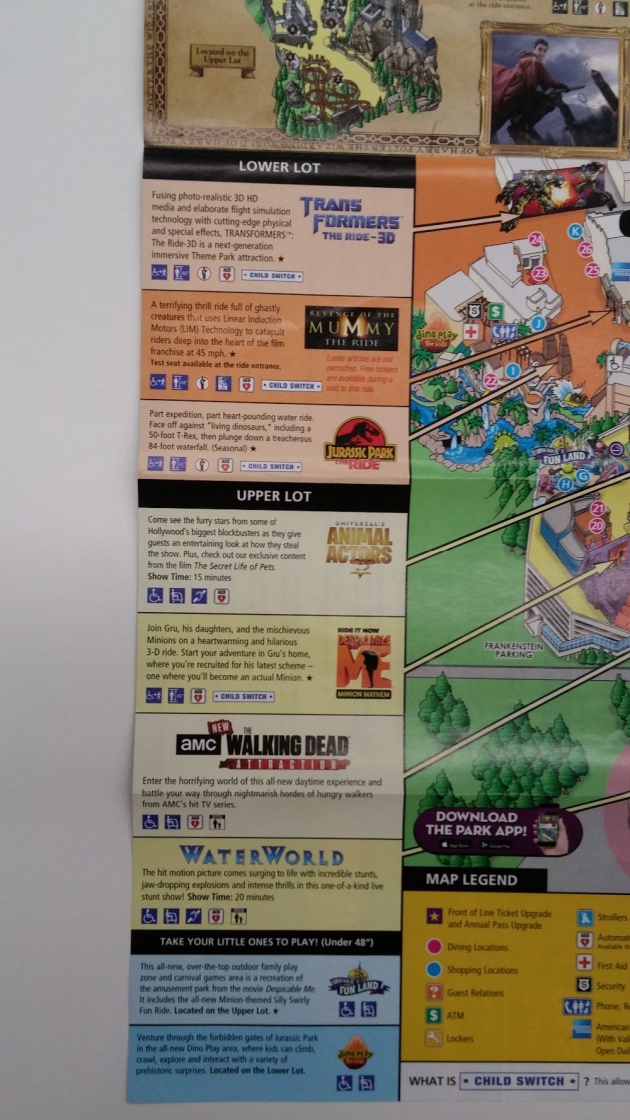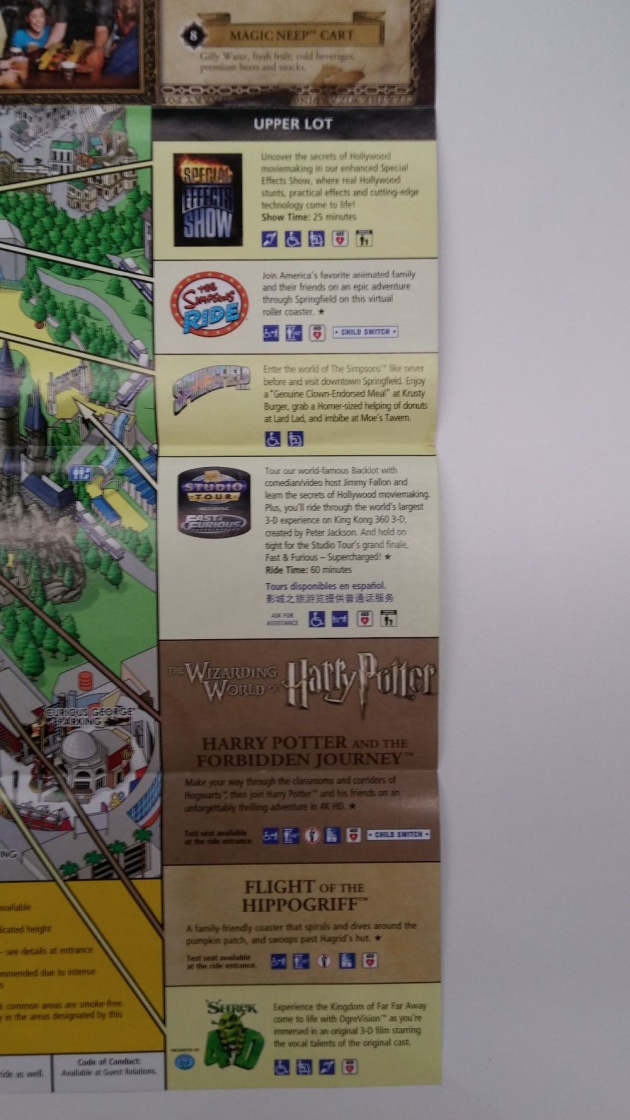 (Photo Credits: all 3 photos directly above are MINE via bitLanders.com)
Does Universal Studios Hollywood also has two theme parks?
If Disney Resort in Anaheim California has two full theme parks (Disney California Adventure and Disneyland Park), Universal Studios Hollywood only has one. But as discussed above, the park is divided in two sections – the Upper lot and the Lower lot.
Anyone planning to have a vacation in Universal Studios Hollywood should remember this little fact so that they can make their visit's itinerary accordingly
How far are the two lots located with each other?
In case you missed it, the two are relatively near each other as the two are only connected by the so called Starway. However, due to the length of the multi-series escalator, my rough estimate is a minute or two for one to switch between parks.
What is the average duration of each ride and how was it?
Just like any rides of other theme parks, the one in Universal Studios Hollywood have the same standard ride time of under three minutes.
However, a Universal Studios Hollywood vacation is a treat in itself as the attractions are mostly 4D and are interactive. In fact, even while waiting in line, visitors and guests are already treated with interactive visual effects.
Is it possible to visit all Universal Studios Hollywood attraction in a single day?
Yes, it's doable. Just be sure to plan it right and go when there are fewer people. And of course, be there early.
Should we stay at the theme park's partner or suggested hotels?
This is another important question whose answer depends on who you are with and your vacation plans. Universal is a two hour drive from the hotel that we stayed at. However, a good friend of mine volunteered to take us there so the trip at the theme park is already convenient. Personally, if my friend is not available and our vacation plan did not involve visiting Disneyland first, we would definitely be staying at a nearer hotel.
How important are the park guide and maps?
Hands down, the answer to this question is very simple – it is very important. Aside from giving you insights and glimpse of what to expect on an attraction, the park guide (map) also double as a great souvenir.
As mentioned, the studio map is a good souvenir. Just check out the video below to see first hand how cool it is:
(Video Credits: jikZ via bitLanders.com)
Additionally, be sure to check out Universal Studio's Hollywood site to see the latest attractions and updated ticket prices.
That's just about it for this Universal Studios Hollywood guide. The answers provided here should give you a better insight on whatever questions you may have when planning to visit the said theme park.
Lastly, if you like traveling, be sure to check out the Querlo Travel chat below. Querlo is dubbed as the Chatbot with a Heart and you may find the questions below to be interesting.