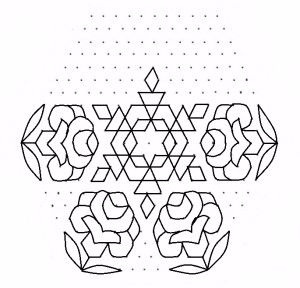 The image you see here is a rangoli pattern waiting to be completed. The dots are left so that the user can complete it and learn the pattern.
Women draw such patterns before their houses on festival days especially with the help of rangoli powder or raw rice powder.
These patterns are quite challenging and only those with patience can finish such drawings.
Rangoli is an art form. The finished pattern is filled with color powder thus making the whole thing colorful and welcoming. These patterns are drawn to attract the goddess of prosperity.
image source : study material