CLASSIC SANS RIVAL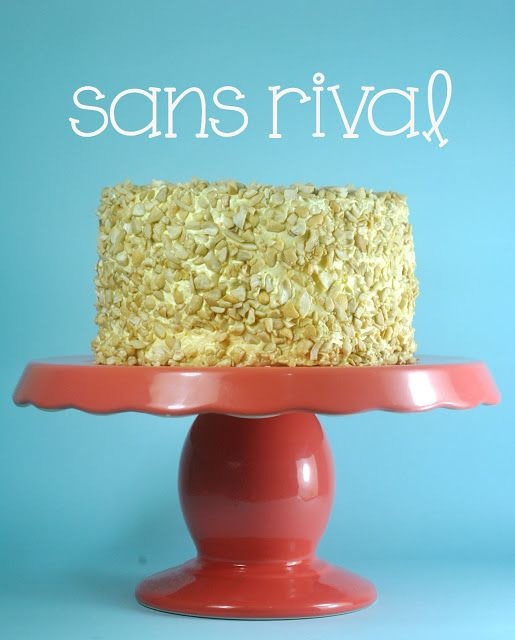 What we need:
For Meringue Disk:
2/3 cup ground almonds
1/4 cup sugar
2/3 cup egg whites
1 tsp egg white powder (I used Ovasil)
2/3 cup+ 2 tablespoons sugar
2/3 cup chopped cashew nuts
1/4 cup flour
For Sans Rival Icing:
¾ C. Sugar
½ C. Water
9 Egg Yolks
1 1/2 cups unsalted butter
½ t. Vanilla extract
For Decoration:
1 1/2 cup chopped cashew nuts
Method:
For the Meringue Disk:
Mix ground almonds and 1/4 cups sugar until well blended. Set aside. Please don't be like me and use a small bowl. Use bigger one so you can combine them easily.
Combine 1/4 cup flour and chopped cashew nuts. Also set aside.
In a mixing bowl, add egg whites and egg white powder. Mix until foamy. Once foamy, add in 2 tablespoons of sugar.
Once soft peaks form, add in the 2/3 cup sugar gradually. Mix until stiff peaks form. How do you know if your eggs are in the stiff peaks stage? Turn it upside down. If nothing falls off, you're good to go to the next step.
Fold in the almond-sugar mixture.
Then fold in the flour-cashew nut mixture.
I don't want to invest in 6 6-inch pans just for this project (not practical for me) so like Zoe, I placed the meringue in a piping bag with a round piping tip and piped six 6-inch layers.
I baked the meringue for an hour and a half at 225F or until the meringue dries out. Once baked, let it cool and set aside.
For Sans Rival icing:
Boil sugar and water in a small saucepan. Make sure to have a candy thermometer on hand as we need this to make the icing. Once the thermometer reaches 220F, start mixing the egg yolks in a high speed.
This is very critical, once the sugar mixture reached 240 F, pour it over the egg yolks (with the mixer still on, okay?) in a stream (like water in a faucet). Mix well.
Once mixed well, turn off the mixer and let the icing cool.
Once it cooled down, add it the butter in small batches.
Beat the icing until smooth, creamy and fluffy. And by the way, I give you permission to lick the sides of the bowl. Enjoy.
How to Assemble:
Place a meringue on a cake plate or cake board. Add in a pretty layer of icing.
Add in nuts.
Lather, rinse, repeat. I mean add a meringue layer, then icing icing and nuts. The last layer, place it upside down so you have a smooth top.
Cover everything in buttercream.
We'll cover everything in nuts!