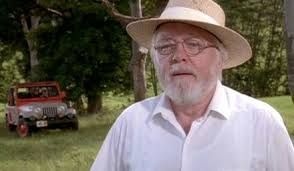 Richard (Lord) Attenborough, who died on Sunday 24 August 2014, aged 90, a few days short of his 91st birthday was not a great actor. Nor (arguably) was he a terrific director. He was a Great British Institution. He encompassed a love of the moving image, of spectacle, of big stories. He rarely made a film (as director) that he wasn't deeply emotionally attached to. Richard, or Dickie as he was affectionately called, was a dogged 'let's do it' man who made the impossible happen. He was a highly emotional – not the same as weak – man with a political conscience that beat within him, loudly and resonantly, throughout his life.
There will be others who will tell you his whole life story, how he and his brother David (a television presenter who deals with the natural world), grew up modestly and was imbued at an early age by their parents with immense compassion for the struggles of others (their family took in refugees). Greatness in acting and directing arguably requires a degree of narcissism that Richard did not possess. His struggles were lonely ones – putting the life story of Mahatma Gandhi and, later Steve Biko and Charlie Chaplin, onto the screen. He was an actor's director, eliciting performances from the overlooked (Ben Kingsley, Denzel Washington) and troubled (Robert Downey, Jr).
Throughout his career, as an actor Attenborough gave only a handful of remarkable, career defining performances, as sociopaths Pinky in BRIGHTON ROCK (1947) and John Christie in 10 RILLINGTON PLACE (1971), killers both. After that his biggest roles were in THE GREAT ESCAPE (1963) and JURASSIC PARK (1993). Attenborough's villains were defined by an iron will that he himself undoubtedly possessed. The other side of Attenborough was seen in IN WHICH WE SERVE (1942), in which he was the lonely seaman in David Lean and Noel Coward's resonant wartime drama.
Attenborough was defined by his producing relationship with director Bryan Forbes with whom he formed Beaver Productions (unfortunate name, but he didn't know) and made several films in the 1960s, notably THE ANGRY SILENCE (1960) about a worker (Attenborough) who refuses to join a strike and WHISTLE DOWN THE WIND (1961) about a convict on the run (Alan Bates) who takes refuge in a stable and is taken by two children to be Jesus Christ.
Attenborough himself made the transition from producer to director with a film adaptation of Joan Littlewood's revue show OH, WHAT A LOVELY WAR (1968). This was in a sense a reaction to America's involvement in Vietnam, a bleak satire of the senseless waste of young people's lives being sent over the trenches in World War One – the real Expendables. Social revolution hit the streets of Paris in May 1968; this is as far as the British got, if you discount the anti-nuclear movement in the middle 1960s.
Attenborough was interested in the lives of heroes and filmed a biopic, YOUNG WINSTON (1971) about the formative years of Britain's last wartime Prime Minister (fingers crossed) Winston Churchill. He followed it six years later with the epic wartime drama. A BRIDGE TOO FAR (1977), featuring a who's who of British and American acting talent, including Anthony Hopkins, Sean Connery, Gene Hackman, Robert Redford and James Caan, about the failure of the Allied forces to take the bridge at Arnhem. Attenborough's coup de cinema in both films was in the marshalling of huge numbers of extras (and stars) to make genuinely epic spectacle. Oddly though, when we think of the power of cinema, this is boiled down to small, simple moments – a boy riding a bicycle crossing a moon for example, or the first glimpses of a shark's teeth.
Attenborough's next film, MAGIC (1978), based on William Goldman's novel was something of an anomaly in his directional oeuvre, a thriller about a ventriloquist (Anthony Hopkins) corrupted by his relationship with his dummy, Corky. Attenborough's interest in sociopathic tendencies is evident in his best roles. It is clear he has some compassion for these characters. MAGIC failed as a thriller but the original trailer, in which Corky addresses the audience, is about the creepiest I've ever seen – 'Magic is fun. You're dead.' Simple, effective, chilling, it was nothing like the movie.
So why did Attenborough get into the producing and directing business? To tell the story of Gandhi, the Indian lawyer who advocated non-violence and led his country to independence from Britain. When Attenborough first wanted to tell his story in 1960, it was too soon. Quite apart from raising the money (a mammoth task) Attenborough had to win the trust of the Indian government. His collaboration with Indian director Satyajit Ray seems, in retrospect, to have led to this. Attenborough appeared in Ray's THE CHESS PLAYERS (1977), set in 1856, it is about two Indians more interested in playing chess than in the annexation of Lucknow where they live. Attenborough got the money and the necessary permission but there was one hurdle to overcome, casting Gandhi himself. The decision to use an unknown (Ben Kingsley) was an immense risk, but one which paid off. GANDHI (1982) beat ET – THE EXTRA TERRESTRIAL at the Oscars in 1983. Oddly but unsurprisingly this led to a friendship between Attenborough and E.T.'s director Steven Spielberg that lasted to the end.
As director Attenborough followed it with another surprising choice, an adaptation of A CHORUS LINE (1985) in which the only star was Michael Douglas. Attenborough refused to open up the musical – all the action essentially took place on the stage – and this led to the film failing at the box office. (Clint Eastwood should have watched it before attempting JERSEY BOYS, another musical with non-stars that wasn't sufficiently bigger than the stage show on which it was based.) However, his real follow up project was CRY FREEDOM (1987), a film made about the struggle against apartheid made whilst apartheid was still in place. Unlike his brother, David, Richard is not a documentarian. He tackles subjects obliquely, using examples of history. CRY FREEDOM told the story of the killing of activist Steve Biko (Denzel Washington) and the attempt of journalist Donald Woods (Kevin Kline) to leave the country to tell Biko's story. Reviewers at the time agreed that the first half of the film was more satisfying than the second. Washington got an Oscar nomination for the role as Best Supporting Actor, finally winning in that category for GLORY (1990) three years later.
Attenborough's biopic, CHAPLIN (1992) was what reviewers called a solid piece of work, respectful, never judging the man harshly for his taste in younger women. At least part of the problem was that its focus was too broad, covering a tale of poverty to fame, forming a studio, satirising Hitler, falling out of favour and trying to reinvent himself in the 1960s. Attenborough made what I consider to his best film, SHADOWLANDS (1993) a year later, about the relationship between C S Lewis (Anthony Hopkins) and Joy Gresham (Debra Winger). It was a terrifically affecting tear-jerker about two writers who held each other in esteem, simple and honest, from a play by William Nicholson.
I didn't much care for Attenborough's IN LOVE AND WAR (1996) in which Chris O'Donnell was fatally miscast as Ernest Hemingway, falling for a nurse, Agnes (Sandra Bullock, not at her best). By the time he cast Pierce Brosnan as a Native American warrior in GREY OWL (1998), I and the public were losing patience. As for his final film, CLOSING THE RING (2007), with Shirley Maclaine and Mischa Barton, this only got a perfunctory release.
Attenborough was Chairman of the British Film Institute and pleaded, sometimes too passionately, for government support for the industry at a time when Prime Minister Margaret Thatcher (1979-1990) wasn't interested. Thatcher of course believed in the power of the marketplace to determine the development of culture; the two remained at loggerheads. Attenborough was one of those directors who did not get many projects made under New Labour, though he fared better than Ken Russell and Michael Winner, whose careers – and patronage – ended with the change of government. Attenborough's best performances were at the climax of the annual BAFTA Award ceremonies at which he closed proceedings, making a succession of speeches addressing the problem of the day. He had a lifelong friendship with John Mills, who appeared in many of his films. He had a lasting marriage. His knighthood was deserved, his enthusiasm immense, the memory of him, Gentleman Cineaste, will last long.