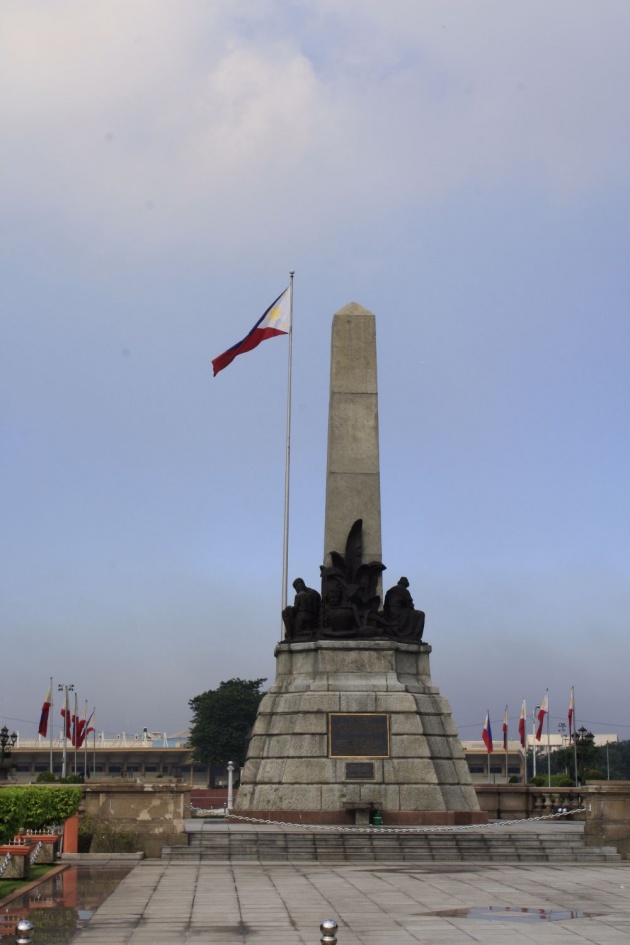 Manila Philippines - My family and I were standing outside the Ninoy Aquino International Airport waiting for a go signal from our relatives that they are already in the airport to fetch us. But since they were a bit late since they come from Laguna which is hours away from Manila, we thought we could spend some time roaming around the nearest areas since it was my first time to be here in the said city.
I have heard of Manila as the capital city of the Philippines but then again, I have also heard of awful things about it like the traffic, the pollution and a lot more. But then since it's my first time, I have to set aside those things and just enjoy this travel. It's something special because I came with family and my husband was also there. The nearest place we can roam around as per our relative is the Rizal Park.
Since before I had always thought that those stories about the guards in Luneta Park isn't true, in fact I thought these are merely jokes and those guards are just statues or something like that. This was what I had been imagining until that day when we came to visit the Rizal Park or much more known as Luneta Park .
We went straight to Luneta after breakfast at NAIA that was if I can still recall, quarter to eight in the morning. Old school photographers were present as well as police officers too. I immediately noticed the tall and huge Philippine flag at front.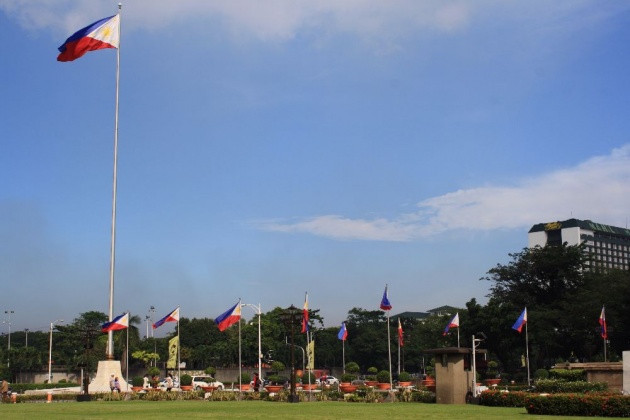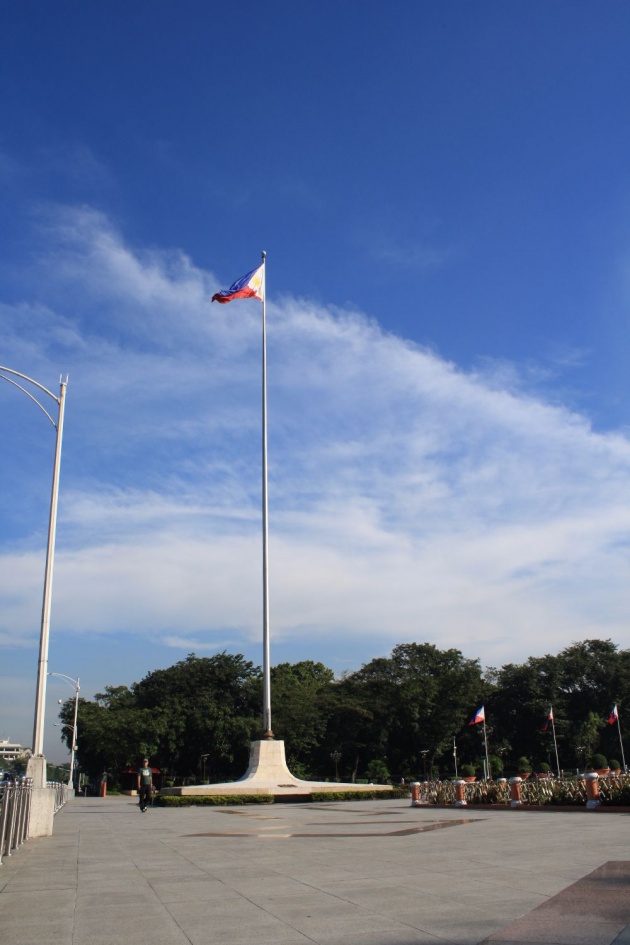 Immediately took my camera and started shooting while these photographers were asking me if I want to have a picture, funny when it was obvious that we have our own cameras with us. I courteously responded "hindi kuya may camera na kami".
Luneta is huge, not the ordinary park we have in Cebu or in Bohol. The famous statue of our national hero, Rizal was in main spot of place where the biggest flag pole stands, the clothe-made flag waving confidently. I didn't see any guards around the statue and in my mind I was smiling telling myself that what I had been told to wasn't true at all. We took time and photos, at nine in the morning, peoples were slowly crowding in. Crowd of grade school children with their parents where touring the area. In the opposite side there was a group of Korean tourists as well; one of them I guess their tour guide was doing the talking while pointing on the monument.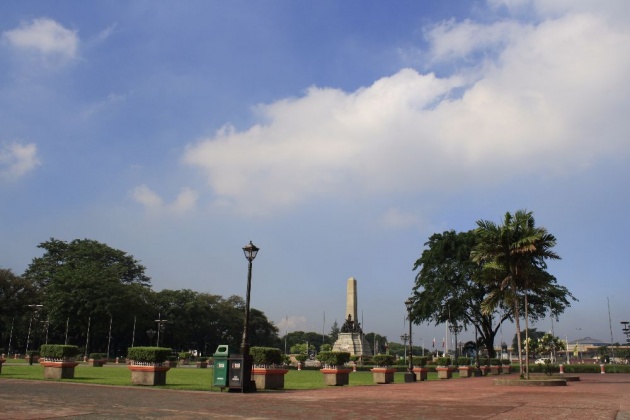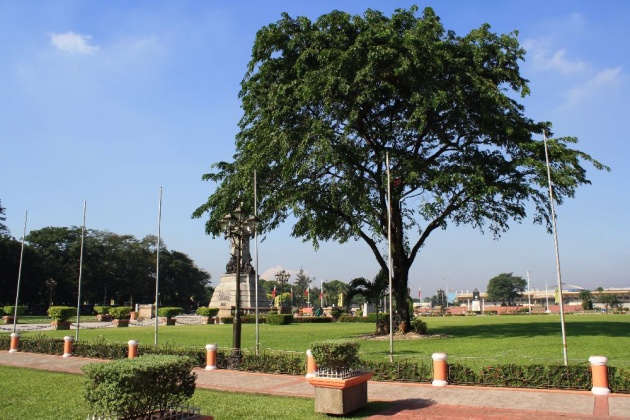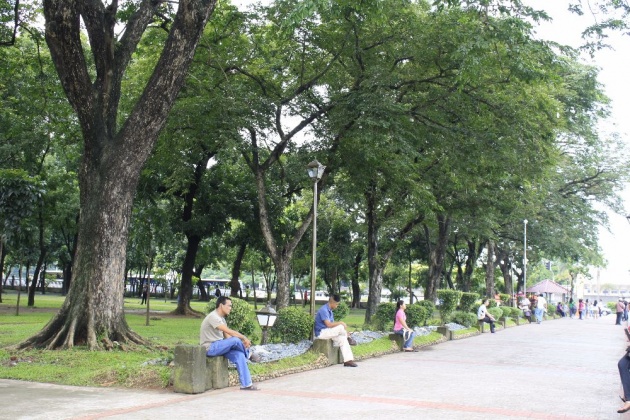 We had our time of roaming around the area. The trees gave shade and fresh air which also became the shelter of most tourists. Kalesa / Tartanilyas or horse carriers were also for hire good for Php 50 per adult and 30 for children, these friendly animals will be your ride around the whole park. Yet I preferred not to take that ride, I opt to just walk so we can stop and take photographs whenever it is needed.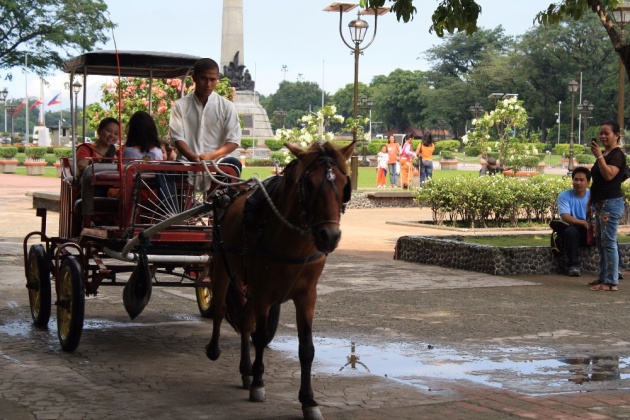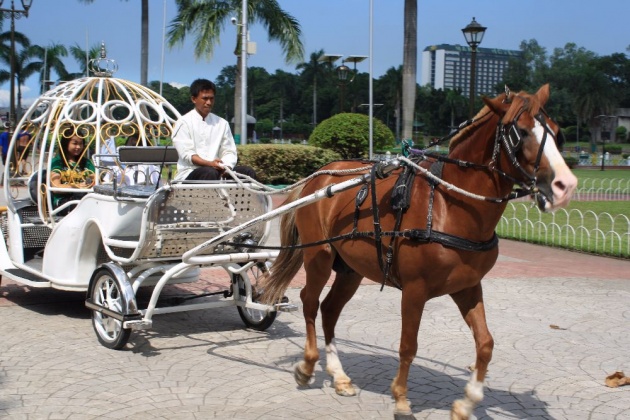 One Kalesa or the horse carriage caught our attention because it is resembling the Cinderella carriage which was really appealing to the visitors. The rider seemed to be a bit tired due to i guess the heat of the sun but the horse was enthusiastic enough. It seemed cool to be in there just for the photo though.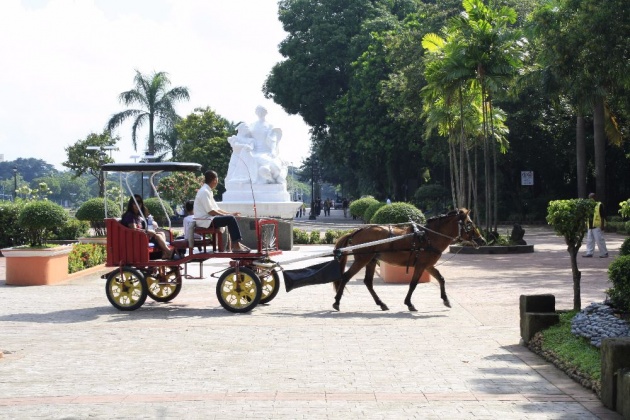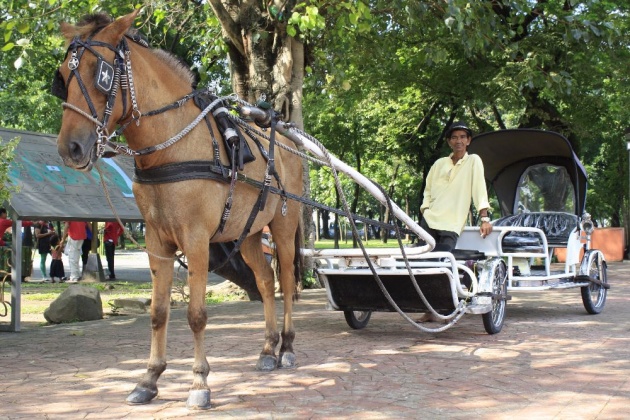 Another horse carriage waiting for another set of visitors to be roamed around the Rizal Park This one has a cover on it so I believe the visitors would like to be shaded while checking out the place.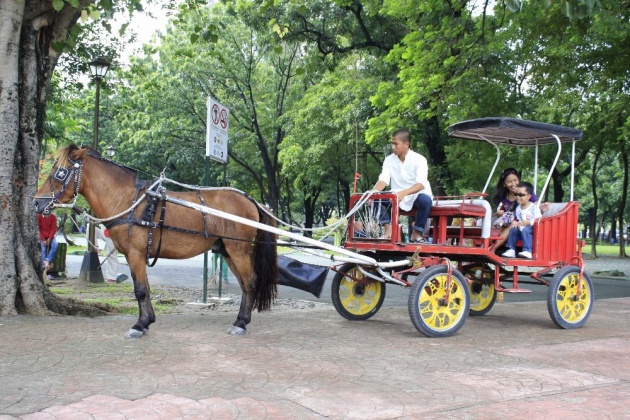 Aside from the Rizal monument, there are more other statues and other monuments we had seen there. I can still recall seeing some cemented heads of other heros like Diego Silang, a big water fountain is situated in the heart of the park, but unfortunately it was under construction. I saw it working a few minutes but I realized they had just let it flow for them to see what's wrong with it.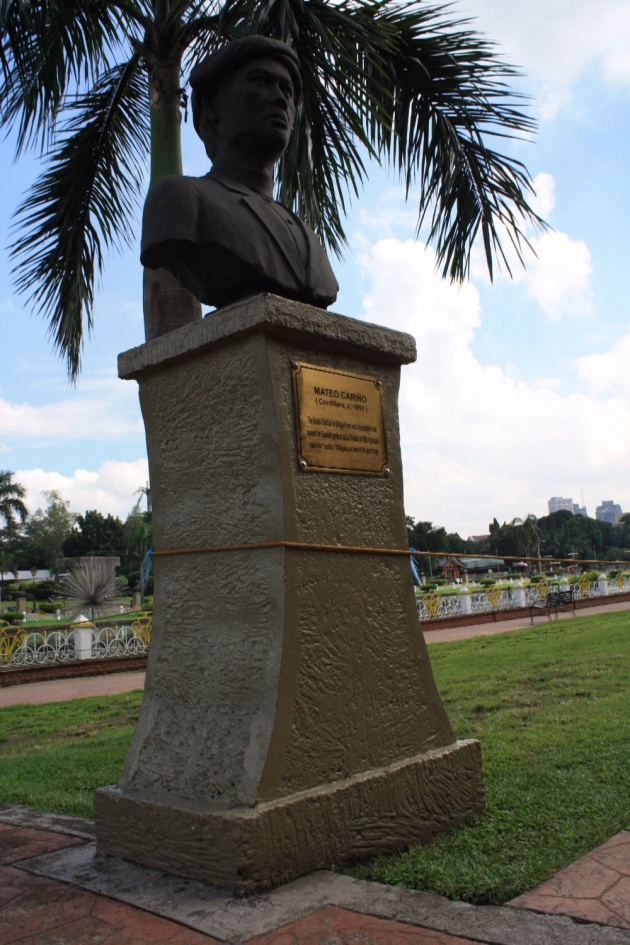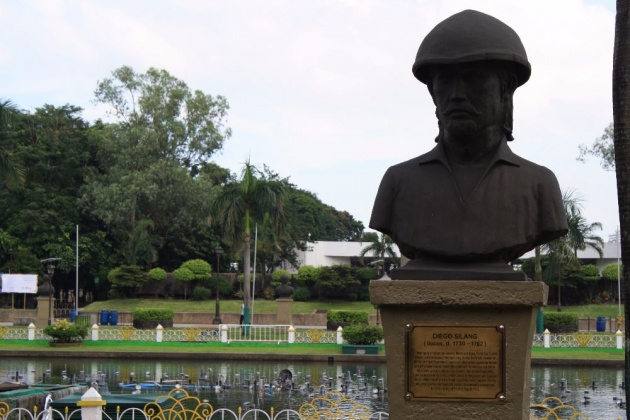 Merely walking around was indeed tiring but it was good to know that there's a mini-sari sari store inside, in fact there were lanes of small type of stalls or "mini-tiangge". Beverages and snack food were available. Comfort rooms were also present so don't worry if you are in need of one.
We reached the very end of place and so we went back and surprisingly, I saw what I was not expecting.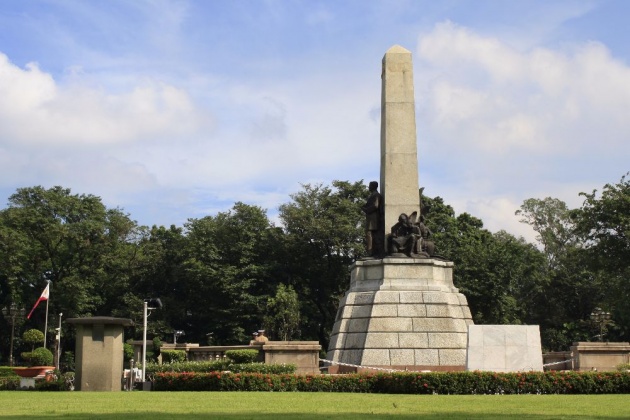 Two guards in brown uniform with riffles in hand were positioned in front of the Rizal monument. Astonishing, these two men were standing firmly and were not moving even blinking their eyes! I would like to go take a photo with them but the chains surrounding the monument tells I am not allowed to go any nearer so then I got satisfied with merely looking at them from a distance.
They both stood still facing each other but after awhile they started talking, no not talking but more likely shouting, I can't understand what they were saying but I can sense that they were just having a conversation. After 30 minutes I noticed they started walking, marching rather around the monument. Slowly and with pose, they carried their riffle and marched back and forth. They never stayed in one place anymore, it was 10 in the morning, the mighty sun was shining so brightly and the guard' sweats were I believe pouring down too as much as mine were.
Then it was time for us to go yet both guards were still marching, sometimes they stop and pose for a little while but continues to march around. My father told me that these guards have their schedules and soon two other guards will replace them.
Luckily, when we were about to go to Ocean Park which was just in front of Luneta, we met the new couple guards who will be taking over those two who were on duty.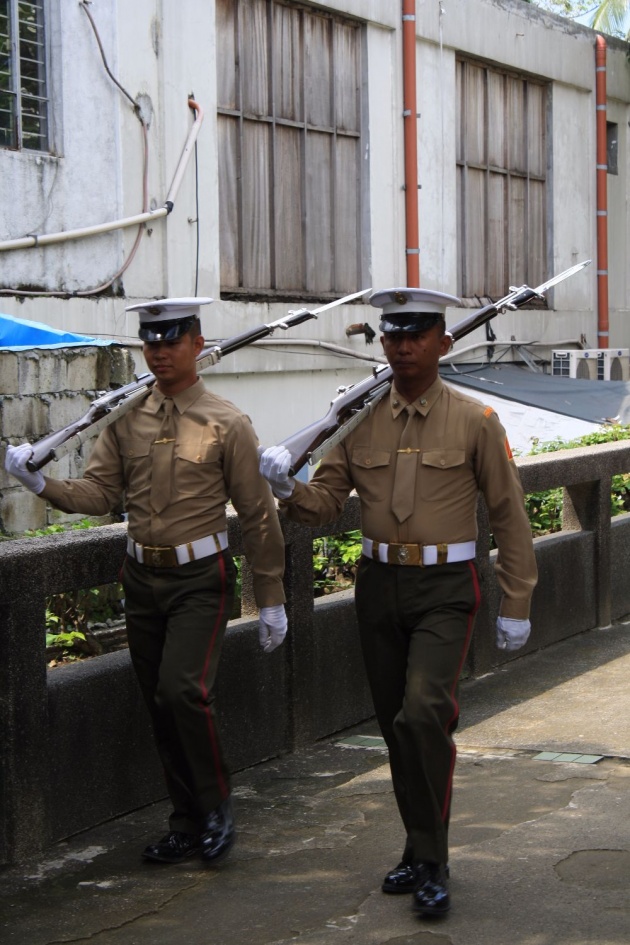 So the myth I had has been straightened ye I am still wondering why there's a need for guards when what they are watching for is just a rock formed monument. It doesn't make any sense for me at all.
What do you think? Here's a video showing of how these guards exchange:
After witnessing this, I got to also find another video documentation on how hard it is to be a guard in the Rizal park because of the scorching heat and muscle numbness. But aside from that, one of the biggest challenges of being Rizal's honor guard is when a tourist ridicules and pokes fun at them.
Well aside from that, we got to see a few more exciting stuffs inside the park. My niece was really excited and very energetic when she saw this kiddie train roaming around as well. She was asking us that she want to also ride in that train.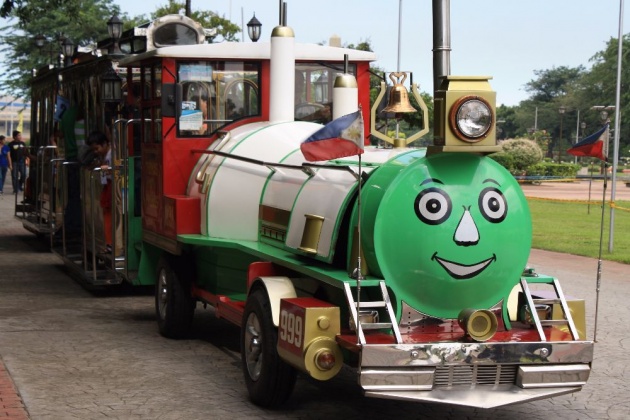 I learned that this train is named Thomas and since Thomas can't go alone by itself, he has been called Thomas and Friends because he is roaming around with kiddie friends. Here's a video of a boy riding Thomas.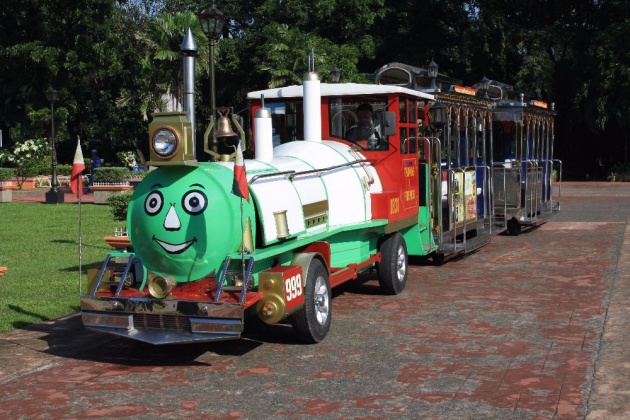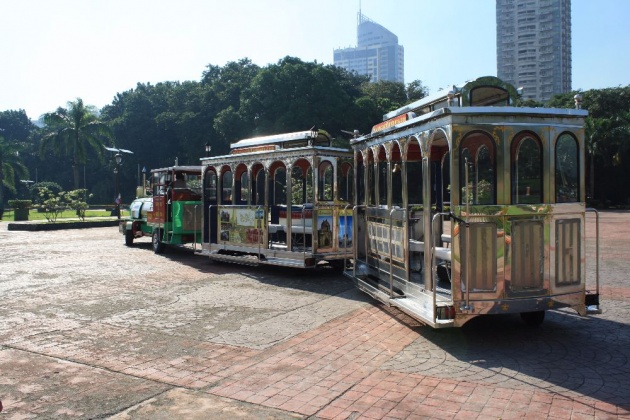 If I was also a kid like her, I would definitely ask my parents to get me a ticket so I can ride on it but unfortunately, we can't let her ride on it at that time since we were on our way to another place. We were instead telling her that we are going to Ocean Park where we will be seeing lots of fishes and animals and she was lured by that.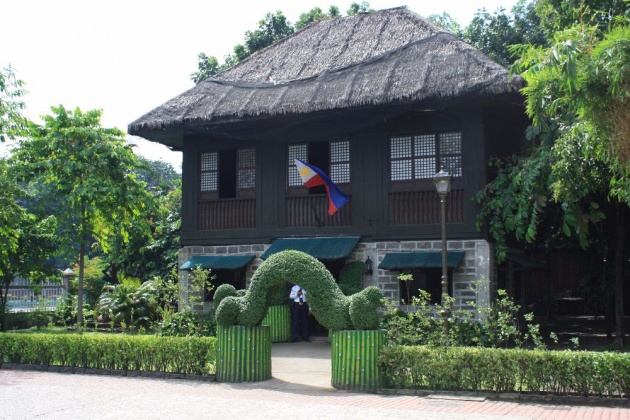 The last spot we saw inside the Par was this mini house which resembles the houses where the first Philippine flag was raised and waived by the first Philippine President, Emilio Aguinaldo. It's already rare to see this kind of house structure here in the Philippines but I am glad that this was constructed inside the park so to educate the younger generation of how the Filipino houses were built before during those times when we were still under the Spanish Colony.
Anyways, we were on our way out when we got to also see the vicinity map of Rizal Park as shown below: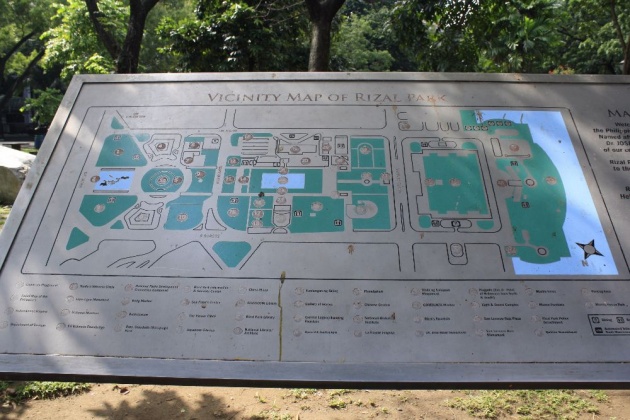 It was obviously a huge one which is why Rizal Park is a top destination for anyone who visits Manila Philippines the first time. The park is just adjacent to another well known tourist attraction, Intramuros. However, it is more than a park for most locals, during weekends, people flock and kill time in the park specially during holidays. It has been known as one of the largest urban parks in Asia.
The video above shows an aerial view of Rizal Park's Dancing Fountain, it is a feast for the eyes of the visitors and local guests of the park when it is a holiday. It is free of charge and so everyone can witness it by just visiting the Rizal Park.
During Christmas and other holidays, there are dancing fountain shows at night. Here are some examples:
This one is an aerial perspective of the dancing fountain at the Rizal Park in Manila at night:
And yes I and my family had fun at Luneta Park. It was my first ever visit to the said spot and I don't know if I would still have another chance to visit it but I do love it.