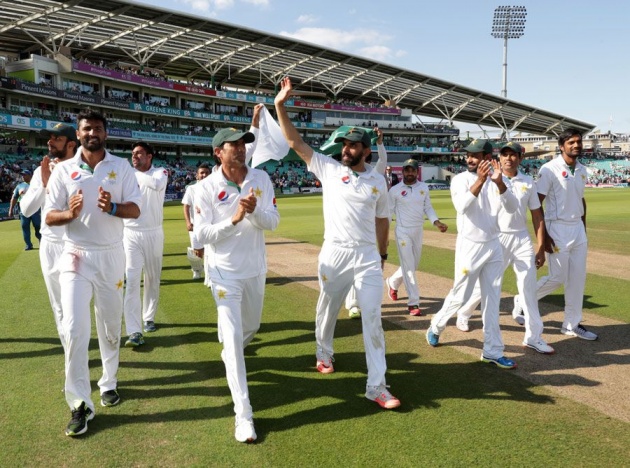 Image credit: Cricinfo/GettyImages
From 1952 to 1992, there is a glimpse of pride and honor inside it… From the time Pakistan started to play cricket, it has produced some extraordinary players who made Pakistan proud with their extraordinary performances. Either those were A.H Kardar, Hanif Muhammad, Fazal Mahmood, Javed Miandad, Abdul Qadir, Imran Khan etc. But with their performances it took almost 40 years for Pakistan to won any mega event, as it came under the captaincy of Great Imran Khan by winning World Cup 1992 at Melbourne, Australia by defeating England.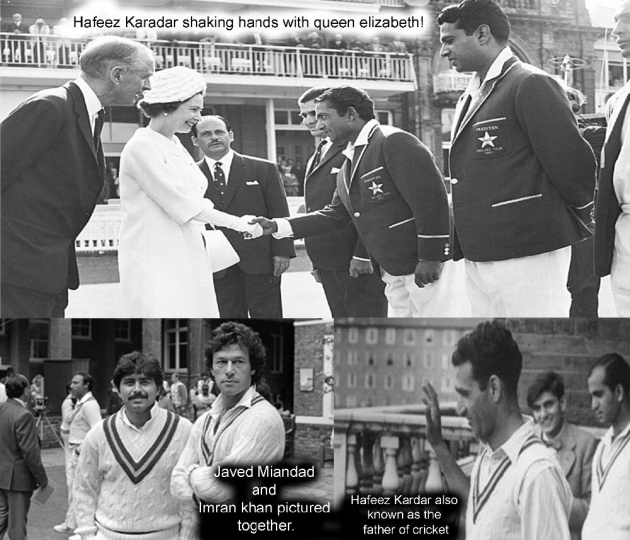 Image Credit: Google.com/edited by me
And after 1992, the bunch that was emerged by Imran Khan is now ready to go in middle and lead but regardless of past Pakistan team steamed to the path of trembling and controversies. That was also the time when Pakistan cricket was witnessing some modern greats in face of Wasim, Waqar, Shoib Akhtar, Inzamam, Moin, Razzaq etc, but their binding with each other and eyes towards captaincy affecting their performances. World Cup 1999 final, World Cup 2003, ICC Champions trophy were the clear examples of that. Despite having a skill full team and star players Pakistan couldn't be able to won any ICC event or to achieve top spot in international rankings.
It's all going on till World Cup 2007 when Pakistan lost by Ireland tragically after which the great Inzamam-ul-Haq retired after getting declared scapegoat of Team Pakistan's poor performance. But this is not the end as fortune of Pakistani team waiting for an unforgettable tragedy which gave Pakistan an undesirable sticker to its head when terrorists attacked on Sri Lankan team in Lahore 2009 during Governor Rule in Punjab. After since the doors of International Cricket for Pakistan remain closed till the elimination of terrorism. Right after that Pakistan went to play World T20 in England in 2009, the journey starts from World T20 2007 which proved Pakistan one of the toughest team in limited over's cricket. Being the runner-up of last event, Pakistan yet playing with their potential and with their classical performances and with this they have reached in finals where they beat Sri Lanka and bagged World T20 for the first time. This tournament was as helpful for Pakistan as it gave boost to their morals and let their heads high after being witnessed the doors of International Cricket closed for their homeland.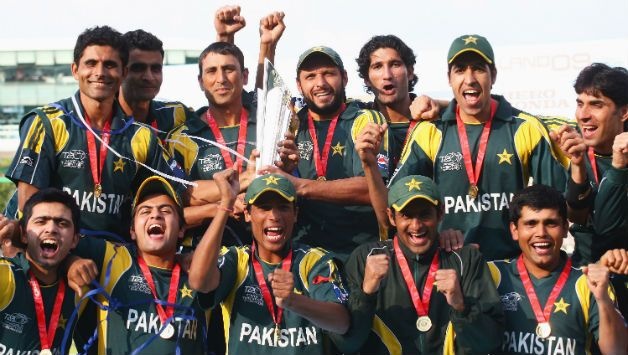 Image credit: google.com
Pakistan team after winning World T20.
Pakistan slowly but surely marching towards the right path, Pakistan bowling attack which was traditionally known to be fast and furious relying on the shoulders of M.Amir, Gul and Asif. Pakistan found to be very tough in T20's especially. Things were getting good when Pakistan approaching towards some unbelievable performances in England against Australia and England as well. Not only Pakistan had beaten Australia in T20's but also defeated in test match for the first time in last 17 years under the captaincy of Salman Butt. Later on England tour, Pakistan defeated English team at Oval, although they had beaten England once but they lost this test series as the last test was played at Lord's cricket ground. Unfortunately on this memorable ground Pakistan experienced the blackest day of its cricket history. Yes the biggest scandal of Pakistan cricket history where 3 no-balls were bowled which was later declared as the spot-fixing. This news of spot-fixing has knocked almost every door and spreads all over in the world like a fire in the jungle. The entire world flared with their opinions, especially former cricketers and analysts who were closely attached to cricket expressed their emotions and expressions at extreme. Pakistani team which was on tour versus England playing their last test match was felt in deep trouble. They were totally under pressure and mentally blocked and the reason was Salman butt, the captain they were playing under was alleged and sacked in spot-fixing scandal.
Image Credit: Google.com
The story of Spot fixing appeared at the british newspaper "News of the World" after which Amir, Asif and Butt (starting from left side) sacked for playing cricket.
After the dusk of Black scandals and controversies, Misbah-ul-haq appointed as the new test captain of Pakistan after spot-fixing scandal. Misbah-ul-haq had played several test matches before but he recently wasn't a part of side at that time. Misbah-ul-haq was playing his first test match as a newly appointed captain, being a captain he had suffered from defeats and wins, bad form and good form, what he has done permanently is he established a well disciplined dressing room and unleashed the ability to fight again in his team which was clearly shown as no controversy was held under his leadership. Slowly and surely Pakistan test team built-up and posted some remarkable performances which includes clean swept of England team twice in U.A.E and white washed aussies as well. Despite having bad patches and no cricket at home for since last 8-10 years Pakistan was emerging in test cricket by every means.
Pakistan had to face another tough season this year and yes this is Pakistan tour to England. The English pitches, cloudy weather, hostile crowd, swinging fast bowlers and a tail of controversy. These things are already on track to welcoming Pakistan. First test was scheduled at Lord's cricket ground which was also known as Home of Cricket, This ground is also much known for the tragedy happened to Pakistan in its last tour, slowly but steadily Misbah's eleven jumped in arena to gave a fight against England. The brilliant show from bowlers and batsmen made Pakistan to conquer at Lord's especially from the skipper who posted his century in 1st innings and made his name appeared on the Lord's honor board. The mighty leg-spinner Yasir shah also took 10 wickets which were resulted in the form of victory.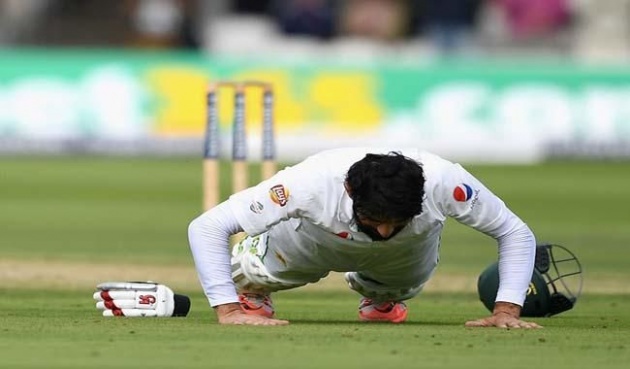 Image credit: google.com
Misbah-ul-haq celebrating his century py doing press-ups at Lord's.
Although they had lost back to back after Lord's test. After losing back to back test matches, Pakistan had only chance to win at Oval and leveled series by 8-8. Pakistan easily made it happened because of the fine performances of Asad shafiq who scored 100 and the great Younis khan who knocked double century and move the pendulum towards his team by trailing a huge total in English ship. The magical Yasir Shah again appeared with his match winning spells and took 5wickets as England lost by Pakistan.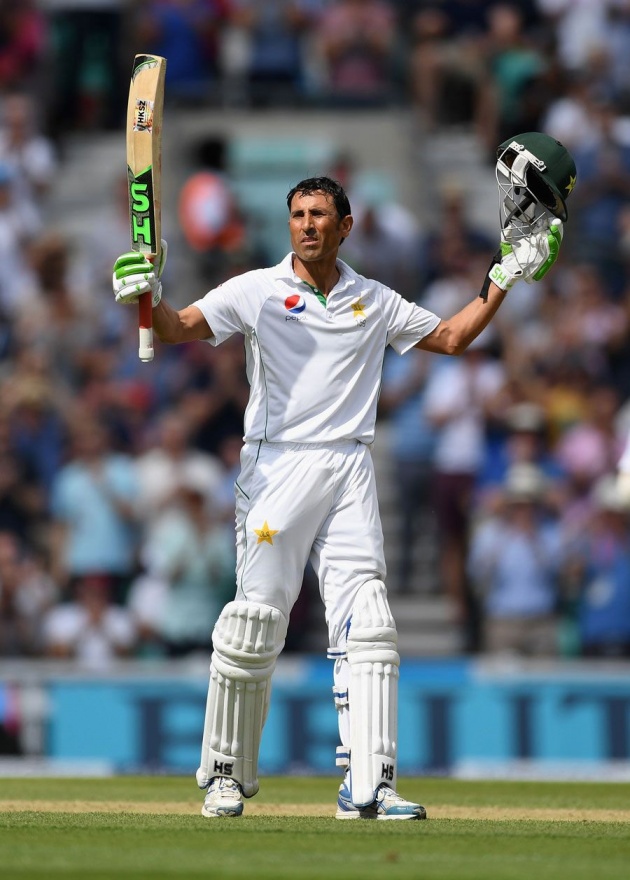 Image credit: Cricinfo/GettyImages
Younis Khan celebrates after scoring his double-century at The Oval.
This victory against England provides an increase in the rankings of Pakistan but the no.1 destiny is still depending on the India versus West Indies series. As the last matches of this series were drawn due to the heavy rain, Pakistan clinched the no.1 spot in test rankings for the first time ever since ICC rankings has introduced. With a slightly difference of 1 point Pakistan move on top position under Misbah's company and it is obvious that anyone who topped the test ranking will awarded prestigious test mace by ICC C.E.O.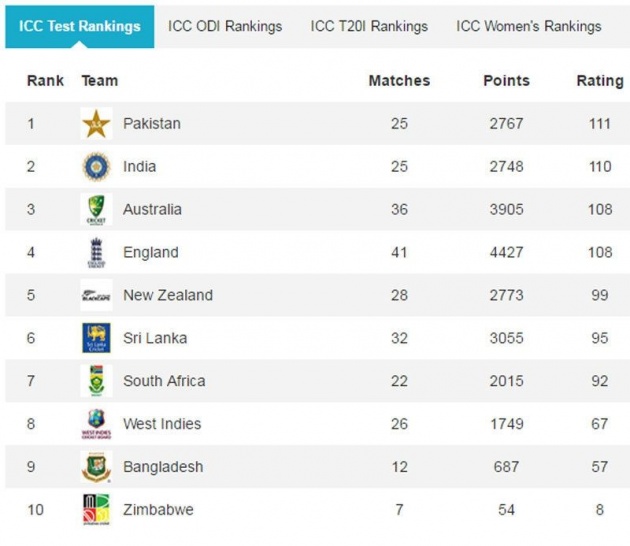 Image credit: ICC
Pakistan team ranked number 1 for the first time in ICC test rankings.
The doors of cricket hosting for Pakistan is closed but yes the ceremony of presenting ICC prestigious test mace to Skipper Misbah-ul-haq were held on 21 September at Gaddafi Stadium, Lahore. The C.E.O of International Cricket Council (ICC) David Richardson came at Lahore to honor Misbah-Ul-Haq and present him the prestigious test mace. The ceremony took place at Gaddafi Stadium. Speaking to the ceremony the unsung skipper Misbah-ul-haq said: "To top the table, which boasts some great teams and players, is something to be very proud of".
Video credit: Youtube.com
Misbah-ul-Haq receiving the prestigious test mace.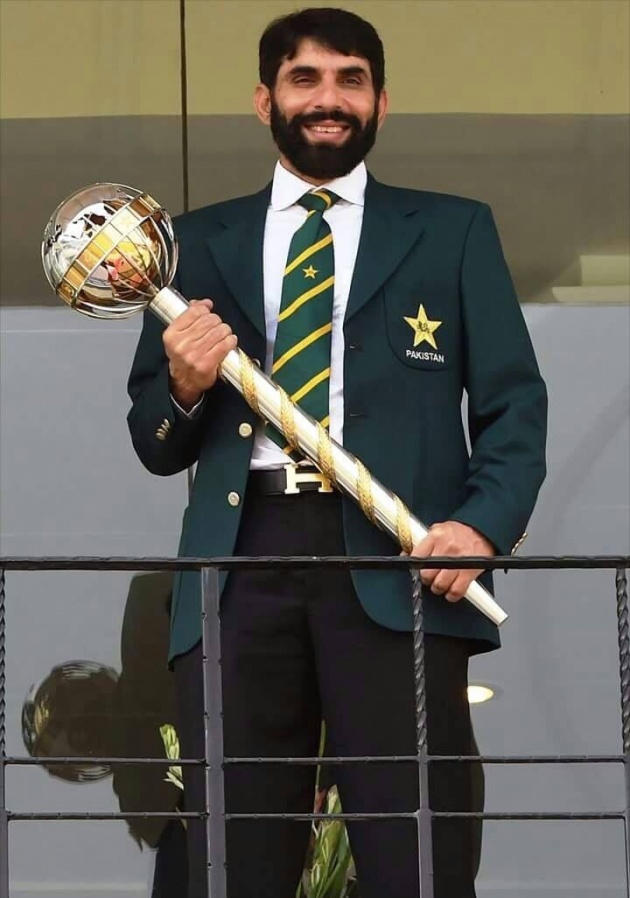 Image credit: PTV sports
Misbah-ul-haq pictured with the prestigious ICC test mace, also he became the first Pakistani captain to achieve this.
Misbah was feeling immense proud to become the first captain to inspire the side to the top of the test rankings, when he said: "There is no greater feeling than to achieve the number-one ranking in the most traditional and purest format of the sport. This is what cricketers play for and want to achieve in their careers".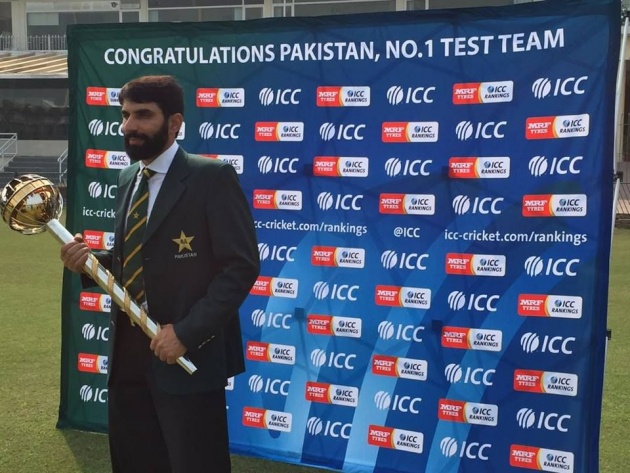 Image credit: PTV sports
Further speaking in presser he said: "I always wanted to achieve an ICC trophy, though I have made it in the form of prestigious test mace".
Video credit: Youtube.com
Misbah-ul-haq interview after receiving the prestigious test mace.
Speaking on the other side CEO of ICC David Richardson said: "Misbah and his side deserve our heartiest congratulations. The number-one ranking is well deserved and a testament to the quality of cricket the team has consistently played over the past few years". Pakistan's No.1 ranking is very well deserved and a testament to the quality of cricket it has consistently played over the past few years –He said.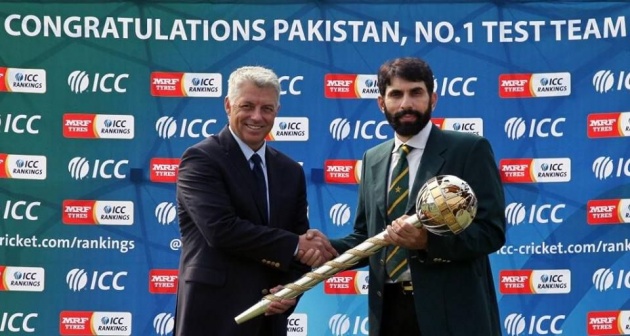 Image credit: PTV Sports
Misbah-ul-Haq receiving mace from ICC C.E.O David Richardson.


The situation Pakistan team had faced in past weren't easy, after all getting team out of the trouble box is such a credible thing Misbah deserve credit for and now drop by drop the sea is drained. Despite having no cricket at home for almost 8 years, Pakistani team yet successfully able to achieve number one spot in ICC Test Rankings. Misbah-ul-haq is the man who deserves credit more for ruling the clan with his brilliance. That time when Misbah-ul-haq took over the team, he held his nerves very polite and behaves like a man of steel though he has also faced some hard criticism but he never stop his struggle and dedication and proves "To brave Men walls are unnecessary" even at the age of 41. This is why Misbah-ul-haq is the most successful of captain of Pakistan ever.