Shah Rukh Khan
Shah Rukh Khan (born Shahrukh Khan, 2 November 1965), also known as SRK, is an Indian film actor, producer and television personality. Referred to in the media as the "Baadshah of Bollywood", "King of Bollywood" or "King Khan", he has appeared in more than 80 Bollywood films, and earned numerous accolades, including 14 Filmfare Awards. Khan has a significant following in Asia and the Indian diaspora worldwide. In terms of audience size and income, he has been described as one of the most successful film stars in the world..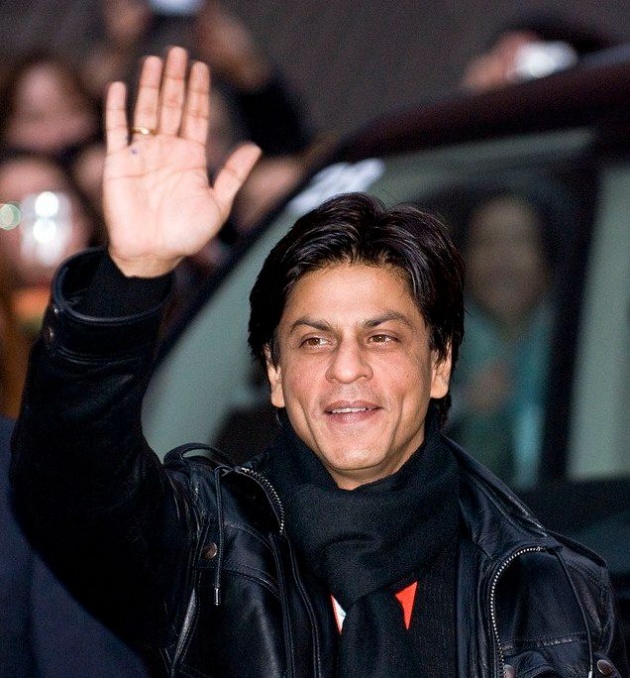 Khan started his career with appearances in several television series in the late 1980s. He made his Bollywood debut in 1992 with Deewana. Early in his career, Khan was recognised for portraying villainous roles in the films Darr (1993), Baazigar (1993) and Anjaam (1994). He then rose to prominence after starring in a series of romantic films, including Dilwale Dulhania Le Jayenge (1995), Dil To Pagal Hai (1997), Kuch Kuch Hota Hai (1998) and Kabhi Khushi Kabhie Gham... (2001). He earned critical acclaim for his portrayal of an alcoholic in Devdas (2002), a NASA scientist in Swades (2004), a hockey coach in Chak De! India (2007) and a man with Asperger syndrome in My Name Is Khan (2010). Many of his films display themes of Indian national identity and connections with diaspora communities, or gender, racial, social and religious differences and grievances. For his contributions to film, the Government of India honoured him with the Padma Shri, and the Government of France awarded him both the Ordre des Arts et des Lettres and the Légion d'honneur....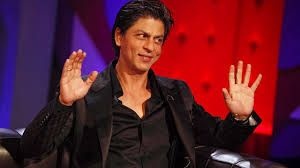 As of 2015, Khan is co-chairman of the motion picture production company Red Chillies Entertainment and its subsidiaries, and is the co-owner of the Indian Premier League cricket team Kolkata Knight Riders. He is a frequent television presenter and stage show performer. The media often label him as "Brand SRK" because of his many endorsement and entrepreneurship ventures. Khan's philanthropic endeavours have provided health care and disaster relief, and he was honoured with UNESCO's Pyramide con Marni award in 2011 for his support of children's education. He regularly features in listings of the most influential people in Indian culture, and in 2008, Newsweek named him one of their fifty most powerful people in the world.
Early life and family
Khan with his wife Gauri at a party in 2012
Khan was born on 2 November 1965 in a Muslim family in New Delhi. He spent the first five years of his life in Mangalore, where his maternal grandfather, Ifthikar Ahmed, served as the chief engineer of the port in the 1960s. According to Khan, his paternal grandfather, Jan Muhammad, an ethnic Pashtun (Pathan), was from Afghanistan. Shah Rukh Khan also said in his interviews that he is a Pathan (Pashtun) from Peshawar. Khan's father, Meer Taj Mohammed Khan, was an Indian independence activist in Peshawar, British India (present-day Pakistan). As of 2010, Khan's paternal family was still living in Shah Wali Qataal area of Peshawar's Qissa Khawani Bazaar. Meer was a follower of Khan Abdul Ghaffar Khan, and affiliated with the All Indian National Congress. He moved to New Delhi in 1948 partition of India. Khan's mother, Lateef Fatima, was the daughter of a senior government engineer. His parents were married in 1959. Khan described himself on Twitter as "half Hyderabadi (mother), half Pathan (father), [and] some Kashmiri (grandmother)". His paternal cousins in Peshawar claim that the family is of Hindkowan origin from Kashmir, not Pashtun, and also contradict the claim that his grandfather was from Afghanistan.
Khan grew up in the Rajendra Nagar neighbourhood of Delhi. His father had several business ventures including a restaurant, and the family lived a middle-class life in rented apartments. Khan attended St. Columba's School in central Delhi where he excelled in his studies and in sports such as hockey and football, and received the school's highest award, the Sword of Honour. In his youth, he acted in stage plays and received praise for his imitations of Bollywood actors, of which his favourites were Dilip Kumar, Amitabh Bachchan and Mumtaz. One of his childhood friends and acting partners was Amrita Singh, who became a Bollywood actress. Khan enrolled at Hansraj College (1985–88) to earn his bachelor's degree in Economics, but spent much of his time at Delhi's Theatre Action Group (TAG), where he studied acting under the mentorship of theatre director Barry John. After Hansraj, he began studying for a master's degree in Mass Communications at Jamia Millia Islamia, but left to pursue his acting career. He also attended the National School of Drama in Delhi during his early career in Bollywood. His father died of cancer in 1981,and his mother died in 1991 from complications of diabetes. After the death of their parents, his older sister, Shahnaz Lalarukh, born in 1960, fell into a depressed state and Khan took on the responsibility of caring for her. Shahnaz continues to live with her brother and his family in their Mumbai mansion..
Acting career
Further information: Shah Rukh Khan filmography
1988–92: Television and film debut
Khan's first starring role was in Lekh Tandon's television series Dil Dariya, which began shooting in 1988, but production delays led to the 1989 series Fauji becoming his television debut instead.[40] In the series, which depicted a realistic look at the training of army cadets, he played the leading role of Abhimanyu Rai.[41][42] This led to further appearances in Aziz Mirza's television series Circus (1989–90) and Mani Kaul's miniseries Idiot (1991).[43] Khan also played minor parts in the serials Umeed (1989) and Wagle Ki Duniya (1988–90),[43] and in the English-language television film In Which Annie Gives It Those Ones (1989).[44] His appearances in these serials led critics to compare his look and acting style with those of the film actor Dilip Kumar,[45] but Khan was not interested in film acting at the time, thinking that he was not good enough.[43][46]
Khan changed his decision to act in films in April 1991,[47] citing it as a way to escape the grief of his mother's death.[48] He moved from Delhi to Mumbai to pursue a full-time career in Bollywood, and was quickly signed to four films.[47] His first offer was for Hema Malini's directorial debut Dil Aashna Hai,[28][41] and by June, he had started his first shoot.[49] His film debut was in Deewana, which was released in June 1992.[50] In it he starred alongside Divya Bharti as the second male lead behind Rishi Kapoor. Deewana became a box office hit and launched Khan's Bollywood career;[51] he earned the Filmfare Best Male Debut Award for his performance.[52] Also released in 1992 were Khan's first films as the male lead, Chamatkar, Dil Aashna Hai, and the comedy Raju Ban Gaya Gentleman, which was his first of many collaborations with the actress Juhi Chawla.[53] His initial film roles saw him play characters who displayed energy and enthusiasm. According to Arnab Ray of Daily News and Analysis, Khan brought a new kind of acting as he was "sliding down stairs on a slab of ice, cartwheeling, somersaulting, lips trembling, eyes trembling, bringing to the screen the kind of physical energy ... visceral, intense, maniacal one moment and cloyingly boyish the next."[54]
1993–94: Anti-hero
Among his 1993 releases, Khan garnered the most appreciation for portraying villainous roles in two box office hits: an obsessive lover in Darr, and a murderer in Baazigar.[55] Darr marked the first of Khan's many collaborations with filmmaker Yash Chopra and his company Yash Raj Films. Khan's stammering and the use of the phrase "I love you, K-k-k-Kiran" were popular with audiences.[56] For Darr he received a nomination for the Filmfare Award for Best Performance in a Negative Role, also known as the Best Villain Award, but lost to Paresh Rawal for Sir.[57] Baazigar, in which Khan played an ambiguous avenger who murders his girlfriend, shocked Indian audiences with an unexpected violation of the standard Bollywood formula.[58] In The Cambridge Companion to Modern Indian Culture, Sonal Khullar called the character "the consummate anti-hero".[59] His performance in Baazigar, which would be his first of many appearances with actress Kajol, won Khan his first Filmfare Award for Best Actor.[60] In 2003, the Encyclopedia of Hindi Cinema stated that Khan "defied the image of the conventional hero in both these films and created his own version of the revisionist hero".[60] Also in 1993, Khan performed a nude scene with Deepa Sahi in Maya Memsaab, although parts of it were censored by the Central Board of Film Certification.[61] The ensuing controversy prompted him to eschew such scenes in future roles.[62]
In 1994, Khan played a love-struck musician in Kundan Shah's comedy-drama film Kabhi Haan Kabhi Naa, which he later professed was his favourite role. His performance earned him a Filmfare Critics Award for Best Performance, and in a retrospective review from 2004, Sukanya Verma of Rediff.com referred to it as Khan's best performance, saying "He is spontaneous, vulnerable, boyish, mischievous and acting straight from the heart."[63] Also in 1994, Khan won the Filmfare Best Villain Award for his role as an obsessive lover in Anjaam, co-starring Madhuri Dixit.[60] At the time, playing antagonistic roles was considered risky to a leading man's career in Bollywood. Ray subsequently credited Khan for taking "insane risks" and "pushing the envelope" by choosing to play such characters, through which he established his career in Bollywood.[54] The director Mukul S. Anand called him "the new face of the industry" at the time.[48]
1995–98: Romantic hero
Khan with co-star Kajol in 2014 celebrating 1000 weeks continuous showing of their film Dilwale Dulhania Le Jayenge
Khan starred in seven films in 1995, the first of which was Rakesh Roshan's melodramatic thriller Karan Arjun. Co-starring Salman Khan and Kajol, it became the second-highest grossing film of the year in India. His most significant release that year was Aditya Chopra's directorial debut, the romance Dilwale Dulhania Le Jayenge, in which he played a young Non-resident Indian (NRI) who falls in love with Kajol's character during a trip across Europe. Khan was initially reticent to portray the role of a lover, but this film is credited with establishing him as a "romantic hero". Lauded by both critics and the public, it became the year's highest grossing production in India and abroad and was declared an "all time blockbuster" by Box Office India, with a gross of over ₹1.22 billion (US$18 million) worldwide. It is the longest-running film in the history of Indian cinema; it is still showing at the Maratha Mandir theatre in Mumbai after more than 1000 weeks as of early 2015. The film won ten Filmfare Awards, including the second of Khan's Best Actor Awards.[60] The director and critic Raja Sen said, "Khan gives a fabulous performance, redefining the lover for the 1990s with great panache. He's cool and flippant, but sincere enough to appeal to the [audience]. The performance itself is, like the best in the business, played well enough to come across as effortless, as non-acting."
In 1996, all four of Khan's releases failed critically and commercially, but the following year, his starring role opposite Juhi Chawla in Aziz Mirza's romantic comedy Yes Boss earned him accolades that included a Filmfare Best Actor nomination. Later in 1997, he starred in Subhash Ghai's diasporic-themed social drama Pardes, portraying Arjun, a musician facing a moral dilemma. India Today cites it as one of the first major Bollywood pictures to succeed in the United States. Khan's final release of 1997 was a second collaboration with Yash Chopra in the popular musical romance Dil To Pagal Hai. He portrayed Rahul, a stage director caught in a love triangle between Madhuri Dixit and Karisma Kapoor. The film and his performance met with critical praise, winning Khan his third Best Actor Award at Filmfare.
Khan performed the lead role in three films and made one special appearance in 1998. In his first release of the year, he played a double role opposite Juhi Chawla and Sonali Bendre in Mahesh Bhatt's action comedy Duplicate, the first of his many collaborations with Yash Johar's production company Dharma Productions. The film was not well received. but India Today lauded Khan for his energetic performance. The same year, Khan won critical praise for his performance as an All India Radio correspondent who develops an infatuation for a mysterious terrorist (Manisha Koirala) in Dil Se.., the third instalment of Mani Ratnam's trilogy of terror films. In his final release of the year, he portrayed a college student in Karan Johar's romance Kuch Kuch Hota Hai, in which he was involved in a love triangle along with Kajol and Rani Mukerji. The writer Anjana Motihar Chandra has referred to the picture as the blockbuster of the 1990s, a "pot-pourri of romance, comedy, and entertainment." Khan won the Best Actor award at the Filmfare Awards ceremony for the second consecutive year, although he and several critics believed his performance to have been overshadowed by that of Kajol.
The roles in this phase of his career, and the series of romantic comedies and family dramas that followed, earned Khan widespread adulation from audiences, particularly teenagers, and according to author Anupama Chopra, established him as an icon of romance in India. He continued to have frequent professional associations with Yash Chopra, Aditya Chopra, and Karan Johar, who moulded his image and made him into a superstar. Khan became a romantic leading man without ever actually kissing any of his co-stars, although he broke this rule in 2012, after strong urging by Yash Chopra.
1999–2003: Career challenges
Khan's only release in 1999 was Baadshah, in which he starred opposite Twinkle Khanna. Although the film underperformed at the box office,[86] it earned him a Filmfare Award nomination for Best Performance in a Comic Role, which he lost to Govinda for Haseena Maan Jaayegi. Khan became a producer in 1999 in a collaboration with the actress Juhi Chawla and the director Aziz Mirza for a production company called Dreamz Unlimited. The company's first production, Phir Bhi Dil Hai Hindustani (2000), starring Khan and Chawla, was a commercial failure. It was released one week after Kaho Naa... Pyaar Hai, starring Hrithik Roshan, then a newcomer, who critics believed overshadowed Khan. Swapna Mitter of Rediff.com spoke of Khan's predictable mannerisms, saying "Frankly, it's high time he innovated his act a little." Khan made his debut in Tamil cinema with Hey Ram (2000), where he played the role of archaeologist Amjad Khan. He performed free of charge as he wanted to work with Kamal Haasan.The film released to critical acclaim; on Khan's performance, T. Krithika Reddy of The Hindu wrote, "Shah Rukh Khan, as usual comes up with an impeccable performance."
In 2001, Dreamz Unlimited attempted a comeback with Khan portraying the title role in Santosh Sivan's historical epic Aśoka, a partly fictionalised account of the life of emperor Ashoka. The film was screened at the Venice Film Festival and the 2001 Toronto International Film Festival to a positive response, but it performed poorly at Indian box offices. As losses continued to mount for the production company, Khan was forced to close srkworld.com, a company that he had started along with Dreamz Unlimited. In December 2001, Khan suffered a spinal injury while performing an action sequence for a special appearance in Krishna Vamsi's Shakti: The Power. He was subsequently diagnosed with a prolapsed disc, and attempted multiple alternative therapies. None of these provided a permanent solution to the injury, which caused him severe pain while shooting several of his films. By the beginning of 2003, his condition had worsened to the point that he had to undergo anterior cervical discectomy and fusion surgery at Wellington Hospital, London. Khan resumed shooting in June 2003, but he reduced his workload and the number of film roles he accepted annually.

Khan with co-star Aishwarya Rai at the home video launch of their film Devdas (2002)
Successes during this time included Aditya Chopra's Mohabbatein (2000), and Karan Johar's family drama Kabhi Khushi Kabhie Gham... (2001), which Khan cites as a turning point in his career. Both films co-starred Amitabh Bachchan as an authoritarian figure, and presented ideological struggles between the two men. Khan's performances in the films were met with wide public appreciation, and he was awarded his second Filmfare Critics Award for Best Actor for Mohabbatein. Kabhi Khushi Kabhie Gham... remained the top-grossing Indian production of all time in the overseas market for the next five years.
In 2002, Khan played the title role as a rebellious alcoholic opposite Aishwarya Rai in Sanjay Leela Bhansali's period romance Devdas. At a cost of over ₹500 million (US$7.4 million), it was the most expensive Bollywood film ever made at the time, yet recovered its costs, earning ₹840 million (US$12 million) worldwide. The film earned numerous accolades including 10 Filmfare Awards, with Best Actor for Khan, and a BAFTA Award for Best Film Not in the English Language. Khan next starred in Kal Ho Naa Ho (2003), a comedy-drama written by Karan Johar and set in New York City, which became the second-highest grossing film domestically and the top-grossing Bollywood film in external markets that year. Co-starring with Jaya Bachchan, Saif Ali Khan, and Preity Zinta, Khan received critical praise for his portrayal of Aman Mathur, a man with a fatal heart disease, with critics praising his emotional impact upon audiences. Conflict broke out between Khan and the other partners of Dreamz Unlimited over the failure to cast Juhi Chawla in their 2003 production of Aziz Mirza's Chalte Chalte, and they parted ways, despite the film's success